Switching focus back to the little brother of the Navi duo, today we have reviewed the ASUS RX 5700 TUF Gaming X3. With a sleek shroud design and triple fan cooler, this card looked good on first impression, but one flaw stood out when we took a closer look.
Namely, that would be the memory cooling. Or, more accurately, the lack of memory cooling. Usually, a graphics card cooler will have a single coldplate which contacts the GPU die and memory (like the PowerColor Red Devil), or there might be a dedicated coldplate for the VRAM that transfers heat to the card's fin stack (per the Sapphire Pulse).
ASUS has not taken either of those approaches. Instead, the card relies solely on airflow from the three fans for the memory cooling, as there is simply nothing contacting the memory modules. Based on our testing, this resulted in a peak memory temperature increase of ten degrees Celsius versus AMD's reference RX 5700 card, with a reading of 84C. If we manually overclocked the memory, this rose to 88C, and do bear in mind that Micron rates the modules for operation up to 95C.
Technically, that is still in spec so it's not like I would expect the card to catch fire or stop working. That doesn't disguise the fact, however, that this is still a very poor thermal design from ASUS. The reference RX 5700 XT is still 'in spec' with its junction temperature of 103C, but that doesn't mean it isn't a shoddy cooler, and the same goes here. When cards like the Sapphire Pulse exist, with proper VRAM cooling, you're settling for much worse memory temperatures with the TUF Gaming X3.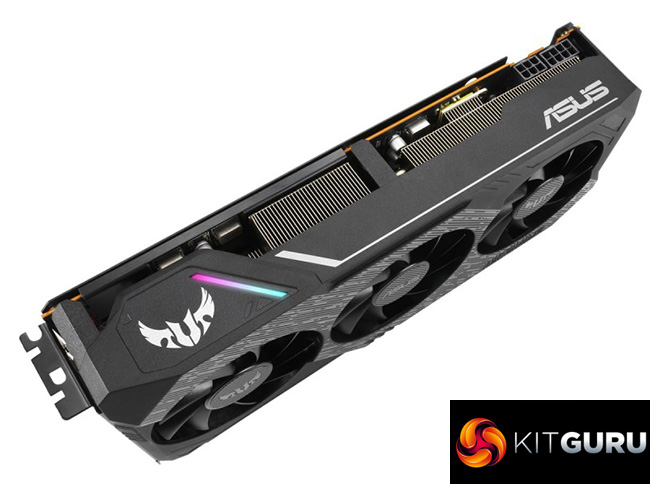 Cooling for the GPU itself is good, though admittedly this aided partly by the heatsink not having to deal with the heat from the memory, and also by the fact that the fans spin faster than they would otherwise need to if there was proper memory cooling. Still, we saw an edge temperature of 61C, and a junction temperature of 82C which are good results. The GPU also ran about 80MHz faster than the reference card, resulting in an extra 2% in-game performance.
That's all well and good – we wouldn't expect much more from even the fastest factory overclocked RX 5700 – but ASUS has also made life difficult for itself with the card's pricing. Coming in at £379.99 at Overclockers UK, this is actually the same price as PowerColor's dual-fan 5700 XT and only £20 less than Sapphire's 5700 XT Pulse.
The pricing alone would make it hard to recommend this card, but when you add in the lack of VRAM cooling, you do have to wonder what ASUS was thinking when designing the TUF Gaming X3. I really hope they can come up with a 'revision 2' model which amends the heatsink design to incorporate the VRAM chips, but as things stand, when there are RX 5700 XT cards available for the same money, you would be best served looking elsewhere for your next graphics card.

We found the card for £379.99 at Overclockers UK HERE
Pros
Sleek shroud design.
Power draw slightly lower than reference RX 5700.
Easy to overclock.
Cons
Memory is cooled solely by airflow from the three fans, resulting in higher temperatures and noise levels.
RX 5700 XT cards are available for the same money.
KitGuru says: With proper VRAM cooling, the TUF Gaming X3 could be a decent card, but either way it is too expensive for a RX 5700.
Be sure to check out our sponsors store EKWB here