For our temperature testing, we measure the peak GPU core temperature under load, as well as the GPU temperature with the card idling on the desktop. A reading under load comes from running the 3DMark Fire Strike Ultra stress test for 30 minutes. An idle reading comes after leaving the system on the Windows desktop for 30 minutes.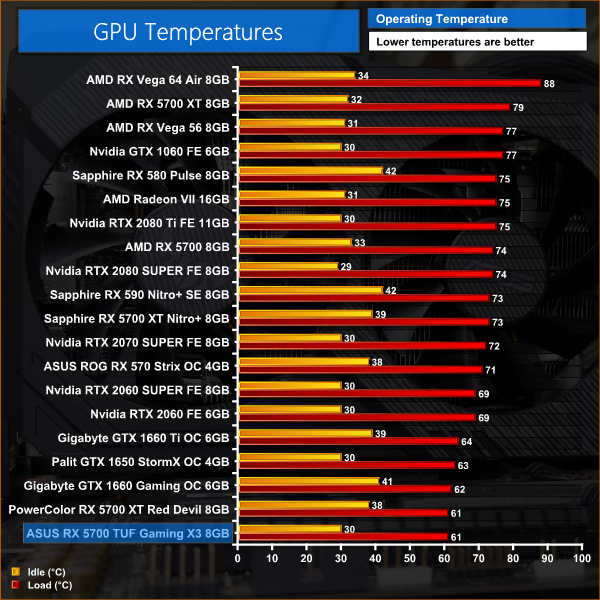 Starting with our 'big picture' look at temperatures, above we are focusing just on the 'edge temperature' of the GPU, or the figure we know best as just 'GPU temperature.' This paints a very rosy picture for the TUF Gaming X3, with a peak temperature of just 61C making this tied with the Red Devil for best thermal performance on our chart.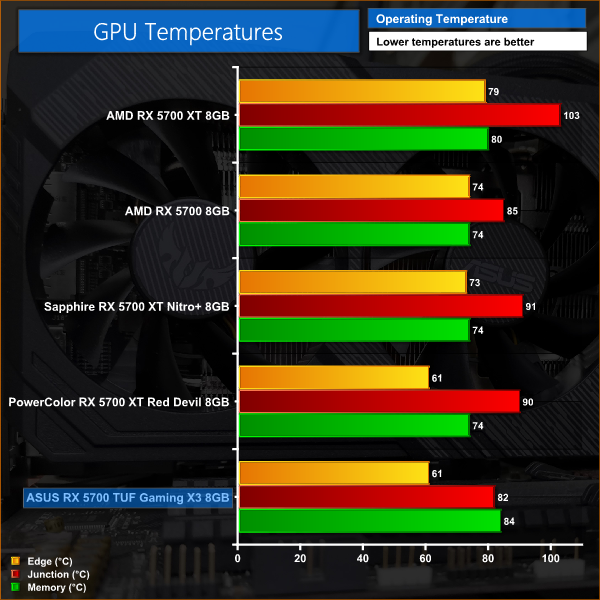 Looking closer, however, we can see that all is not well. Above we have five RX 5700/5700 XT cards on their own chart, with those cards also including built-in memory temperature sensors where AMD reports the maximum temperature of the hottest memory module through Wattman (and GPU-Z).
As you can see, the TUF Gaming X3's memory peaked a whole 10C hotter than the reference RX 5700. We mentioned at the start of this review how the lack of any kind of VRAM cooling was surprising, and it certainly shows based on this testing.
It's not just that it runs hotter under load, but as we will see on the next page, the card isn't as quiet as it could be due to the fact that the VRAM relies entirely on the fans' airflow for cooling. That also means the fans don't have a zero rpm mode, as otherwise there'd simply be no cooling for the memory chips.
To be clear, edge and junction temperatures are great, the heatsink and its 4 heatpipes are more than sufficient to cool the GPU core – it's the memory which has been entirely neglected here. Do bear in mind though, that GPU temperatures will always be higher if there is no VRAM cooling, as the heatsink isn't having to deal with the heat from the memory as well, so we would expect better GPU-only temperatures considering the lack of VRAM cooling.
Lastly, a look at our thermal images shows the card itself does not get that hot at all, peaking at 65.1C on the rear of the PCB. 
Be sure to check out our sponsors store EKWB here