Gigabyte's RTX 2070 SUPER Gaming OC 8G is the third RTX 2070 SUPER to pass through our labs, as we have already reviewed Nvidia's Founders Edition as well as MSI's Gaming X Trio model.
The first thing you really need to know about it, is that it is re-using the same cooler and shroud design from the RTX 2080 Gaming OC that we reviewed last September. This also means Gigabyte is using a reference PCB, with the same 8+2 phase power delivery as the Founders Edition.
Gigabyte has overclocked the core by 45MHz as well, but I wasn't expecting this to make that much of a difference and that is exactly what we found. Across all of our testing, the Gaming OC performs just 2% faster, on average, than the Founders Edition and it's just 1% slower than MSI's Gaming X Trio. That means performance differences between all three cards are frankly negligible – in game, you simply would not be able to tell that you were using one or the other.

My sample did overclock pretty well, however, as we saw a real-world clock speed increase of about 150MHz when manually overclocked. This improved frame rates by 9% when gaming at 1440p, and actually brought the card within 2% of the 2080 SUPER. It is my strong belief that 2070 SUPER is a much better buy than 2080 SUPER, and considering you can overclock it to essentially the same levels of performance – while saving £160 – only re-affirms my opinion of that card.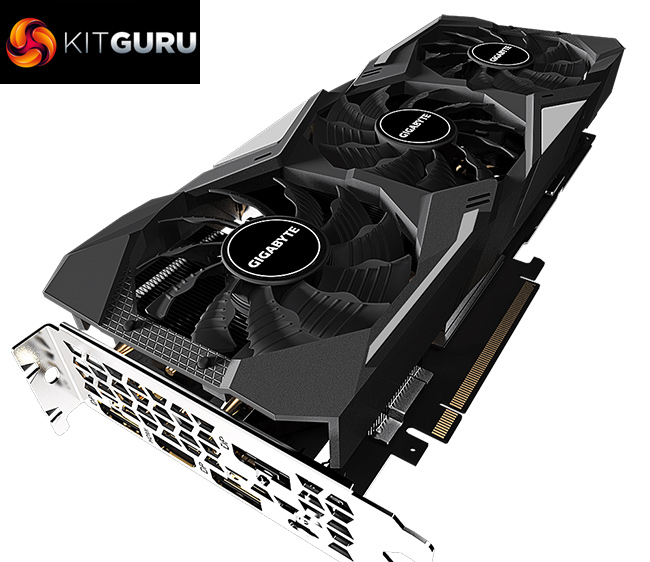 Temperatures and noise levels are also very strong areas for the Gaming OC. We saw the GPU peak at just 62C, which makes it the coolest-running RTX card on test today. MSI's Gaming X Trio ran 3C hotter, and the Founders Edition ran 11C hotter, so it's a definite win for Gigabyte's thermal team.
As for noise levels, it's very easy on the ears. The Gaming X Trio is about 2dB quieter according to my sound meter, but both are so quiet to begin with it really doesn't make much difference. Chances are, if you put this card in any semi-sealed chassis, you just won't be able to hear those three fans spinning.
The last area to touch on is pricing. While the Gaming OC is more expensive than the £475 MSRP for 2070 SUPER, I've seen it priced as low as £510 on Amazon (for the white model, at least). That makes it just 7% more expensive than the Founders Edition, and I find that price increase perfectly acceptable considering the big improvements to temperatures and noise levels that you get with the Gaming OC.
AMD certainly has a thing or two to say with its RX 5700 XT, however, and that remains my firm recommendation for any gamer looking for the best value graphics card under £500 right now. That said, there are very valid reasons for wanting to stick with a Nvidia card – primarily ray tracing support and if you already own a G-Sync monitor – so if that is you, I think RTX 2070 SUPER is by far the most appealing of the new SUPER cards, and this Gigabyte RTX 2070 SUPER Gaming OC model is a great choice at a reasonable price.

You can currently buy the Gaming OC for £518.99 from Overclockers UK HERE
Pros
Colour-neutral design.
Very quiet.
Runs very cool.
My sample overclocked well, to within 2% of RTX 2080 SUPER.
Reasonably priced.
Cons
RX 5700 XT is better value.
Just 2% faster than Founders Edition.
KitGuru says: If you are shopping for a new Nvidia graphics card, the Gigabyte RTX 2070 SUPER Gaming OC is a good bet.