For our temperature testing, we measure the peak GPU core temperature under load, as well as the GPU temperature with the card idling on the desktop. A reading under load comes from running the 3DMark Fire Strike Ultra stress test 20 times. An idle reading comes after leaving the system on the Windows desktop for 30 minutes.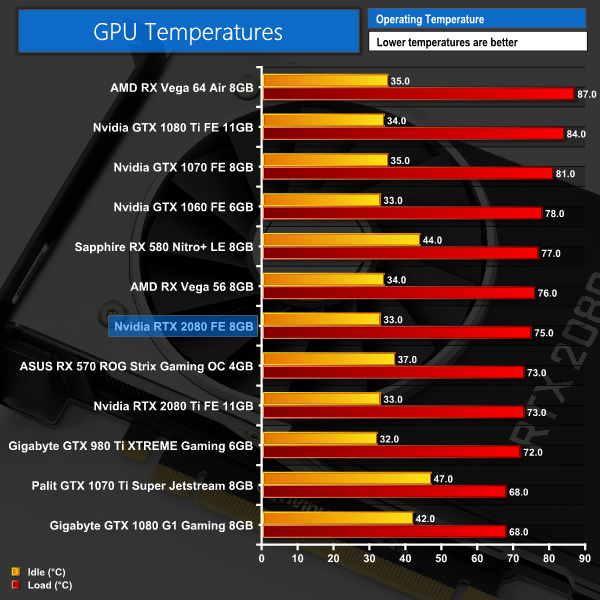 I have to say, the new Founders Edition card has impressed me greatly. The RTX 2080 has a maximum operating temperature of 88C, and considering previous Founders Edition cards would run as hot as they were allowed, to see it come in at just 75C on the GPU core is fantastic for a reference card. This really is rivalling aftermarket solutions we are used to seeing from the likes of MSI, Gigabyte and ASUS.

It will be fascinating to see how cards with beefier cooling solutions perform. Indeed, I have already seen some cards revert back to the older blower-style cooler, so it would be interesting to see how they perform as well.
In terms of the thermal gun testing, there are no causes for concern. The hot spot on the side of the card is directly behind the GeForce logo, but at under 70C it is nothing to worry about.
The area just behind the GPU core peaked at 74.2C, which is again a top result. The aluminium backplate is clearly doing a good job of dispersing the heat across its surface area.