Today we have published reviews of both the Nvidia RTX 2080 and RTX 2080 Ti. It is the former this particular review has been concerned with, however, and it is safe to say we have a lot of good things to say about the card.
First of all, the new Founders Edition card really is excellent – not only is it built exceptionally well, but it runs very cool – peaking at just 75C, something which is unheard of for an Nvidia-built card until now. This is undoubtedly thanks to the new dual axial fans which have replaced the traditional blower-style (radial) fans we have seen from previous Nvidia reference cards, while there is also a new full-length vapour chamber as well.
It is also the quietest Nvidia card we have tested to-date, with a peak of just 42.1 dB in our noise emission testing. To put that into perspective, it makes it the 4th quietest card on test today – meaning it is quieter than some aftermarket cards. Nvidia has well and truly stepped up the game with its Founders Edition. In fact, I would expect many consumers, who might otherwise have bought a cheaper aftermarket card, will be going for one of the new Turing Founders Edition cards as they are that good.

We did, however, spot an irregularity with our power consumption testing which showed the RTX 2080 drawing 274W under load – 7W more than the RTX 2080 Ti. We are still in discussions with Nvidia as to why this might be, but running Shadow of the Tomb Raider did show the RTX 2080 drawing marginally less power than the RTX 2080 Ti. In either case, it's not as power hungry as Vega 64, but neither is it as frugal as the GTX 1080 or GTX 1080 Ti.
The main thing is, of course, real-world performance – the one element that Nvidia hardly addressed both during the launch of the RTX 20 series, and in the preceding weeks. What can we say about how fast the RTX 2080 is? Well, in a nutshell, it is very close to the previous-generation GTX 1080 Ti. If we look at the average FPS difference across our tested games, at 1440p the RTX 2080 is almost exactly 5% faster, while at 4K the RTX 2080 is just over 6% faster.
The reason we are comparing the RTX 2080 to the GTX 1080 Ti is pricing. Using current prices from Nvidia, the GTX 1080 Ti can be had for £669. The RTX 2080, on the other hand, cost £749. That makes the RTX 2080 almost 12% more expensive, despite being 5-6% faster.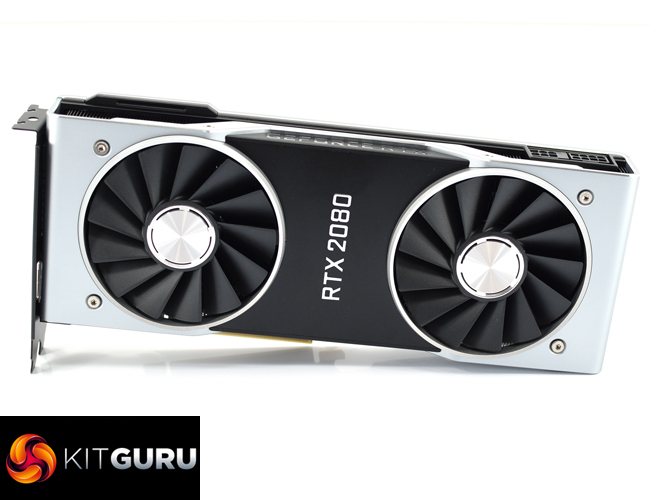 You will see this performance gap increase when overclocking, however, as we found the RTX 2080 to be very amenable to a hefty overclock. Thanks in part to the extra control afforded to end-users via GPU Boost 4.0, we were able to add +145MHz to the GPU core, and +400MHz to the memory. This gave us a real-world operating frequency of 2030MHz that held steady under sustained load – resulting in an extra 7% performance when testing Far Cry 5 at 4K.
The big talking point about these new cards, however, is of course Turing's new capabilities with ray tracing, and Deep Learning Super Sampling is another benefit we have looked at. The problem is, until DirectX Raytracing (DXR) is released in October, we can't say just how good the ray tracing element is, and the same goes for DLSS – we need games to support it before we can give a proper verdict on it.
Still, we have been able to run the stormtrooper 'Reflections' demo, and that shows the potential for ray tracing with these cards – even the GTX 1080 Ti could barely run the demo at 8-10FPS, whereas the RTX 2080 was able to perform around the 33-38FPS mark. It is important to not read too much into a single demo – we will of course have to see what real-world gaming is like with ray tracing added in. Still, based on what we can see – the potential is clearly there for ray tracing in games to run well on these cards, and Turing is undoubtedly far superior to Pascal when it comes to ray tracing capabilities.
As for DLSS, this is a neural-network based version of anti aliasing which not only provides similar (or better, based on our testing) visual fidelity to Temporal Anti Aliasing (TAA) but at a significantly lower performance penalty. Again, we could only test one demo of this, but with DLSS turned on instead of TAA, average frame rate rose by 37% when testing FFXV at 4K. A close crop of two screenshots, comparing TAA and DLSS image quality, also suggested DLSS provided the better visuals.
Where do we go from here for Turing and ray tracing? Apart from one ray tracing demo, as of right now, the RTX 2080 may as well be called the GTX 2080 – we simply can't play games with ray tracing just yet. That does make it hard to offer concrete buying advice – Nvidia has sent us a product which is paving the way for real-time ray tracing at home, but we can't test it in any games that are currently available.
So, should you buy the RTX 2080? On one hand, GTX 1080 Ti owners may see little reason to upgrade – and we are of course still waiting to see concrete ray tracing performance from games you can go out and buy.
But on the other hand, if you were in the market for a new high-end graphics card, regardless of the fact that Turing has just been released, then the RTX 2080 is the one to go for. That's because it is faster than the GTX 1080 Ti, and at £80 more expensive than a 1080 Ti, it is not wildly out of reach if you were going to drop about £670 on a new graphics card anyway.
On top of that, what we have seen of ray tracing is promising. We do of course need to see more from actual games, and not just one demo. But either way, we can't ignore what we have seen in regards to Turing GPUs and ray tracing – Pascal just won't cut it in that department.
The smart thing to do is wait and see when we have actual ray traced games that we can test. But if you are looking to buy a new GPU now, at only £80 more than the GTX 1080 Ti, the RTX 2080 does have the upper hand.

You can buy the Nvidia RTX 2080 directly from Nvidia for £749. Overclockers UK also has a range of aftermarket cards starting at £749.99.
Pros
Founders Edition card looks lovely.
Quietest reference card we've tested.
There are impressive gains to be had from overclocking.
Faster than GTX 1080 Ti.
What ray tracing testing we can do, shows a clear benefit to Turing GPUs.
FFXV ran noticeably better with DLSS when compared to TAA.
Cons
We don't know how the card will perform with ray tracing in actual games.
Not wildly faster than a GTX 1080 Ti.
Fans keep spinning even under light loads.
KitGuru says: All of the talk has been about ray tracing – and what we have seen is certainly very promising. Current GTX 1080 Ti owners may not see much reason to upgrade, but for anyone else spending around this much cash on a new graphics card – the RTX 2080 is the one to go for.