We take our noise measurements with the sound meter positioned 1 foot from the graphics card. I measured the sound floor to be 34 dBA, thus anything above this level can be attributed to the graphics cards. The power supply is passive for the entire power output range we tested all graphics cards in, while all CPU and system fans were disabled.
A reading under load comes from running the 3DMark Fire Strike Ultra stress test 20 times. An idle reading comes after leaving the system on the Windows desktop for 30 minutes.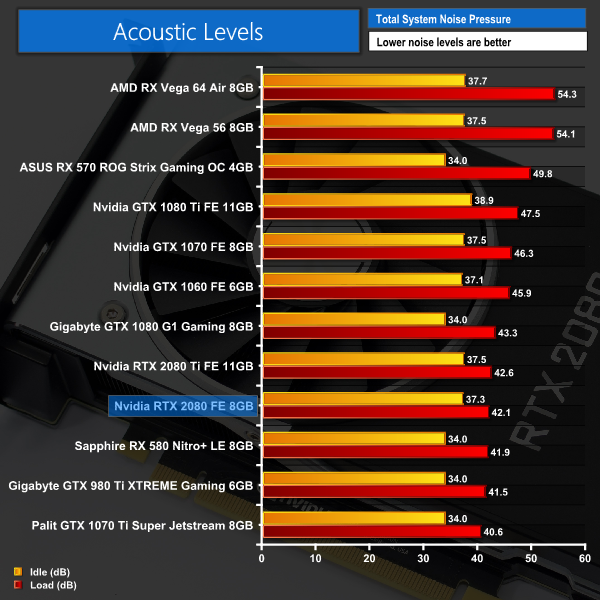 Following on from the impressive temperature testing, how about the noise emissions of the Founders Edition RTX 2080! It's the quietest reference card we've ever tested, coming in even quieter than the triple-fan Gigabyte G1 Gaming GTX 1080 as well – an aftermarket card. Nvidia's decision to ditch the blower-style fan in favour of the dual axial fan setup has clearly reaped dividends – the typecast of reference cards as being noisy is certainly over.
Things could be better, though – and I am talking about having a fan-stop mode, where the fans stop spinning under light loads. With the RTX 2080, the fans spin no matter what. It's obviously a lot quieter while idling than when gaming, but I am certain these coolers could get away with a fan-stop mode when under idle or low load situations. It could even be something added in later by Nvidia with a driver update.