The first custom RX 5700 to come through our doors, Sapphire's Pulse card is an all-together solid improvement over the reference design.
Starting with the overall look and design, it's a pretty conventional dual-fan cooler which Sapphire calls 'Dual-X'. It uses two 95mm fans and a mostly black plastic shroud. It's certainly not the most premium feeling graphics card, with the plastic shroud proving quite flimsy, but I suppose once it's in your case it doesn't matter too much.
The red and silver/grey colour accents may not be to everyone's taste, though. Over the last couple of years, we've seen manufacturers move away from coloured shrouds to more colour-neutrals designs, and then you can use RGB lighting if you want to match the card to a particular colour scheme in your build. With the Pulse series, it could potentially be limiting its appeal by going with this fixed colour scheme. Personally I think it's a good looking card, but whether or not it will match with your own rig is another matter.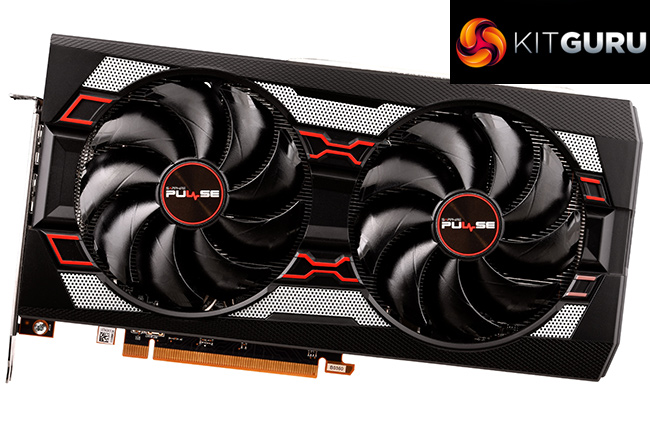 Anyway, there's no doubt the cooler performs much better than the reference design in terms of its temperature and noise levels. Core temperature dropped 6C versus reference, while noise levels also fell from 52 to 42dB. Both are clear improvements, but it really is the lower noise levels which I most appreciate – a 10dB drop in total noise output is very significant, and means this card is much easier on the ears than the reference model.
The Pulse is also faster than AMD's reference design, but not by much – we saw very consistent frame rate increases of 2% across our testing, while the biggest improvement proved to be just 7% at 4K. This does actually push the Sapphire card ahead of the RTX 2060 SUPER, as the Pulse is on average 1% faster – though do bear in mind that figure does mask some fairly dramatic swings across our suite of games.
Versus the vanilla RTX 2060, the Pulse increases its lead to 15% on average, and it is faster than that card across every single game we tested. As a last comparison against the Radeon VII, the Pulse is still 14% slower, though it's also about half the price that the Radeon VII launched at.
Closing out with a look at pricing, here we see the unfortunate effects of a weak Pound versus the US dollar, as Sapphire confirmed pricing to us at £365 for the Pulse RX 5700, but in the States it will cost $359. That makes it just $10 more than reference (+3%), and at that price it is an absolute no-brainer – I'd pay that premium over the reference card any day of the week for the lower temperatures and significantly reduced noise levels.
For those of us in the UK, however, the card comes in £36 more expensive than reference, which is an 11% increase. I think that price is still worth paying for the improvements this card makes, but it is certainly not as attractive as a mere $10 price increase, and it does make me wonder how other custom cards will be priced. Pulse, after all, is Sapphire's lower-end series, and the higher the pricing goes for other custom Navi cards, the trickier things become when up against the 2060 and 2070 SUPER.
Even taking that into account, I can still recommend the Sapphire RX 5700 XT Pulse. If you're in the USA this is a fantastic value card, and while the pricing is less attractive for UK buyers it is still a solid offering and will do a noticeably better job than the reference design.

You can buy the RX 5700 Pulse from Overclockers UK for £364.99 HERE.
Pros
Runs 6C cooler than reference.
10dB quieter than reference.
Small (3%) increase to clock speed.
Full length aluminium backplate.
Quick Connect fans makes self-repair easy.
Cons
Shroud feels flimsy in areas.

UK pricing is less favourable than US pricing.
KitGuru says: Sapphire's RX 5700 is a solid first effort and improves on the reference design in every way. UK buyers do pay more of a price-premium than shoppers in the USA, but even then I'd say it is worth the extra cash.