In Middle-earth: Shadow of Mordor, the player plays as a ranger by the name of Talion who has wraith-like abilities.In this open world video game, players have the freedom to pursue side quests and roam around the world.
We use a mixture of Ultra and High settings in Shadow of Mordor's for both resolutions and tested using the built-in benchmark. These quality settings were initially seen as the Ultra preset on our test system, although an adjustment in the game has shown to now be a custom profile.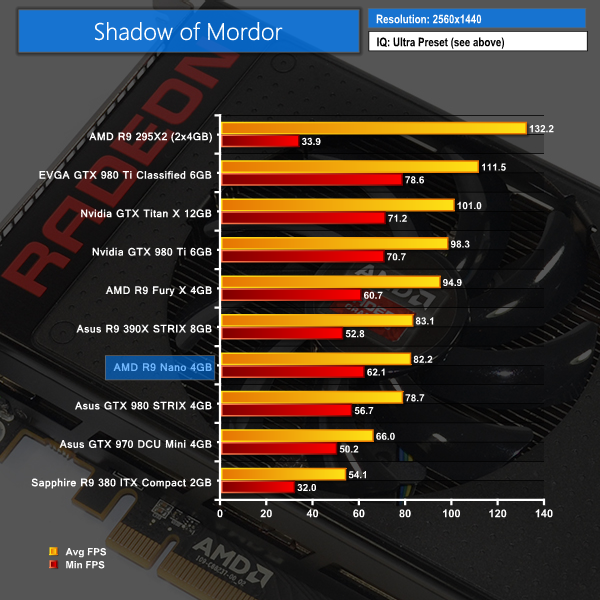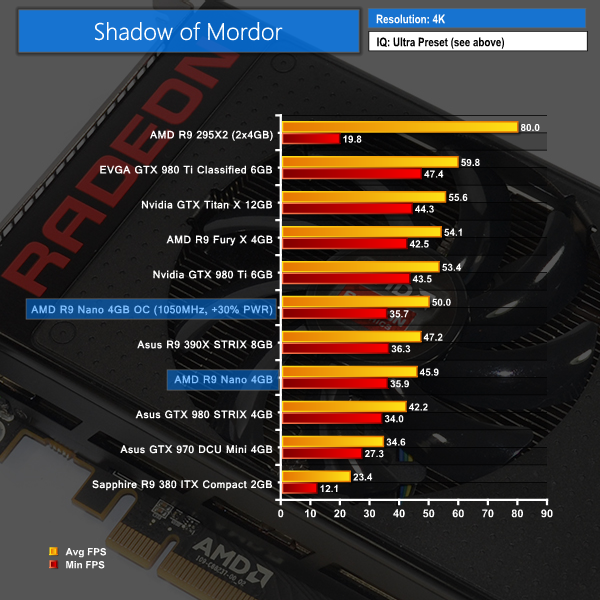 This time it's the Asus R9 390X that overtakes the R9 Nano in terms of 1440P performance. AMD's R9 Nano is slightly faster than the GTX 980 STRIX at 1440P, although it cannot come close to the performance of the liquid-cooled Fury X.
The factory-overclocked R9 390X holds its position at 4K, which is likely thanks to its large – 8GB – frame buffer which Shadow of Mordor will happily eat into.
Shadow of Mordor was one of the games that put a particularly high tax on the R9 Nano in regards to GPU core clock. The 1440P setting saw the R9 Nano's GPU core clock average a little over 900MHz for the short benchmark run, while 4K dropped the core to below 900MHz on average.