Unigine provides an interesting way to test hardware. It can be easily adapted to various projects due to its elaborated software design and flexible toolset. A lot of their customers claim that they have never seen such extremely-effective code, which is so easy to understand.
Heaven Benchmark is a DirectX 11 GPU benchmark based on advanced Unigine engine from Unigine Corp. It reveals the enchanting magic of floating islands with a tiny village hidden in the cloudy skies. Interactive mode provides emerging experience of exploring the intricate world of steampunk. Efficient and well-architected framework makes Unigine highly scalable:
Multiple API (DirectX 9 / DirectX 10 / DirectX 11 / OpenGL) render
Cross-platform: MS Windows (XP, Vista, Windows 7) / Linux
Full support of 32bit and 64bit systems
Multicore CPU support
Little / big endian support (ready for game consoles)
Powerful C++ API
Comprehensive performance profiling system
Flexible XML-based data structures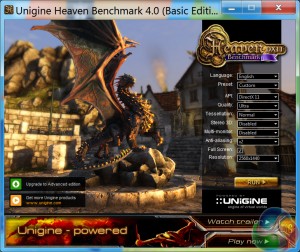 We set Quality to 'Ultra', Tessellation to 'Normal', Anti Aliasing to 2x, and the resolution to 2560×1440.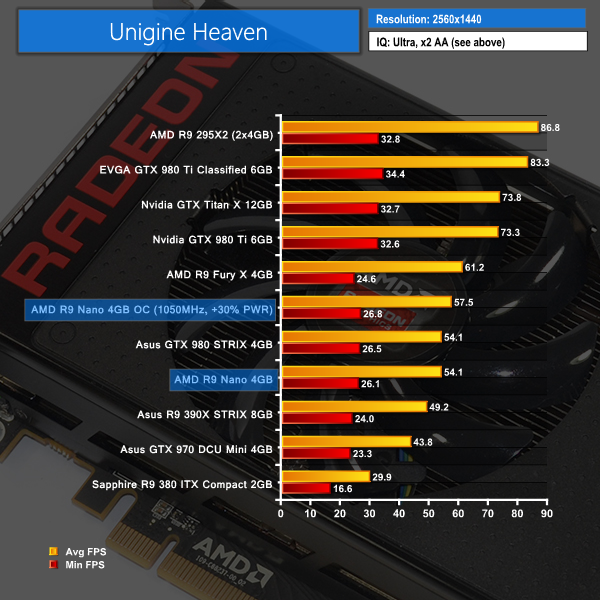 With Unigine Heaven running at a 1440P resolution, not 4K, the stock-clocked R9 Nano is able to match the performance of Asus' factory-overclocked GTX 980 STRIX.
Opening the power taps and increasing the target clock speed sees the R9 Nano jump above Asus' GTX 980 STRIX and sit directly between performance of the factory-overclocked Nvidia solution and AMD's flagship R9 Fury X.
The AMD R9 Nano's average core clock speed for the roughly 250 second run of Unigine Heaven was around 900MHz when using the default card settings. In this usage case, power delivery limits seem to be the primary driver for PowerTune core clock management, as the GPU temperature remained below 75°C.