The tests were performed in a controlled room with temperatures maintained at a constant 25°C – a comfortable summer environment for the majority of people reading this. Idle temperatures were measured after sitting at the desktop for 15 minutes. Gaming measurements were acquired by repeating the GTA V benchmark for 15 minutes and taking the stabilised reading. All fan settings were left on automatic.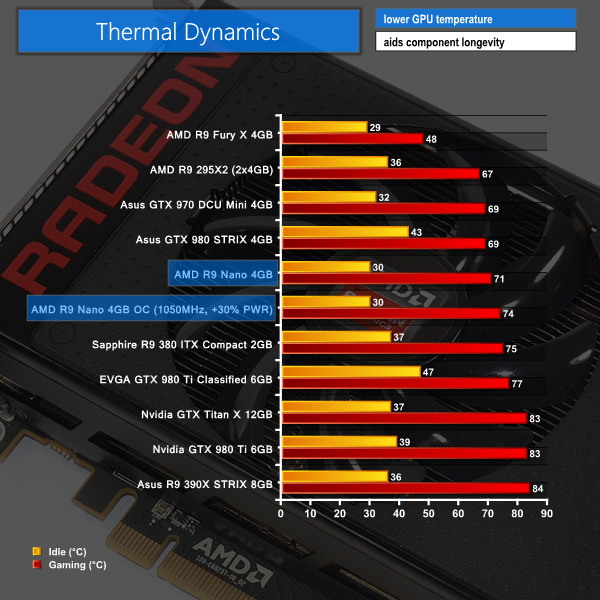 AMD's temperature target is 75°C and that's pretty much where the card will reach after a long enough session of gaming. The fan speed ramps up to a user-definable maximum (65% by default) in order to hit the target GPU temperature and stay well away from the 85°C throttling point.
The rear PCB hits a temperature level in the 60s very quickly after load is applied. The card's hot-spot is directly behind the VRM components, and temperatures climbing towards the high-80s quickly after load being applied are borderline concerning.
I say 'borderline' because the VRM components themselves are perfectly capable of running at temperatures that most people would perceive as worrying (100°C plus is fine for certain MOSFETs and inductors). But that heat spreads along the PCB and soon reaches its way to the GPU area, forcing temperatures higher. There's also the concern of a fan cable or some other connector contacting the PCB inside a SFF system. This could cause the cable plastic to melt, and that's a bigger headache.
I would have liked to see AMD make use of a backplate on the card. Not only would this help to effectively (and easily) distribute heat away from the MOSFET area, it would also act as a protection barrier for cables that are touching the card. I'm not saying that these temperature levels should have you worried about melting cables, but if the plastic lead from one's cheap fan is going to melt, I'd rather it do so on a metal backplate than the card's expensive PCB.