The AMD Radeon R9 Nano is a unique graphics card in many ways. It utilises a flagship GPU but houses it on a board which measures in at six inches long to make it a true mITX graphics card.
As far as small form factor graphics cards go, AMD has comfortably taken the performance crown with the R9 Nano. The previous fastest offerings were mITX GTX 970 designs from the likes of Asus. The fastest offering on AMD's side was the Sapphire R9 380 Compact ITX. Both of those cards were comfortably outperformed by the R9 Nano, but that is to be expected given the latter's significant price premium.
Overall performance sees the AMD R9 Nano typically sat between factory-overclocked GTX 980 and stock-clocked R9 Fury X levels, with most frame rates being slightly closer to the GTX 980 than the R9 Fury X. While both of those cards are valid offerings in their own right, they are not the most convenient solutions for application in many SFF cases. And that's where the AMD R9 Nano is able to offer something different – generally acceptable 4K performance from a truly mini-ITX graphics card.
Power consumption of the R9 Nano has been handled well by AMD. The card requires around 10W more than the GTX 980 and it uses that increased power budget to deliver greater performance on average. Temperatures have also been handled well, in general. The core is happily maintained at its 75C target without the fan having to run at annoying levels.
Temperatures of the rear components (namely the rear VRM area) are high though, so I would have liked to see AMD apply a heat-spreading backplate to the card. There's also the cooler design which exhausts a sizeable proportion of its hot air directly inside a chassis.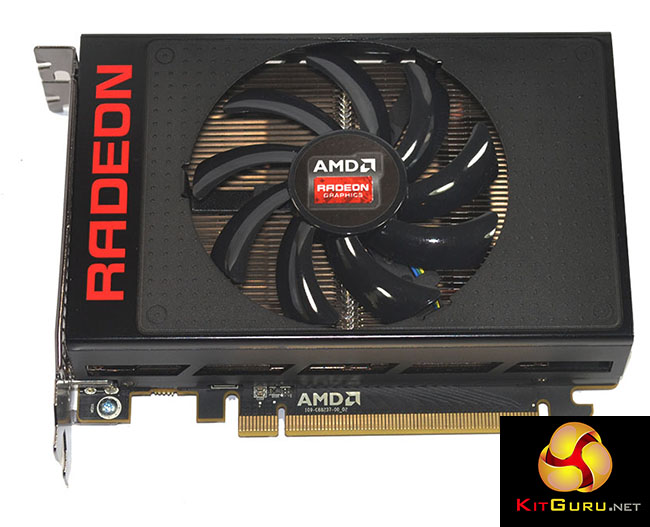 The R9 Nano uses the same full-fat Fiji GPU found inside the R9 Fury X. But the latter is consistently faster. Why? That's because AMD rates the R9 Nano GPU for a core clock of 'up to 1000MHz'. Our testing showed that (namely) the card power allocation forced the GPU to operate around the 900MHz mark on average, although this varies from game to game, with GTA V allowing higher clocks and Shadow of Mordor and Tomb Raider being less friendly to the GPU.
Pricing is going to be the R9 Nano's big talking point. AMD has set the retail price at £515, which is pretty much identical to that of the R9 Fury X and similar to the retailer selling price of reference GTX 980 Ti models. Indeed those other two cards are different to the R9 Nano in many respects, but they are also competitors in many senses.
When I was looking for a mITX chassis to purchase, it struck me just how many are designed to accommodate large graphics cards. Even our tiny Silverstone Sugo SG13 is able to house a GTX 980 Ti comfortably, and a R9 Fury X (and its water-cooler) at a push, although the latter is arguably less advisable or convenient. By that logic, they're both competitors to the R9 Nano for users with appropriate SFF cases.
The AMD Radeon R9 Nano is a smart graphics card from AMD that brings a new level of performance to the market for users interested in buying a truly SFF graphics card. It does, however, charge a significant pricing premium for the luxury of reduced size when comparing it to its closest performance competitor (the GTX 980).
Power usage is good, temperatures are in check, and noise output was bearable, so AMD's R9 Nano is a valid option is you are happy to pay the price premium to get a high ratio of performance-per-inch without having to deal with the AIO liquid cooling solution of the Fury X.
Discuss on our Facebook page, over HERE.
Pros:
Brings new levels of performance to the SFF graphics card market.
Comfortably outperforms other SFF offerings (GTX 970 and R9 380).
Capable of playable 4K performance.
Cooling solution keeps the GPU temperatures in line.
Cooling solution is not loud enough to cause annoyance.
Power draw levels are very good at stock clocks.
Increasing the power budget nets solid performance gains for increased fan speed and power draw.
Cons:
Retail price is significantly above its closest performance competitor (the GTX 980).
Cooler design exhausts some air directly into the chassis.
Rear components can get hot and there is no backplate.
No native HDMI 2.0
KitGuru says: The AMD R9 Nano is a unique product that caters directly to the SFF gaming market. With solid power consumption numbers, good performance even at 4K, and a convenient form factor, the R9 Nano should not be overlooked if you want a high-performance gaming HTPC. It's mainly the £515 asking price that is hard to swallow.