Set in 1912, in Bioshock Infinite, players assume the role of former Pinkerton agent Booker DeWitt, sent to the flying city of Columbia on a rescue mission. His target? Elizabeth, imprisoned since childhood.
Bioshock Infinite is set to its highest image quality settings at both resolutions. We test a section of the game. In our previous graphics card review (of EVGA's GTX 980 Ti Classified) we removed the game's minimum FPS reading as our current test method seems to be imposing an unjustified penalty against AMD cards so we are looking into this issue. The same charting process is conducted for this review.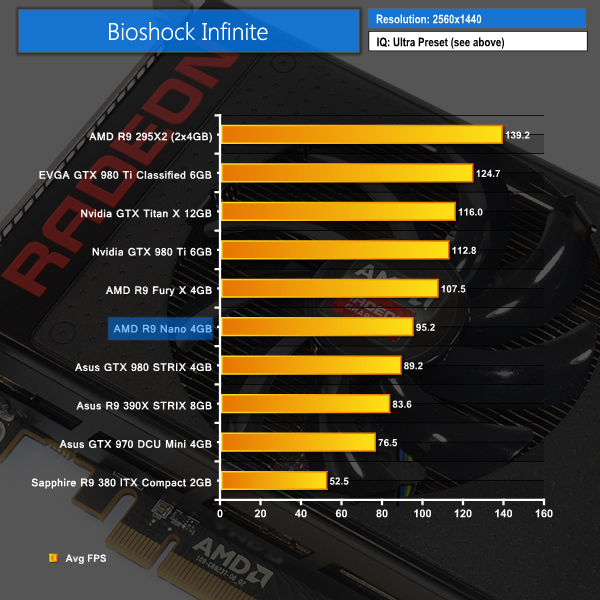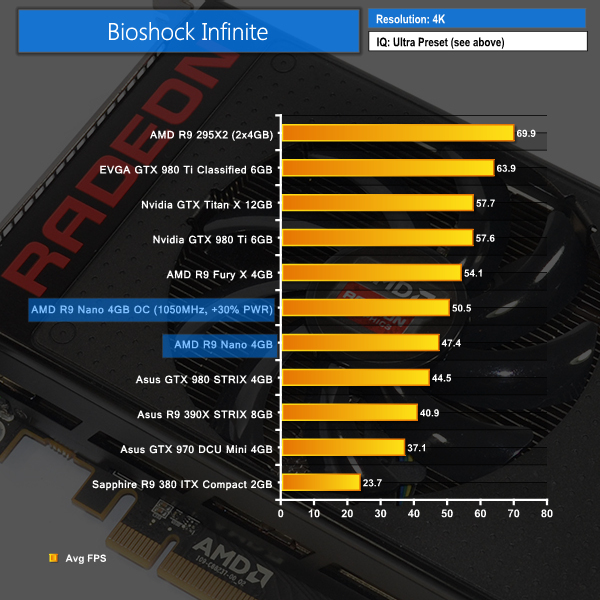 More of the same is shown in Bioshock Infinite. The R9 Nano sits between a factory-overclocked GTX 980 and the reference R9 Fury X at 1440P, with performance being slightly closer to the former. Focusing on Nvidia's reference GTX 980 Ti, which is about the same price as the R9 Nano, an 18% performance increase is delivered for the green team's offering. But given the GTX 980 Ti's increased power draw, higher operating temperatures, and physically large sizing, that could be considered an apples-to-oranges comparison.
4K performance shows an almost identical trend to that of Battlefield 4. The well-cooled, power-happy R9 Fury X is able to widen its performance lead over the R9 Nano thanks to fewer GPU core clock constraints.