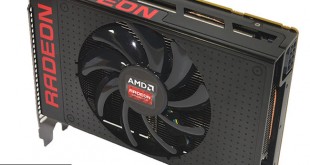 2015 has been a good year for those interested in high-performance small form factor (SFF) computing. Some of the most noteworthy releases have been ASRock's X99E-ITX/ac motherboard which brought an entirely new level of performance to consumer mini-ITX systems. And let's not forget about the array of mITX cases that we've seen from manufacturers such as Phanteks, Corsair, and Silverstone.
AMD is aiming to make its stamp on the SFF marketplace by giving gamers a graphics card based on its flagship GPU but in a mITX-capable form factor. That card is the 6-inch air-cooled R9 Nano which uses the same full-fat Fiji GPU found on the red team's flagship R9 Fury X water-cooled offering. At a little over 7.5 inches, the R9 Fury X was a small graphics card in its own right, but the Fury Nano takes over 1.5 inches off that length and mitigates installation headaches by not using the AIO liquid cooling unit.
The question that everybody is asking is 'how will AMD's flagship Fiji GPU fair when deployed on a 6-inch air-cooled card?'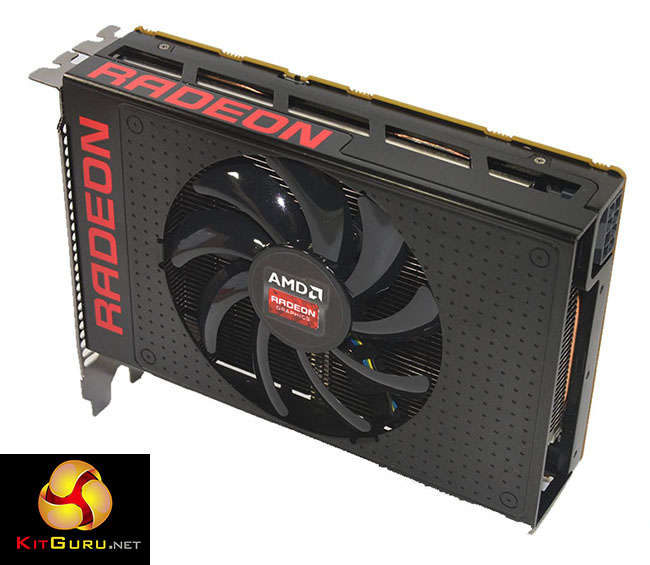 One of the most noteworthy points about the R9 Nano is that AMD deploys a full-fat Fiji GPU on the 6-inch card. Unlike the R9 Fury (non-X), there is no removal of processors or texture units when comparing the R9 Nano to AMD's flagship R9 Fury X. So how exactly is the TDP cut from 275W on the Fury X to 175W on the R9 Nano?
Firstly, the GPU Core clock is cut to a maximum of 1000MHz, which is down from the R9 Fury X's solid 1050MHz. The critical point here is the word maximum, because AMD's PowerTune algorithms dynamically adjust the actual core clock based on factors such as power usage and GPU temperature. Cutting the R9 Nano's board TDP to 175W gives the PowerTune process a target to aim at.
AMD also says that the 175W TDP is achievable thanks to the way in which the Fiji GPU scales. The chip architects have suggested that the Fiji GPU settings deployed on the R9 Nano act in the ASIC's 'efficient' range, while the Fury X pushes the ASIC past that range in search of greater performance over core efficiency. There's also the HBM factor, which helps to shave precious Watts off the board's overall power consumption in comparison to the GDDR5 alternative.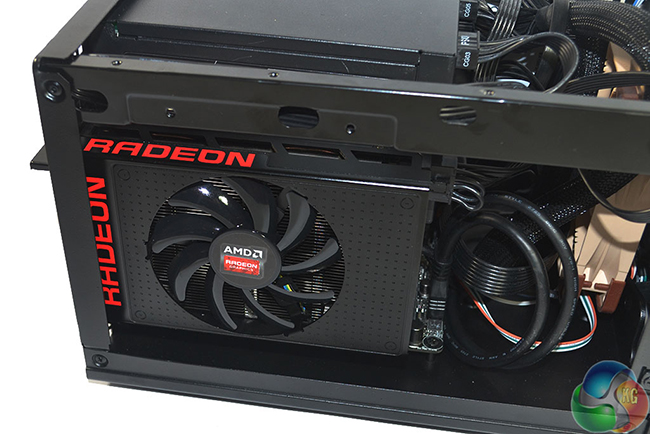 Performance-per-inch is probably the single point that AMD would like to push with the R9 Nano. An early look at the specification sheet makes it hard to argue against that point. On paper, at least, the six-inch card opens up a whole new level of gaming performance to a SFF audience who have, up until now, been able to choose from a mini-ITX variant of Nvidia's GTX 970 as their highest-end small graphics card.
The R9 Nano's target is to give SFF gamers a miniature graphics card that is realistically capable of pushing playable frame rates at a 4K resolution without significant reductions in image quality settings. That's something that none of the current mITX-intended graphics cards on the market can realistically achieve.
But specifications and intentions don't translate into real-world performance, so let's take a look at how AMD's Radeon R9 Nano performs in the real world.
GPU
R9 390X
R9 290X
R9 390
R9 290
R9 380
R9 285
Fury X
Fury
R9 Nano
Launch
June 2015
Oct 2013
June 2015
Nov 2013
June 2015
Sep 2014
June 2015
June 2015
Sep 2015
DX Support
12
12
12
12
12
12
12
12
12
Process Node (nm)
28
28
28
28
28
28
28
28
28
Processors
2816
2816
2560
2560
1792
1792
4096
3584
4096
Texture Units
176
176
160
160
112
112
256
224
256
ROP's
64
64
64
64
32
32
64
64
64
GPU Clock (Max)
(MHz)
1050
1000
1000
947
970
918
1050
1000
1000
Memory Clock
(MHz)
6000
5000
6000
5000
5700
5500
500
500
500
Memory Bus (bits)
512
512
512
512
256
256
4096
4096
4096
Max Bandwidth (GB/s)
384
320
384
320
182.4
176
512
512
512
Memory Size (MB)
8192
4096
8192
4096
4096
2048
4096
4096
4096
Transistors (mn)
6200
6200
6200
6200
5000
5000
8900
8900
8900
TDP (Watts)
275
290
275
275
190
190
275
275
175
We have already taken a more in-depth look at the Fiji GPU in our review of the R9 Fury X, so head over to that page if you want to know more.