Battlefield 4 's single-player Campaign takes place in 2020, six years after the events of its predecessor. Tensions between Russia and the United States have been running at a record high, due to a conflict between the two countries that has been running for the last six years. (Wikipedia).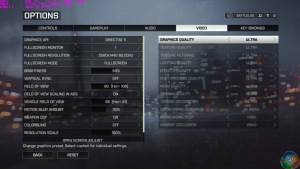 For 2560×1440 testing, we opted for Battlefield 4's Ultra preset. When testing with the demanding 4K resolution, we opted for Battlefield 4's High IQ preset in order to make playable frame rates a greater possibility. Our frame rates are recorded using a section of the game.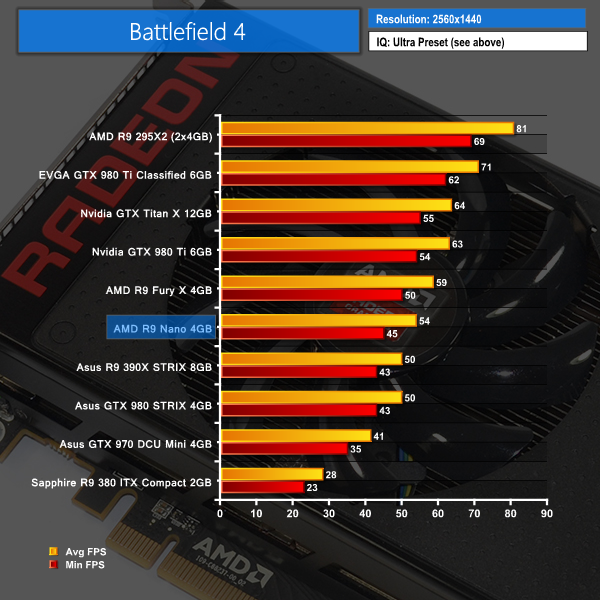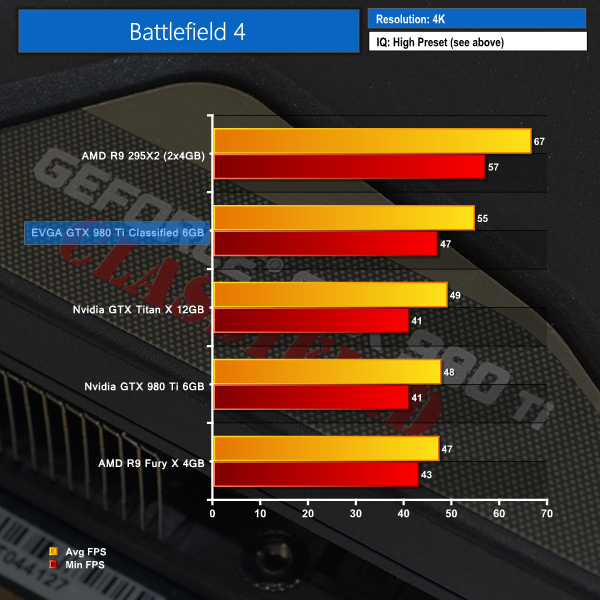 Performance of the R9 Nano sits between that of a factory-overclocked Asus R9 390X STRIX and the reference R9 Fury X when running Battlefield 4 at 1440P. Hitting an average frame rate of 54 FPS when using the game's Ultra preset is solid performance and realistically translates into a perfectly enjoyable gameplay experience from this six-inch card. Asus' GTX 970 DCU Mini is significantly slower than the R9 Nano at 1440P, although that is to be expected given the price differential.
4K performance still places the R9 Nano between a Fury X and R9 390X, however the increased resolution allows AMD's flagship single-GPU card to widen its performance lead. Why is this given that the performance gap should be constant between the two Fiji-equipped graphics cards? It's simply a case of the higher-stress 4K resolution forcing a reduction in the average GPU core clock that the R9 Nano reaches. The 275W water-cooled Fury X has no such clock-speed constraints to contend with.
AMD's R9 Nano out-guns the Asus GTX 970 DCU Mini by 32% at 4K, making it the fastest SFF card in Battlefield 4. It's also significantly more expensive than the Nvidia-based solution and further image quality reduction would be required to achieve enjoyable frame rates even on the R9 Nano at 4K. The overclocked R9 Nano does, however, manage to sit in a comfortable range of frame rates for good usage with a 4K FreeSync screen.