We know that the Fiji GPU is capable of around 1100-1150MHz when deployed on the R9 Fury X, so we pushed to see how far we could overclock that same GPU when it is installed on the R9 Nano card.
Excuse the spoiler, but given the R9 Nano's particularly dynamic nature when it comes to operational core clock speed, we added a section in our chart which presents the 'real' core clock speed observed. We must point out that throughout our testing, the games' 1440P resolutions (which Heaven ran at due to its lack of a 4K option) allowed AMD's card to hit a higher average clock speed than the identical 4K tests did.
With that said, we found that Unigine Heaven's 1440P test was a good indicator of the actual core clock speed that the card was typically hitting in games, on average; Tomb Raider and Shadow of Mordor would sink a little lower on the core clock graph at 4K, while GTA V was happy to allow a higher core clock at the 8MP resolution.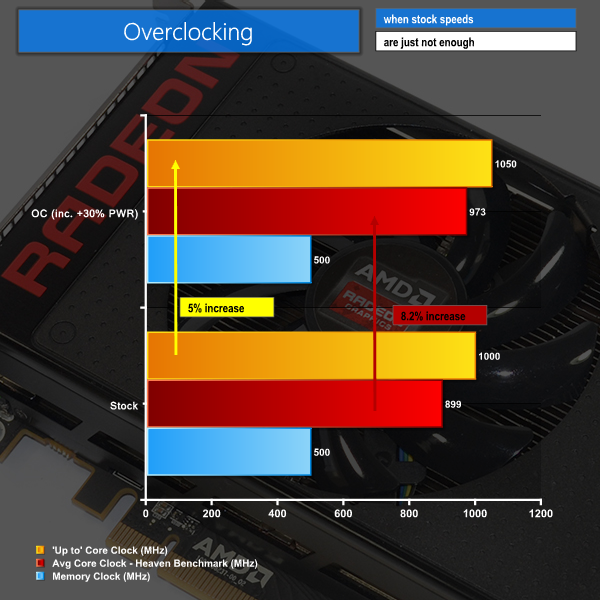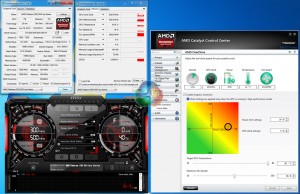 The overclocking chart above tells only a small portion of the story. I spent the best part of a day playing with various frequency-related settings for the R9 Nano board and core clock. My findings were that simply increasing the allowable power limit through AMD's Catalyst Control Center (or third party software) was the quickest and most effective way of netting a speed boost which actually held during games and benchmarks.
That final part of the sentence is critical due to the complexity and operational nature of the PowerTune algorithms that AMD has deployed in the R9 Nano. I saw that better performance gains were provided by applying a +20% board power limit than increasing the maximum core clock to 1050MHz. The card seems very much power-limited in order to meet AMD's usage scenario targets, so playing with the power percentage slider nets the best overclocking results – this is certainly the case in my experience.
With that said, some of the tests (GTA5 was one and 3DMark was another), especially at a sub-4K resolution, were able to hit the 1000MHz core clock limit when the card was given a +30% power allocation. Increasing the core clock to 1050MHz (1100MHz proved unstable for our card) netted healthy gains for GTA V and 3DMark, although it presented no difference for the likes of Tomb Raider and Shadow of Mordor – both of which could not hit the 1GHz maximum core clock, never mind 1050MHz. This was using a 4K test resolution.
Comparing the card's frequency logs for a stock-clocked and an overclocked 4K run of GTA V shows how the power setting and increased maximum core clock affect the usage dynamics. With 30% added to the power budget and the target core clock upped to 1050MHz, the final run scene of GTA V's benchmark at 4K is able to see the average a little over 1GHz on the core clock. That number is almost 100MHz lower when using default settings.
We are not saying that allowing the board to receive 30% more power is sensible for daily usage, however it does highlight that AMD has deployed a capable power delivery system with a strong amount of overhead. We had no overheating issues throughout our overclocked testing – the fan speed simply ramped up to a greater velocity in order to dissipate the increased thermal load.
Let me make that perfectly clear again. We are not saying that a +30% power limit is the most sensible setting to apply while also considering the long term preservation of the hardware. But it does serve as a quick method of netting higher performance results that show what the R9 Nano (more specifically, our single sample card) can handle if you give it enough power.
Overclocked performance will be outlined throughout the review.