We first measure GPU temperature while the card is sat idling at the Windows 10 desktop for 5 minutes. Gaming GPU temperature is recorded by running the Deus Ex benchmark at 4K. As a maximum stress test, Fire Strike Ultra Stress Test is run 5 consecutive times and the cards' GPU temperature levels are recorded.
Ambient room temperature was held at around 25°C.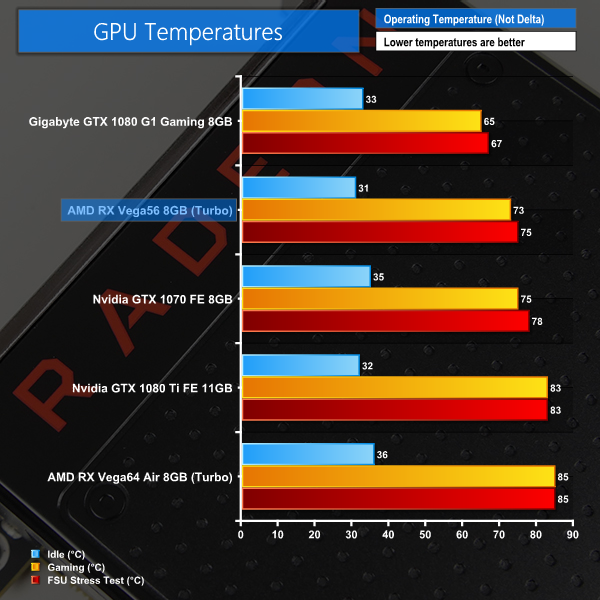 AMD's temperature target for Vega56 is 75°C when operating under the 'Turbo' power plan. The card hits this within a couple of minutes of heavy load but by the same time, Nvidia's GTX 1070 FE has already jumped to a higher temperature level.
In isolation, and when combined with the high power draw, the temperature results for RX Vega56 in its reference-cooler form are good. However, our noise chart on the following page will provide additional context.
The card's backplate does not do a great job of spreading heat across the rear surface area. Instead, zones closer to the rear IO shield (near where the GPU sits and hot air is exhausted) suffer the brunt of temperature rises. With that said, the temperatures did not rise to concerning levels.
The PCB zone directly behind the Vega GPU is the hottest area of the card as it is the only rear section that is not covered by the backplate. Again, temperature levels are not concerning.