Overclocking support is very flaky with Vega at the moment. Our Vega64 testing showed that the performance driver for the card had a bug which made it seem like the card could overclock above 1900MHz but the frequency never actually operated on the GPU.
The OC-specific driver sent over by AMD looks to be holding the GPU at its intended frequency. However, clock speeds rarely seem to increase as high as they should given the % increases quoted in WattMan.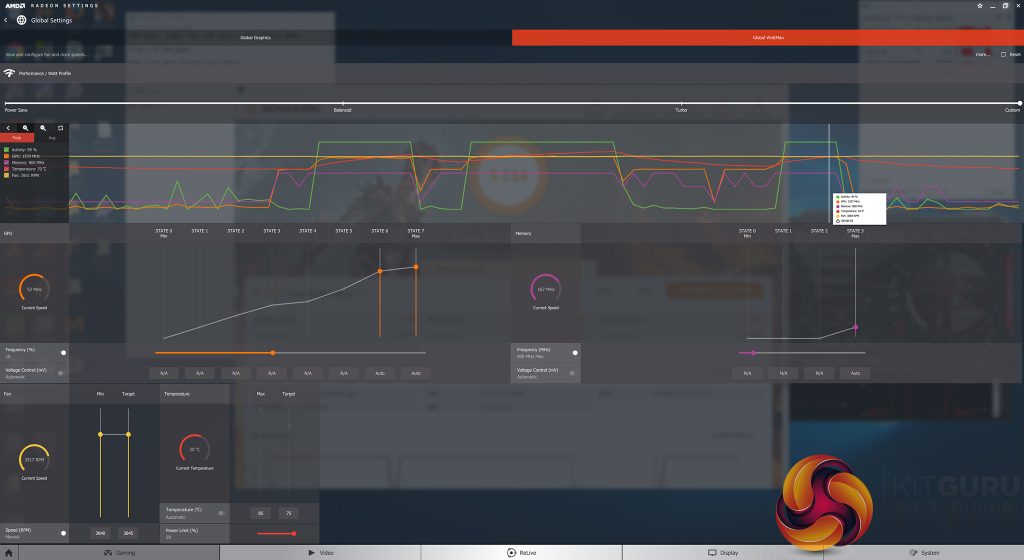 We started our brief overclocking session using WattMan by increasing the power target to 50%, setting the fan to around 78%, and using default voltage. This allowed us to hit a frequency increase of 10% with stability.
Clock speeds throughout the five runs of Fire Strike Ultra Stress Test were in the region of 1480-1500MHz (mainly around 1480MHz). During the Fire Strike Ultra benchmark run, the core speed was around 1530-1570MHz (mainly around 1530MHz) and performance increased by around 6%. Power draw from the wall increased by around 80W to around 480W when overclocked.
Unless board partner cards or more stable drivers from AMD can aid the limited overclocking performance, Vega56 may become less appealing against GTX 1070s that can overclock very well.