Our newest GPU test procedure has been built with the intention of benchmarking high-end graphics cards. We test at 1920×1080 (1080p), 2560×1440 (1440p), and 3840×2160 (4K UHD) resolutions.
We try to test using the DX12 API if titles offer support. This gives us an interpretation into the graphics card performance hierarchy in the present time and the near future, when DX12 becomes more prevalent. After all, graphics cards of this expense may stay in a gamer's system for a number of product generations/years before being upgraded.
A shipping mishap with our GTX 1080 FE meant that we had to buy a new GTX 1080 for testing purposes. As it happens, the cheapest GTX 1080 cards available tend to be factory-overclocked offerings with better coolers than the FE card. As such, we spent just over £500 on Gigabyte's GTX 1080 G1 Gaming which features a triple-fan cooler and a factory overclock. Reference RX Vega56 goes against a reference GTX 1070 in its Founders Edition form as we do not have a more popular AIB partner variant.

Note: We tested the RX Vega64 and Vega56 using the 'Turbo' power mode in AMD's WattMan software. This prioritises all-out performance over power efficiency, noise output, and lower thermals.
General Test System Notes
AMD Graphics cards were benchmarked with the AMD Crimson Beta (RX Vega pre-release) driver.
Nvidia Graphics cards were benchmarked with the Nvidia 384.94 driver.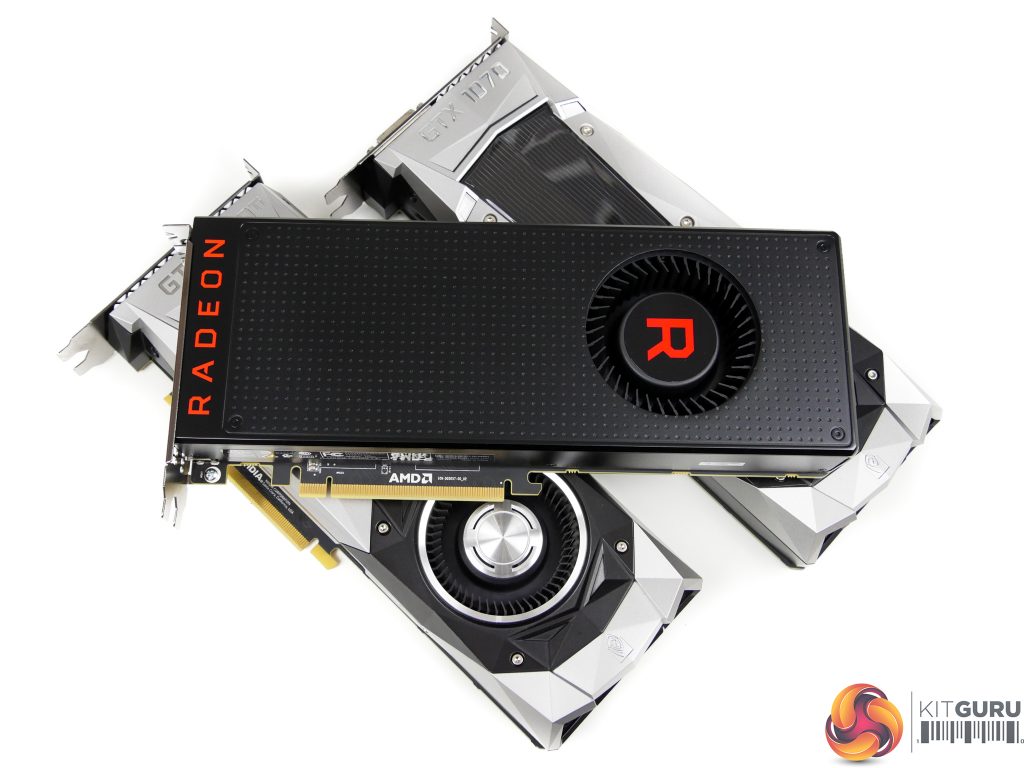 Test System
CPU

Intel Core i7-7700K 'Kaby Lake' (Retail)
Overclocked to 4.8GHz Core

Motherboard

Gigabyte Z270X-Ultra Gaming


Memory

G.Skill Flare X
16GB (2x8GB) @ 3200MHz 14-14-14-34

Graphics Card

Varies

System Drive

Crucial M4 512GB SATA 6Gbps SSD

Games Drive
SK hynix SE3010 960GB SATA 6Gbps SSD
Chassis
NZXT Phantom 630 (medium fan speed)
CPU Cooler

Noctua NH-D14


Power Supply

Seasonic 1000W Platinum

Operating System

Windows 10 Professional with Creators' Update (64-bit)
Our test system consists of an overclocked Core i7-7700K processor and 16GB of 3200MHz G.Skill DDR4. High-end hardware is used to eliminate CPU and memory from the bottleneck equation and put the performance onus solely on the GPU being tested.
Comparison Graphics Cards List
AMD Radeon RX Vega64 Air (1247MHz core / 1546MHz Average Boost / 1.89Gbps HBM2 memory)
Nvidia GTX 1080 Ti Reference (1480MHz core / 1582MHz Boost / 11Gbps GDDR5X memory)
Gigabyte GTX 1080 G1 Gaming (1696MHz core/ 1835MHz Boost / 10Gbps GDDR5X memory)
Nvidia GTX 1070 Founders Edition (1506MHz core/ 1683MHz boost / 8Gbps GDDR5 memory)
Software and Games List
3DMark Fire Strike & Fire Strike Ultra (DX11 Synthetic)
3DMark Time Spy (DX12 Synthetic)
Ashes of the Singularity: Escalation (DX12)
Deus Ex: Mankind Divided (DX12)
Ghost Recon Wildlands (DX11)
Grand Theft Auto V (DX11)
Rise of the Tomb Raider (DX12)