Our Vega56 sample is physically identical to the Vega64 Air sample. The only difference that we used to tell them apart was the 'Vega56' writing on a small green sticker as opposed to 'Vega64'. As such, our analysis for Vega56 uses the same photos and the same analysis (largely) from the Vega64 Air review.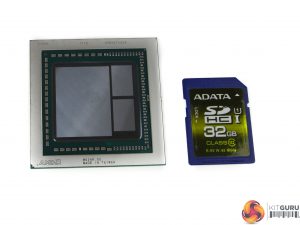 AMD included is a dummy Vega package featuring the GPU alongside two HBM2 stacks as part of the RX Vega64 reviewer's kit. This is how the Vega56 GPU and HBM2 package will look.
The Radeon RX Vega56 reference card uses a black shroud that feels sturdy. It is built primarily from metal and offers good resistance against fingerprint smudging. The card looks and feels premium from the front side.
Personally, I like the red Radeon text and logo on the fan. However, I also understand that some users will not be pleased about the contrast. A black reference card may be seen as long-overdue change in a market dominated by Nvidia's bright silver Founders Edition boards which are certainly an acquired taste.
The reference card measures in at just under 27cm. Side-mounted power connectors should help to avoid installation conflicts in mid-tower and micro-ATX cases.
The Radeon text on the card's side is illuminated with red LED lighting when the card is powered on.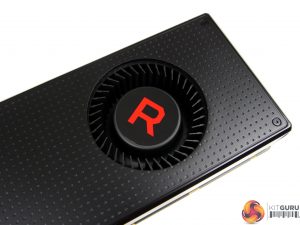 A single blower fan sat behind a 70mm gap is used to force air over the enclosed fin array. The fan is rated at 4900 RPM but rarely goes above AMD's set 2400 RPM unless manual adjustment is made.
A stylish, pure black backplate is used to hide the board's rear PCB area. Cut-outs give access to the cooler retention bracket and dual BIOS switches.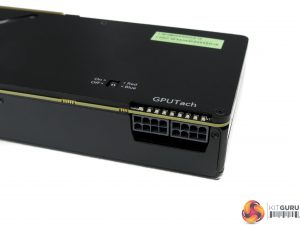 Dual 8-pin power connectors feed the early RX Vega56 sample sent to reviewers, even though there is no need for dual 8-pin connectors on a 210W-rated board (6-pin plus 8-pin would have been sufficient, not accounting for overclocking). AMD rates the TDP as 210W for the air-cooled Vega56 model. Several red LEDs indicate the card's real-time activity levels. When idling, only one of the LEDs glows red, while all of them illuminate under heavy load.
I personally like this feature as it is interesting information for gamers with side panel windows and can aid in troubleshooting system bottlenecks or underperformance. However, in the world of RGB, some users will be disappointed for the X, Y, Z coloured build to be distracted by red LEDs on their graphics card.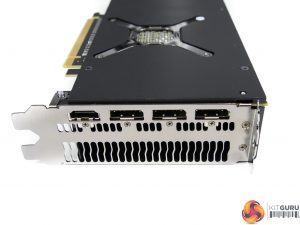 Three DisplayPort 1.4 outputs accompany a single HDMI 2.0 connector. AMD uses a single row for display outputs, allowing the second row to be allocated fully to ventilation area for the cooler.