Noise output of the graphics card is measured using the fan speed percentage associated with each of the temperature recordings displayed on the previous page. In order to focus solely on the noise output by the graphics card in question, we disconnect all fans from the test system so that the only moving parts are relating to the graphics card.
The NZXT Phantom 630's side panel is removed in order for us to focus specifically on the graphics card's noise emissions. We also place the acoustic measurement equipment very close to the graphics card (around 10 cm away from it) in order to better detect noise differences between each graphics card. This is also a scenario that will be similar to a user who has their system sat on the desk directly next to where they are sitting.

The background noise level sits around 37 dBA without the test computer running.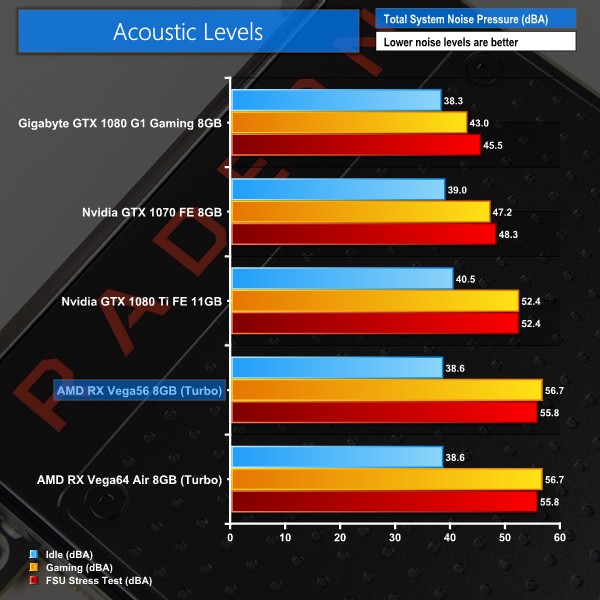 With the same cooler as used on the RX Vega64 operating at the same fan speeds due to temperature throttling, it is no surprise that the Vega56 is equally loud in its 'Turbo' power state.
When idling, the card is basically inaudible. However, heavy load will push the GPU to 75°C and the cooler will spool as high as 2400 RPM (48%) accordingly. At this point, the card becomes loud and somewhat unpleasant. But its noise output certainly won't break through headphones being used by a gamer (you may just annoy people sat nearby).
Expect AIB partner cards to offer superior cooling solutions with lower noise outputs.