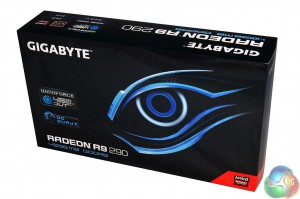 We received our sample straight from Gigabyte HQ in the Far East. It shipped in a full retail box, but is missing the accessories.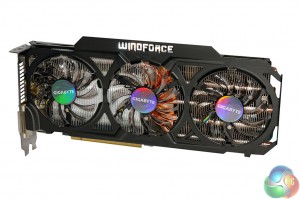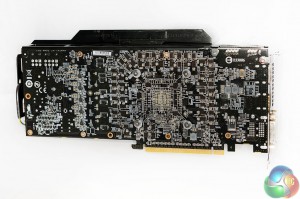 Gigabyte's Windforce cooler looks great, with three large fans spanning the full width of the PCB. Gigabyte have opted for a plain black metal shroud and matching PCB.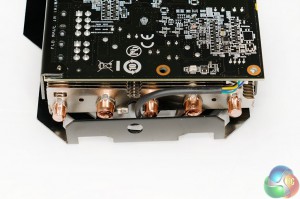 If we look at the edge of the card, we can see the five copper heatpipes run the full length of the PCB.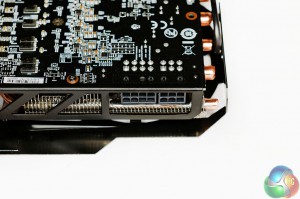 The R9 290 takes power from a single 6 pin and a single 8 pin power connector. This is the same as the reference AMD R9 290 solution.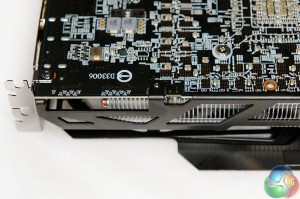 There is no Crossfire connector on the R9 290 WindForce. The 290X and 290 offer Bridgeless Crossfire capabilities. In the picture above you can see a BIOS switch however unlike the 290X, this switch doesn't change any settings. Those who have read our previous editorials will already be aware that the BIOS switch on the 290X would shift between a 40% and a 55% maximum fan profile.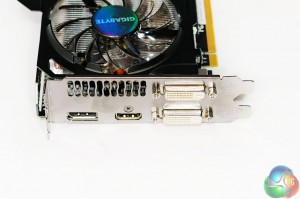 The card has a DVI-I, DVI-D, full sized HDMI and DisplayPort connectors.
R9 Series graphics cards can now support up to three HDMI/DVI displays for use with AMD Eyefinity technology. A set of displays which support identical timings is required to enable this feature. The display clocks and timing for this feature are configured at boot time.
As such, display hot‐plugging is not supported for the third HDMI/DVI connection. A reboot is required to enable three HDMI/DVI displays.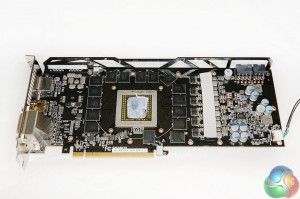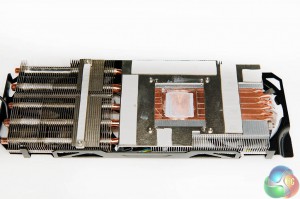 Above, we can see the Gigabyte R9 290 disassembled. They are using a direct touch cooler, with five thick heatpipes running straight along the full length.

Above, an overview of the Gigabyte R9 290 WindForce OC. The Hawaii CPU is built on the 28nm process and has 64 ROPS, 160 Texture units, and 2,560 Stream processors. The 4GB of GDDR5 memory is connected via a wide 512 bit memory interface. Gigabyte have overclocked the core to 1,040mhz.