Splinter Cell Blacklist is the sixth installment in the series. The game begins with Sam Fisher and his old friend Victor Coste who are about to depart from Andersen AFB in Guam when an unknown enemy force destroys the entire base. Assisted by hacker specialist Charlie Cole, Sam and Vic manage to escape, although Vic is injured after protecting Sam from a grenade. Soon after, a terrorist group calling itself "The Engineers" assumes responsibility for the attack and announce that it was the first of a deadly countdown of escalating attacks (called "The Blacklist") on United States assets, declaring that they will halt the attacks only after the U.S. government accomplish the demand of calling back all American troops deployed abroad.


We test with a series of high image quality settings as shown above and with 4x MSAA and 16 x Anisotropic filtering enabled.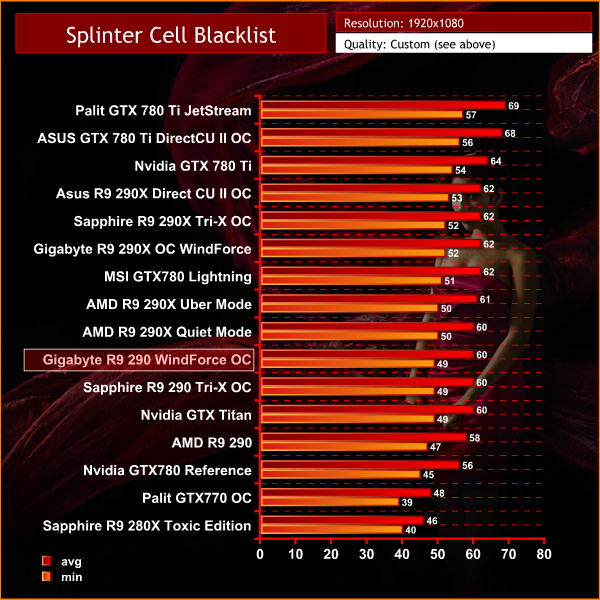 Again, the overclocked GTX780 Ti's lead this benchmark, outperforming the overclocked R9 290X solutions. The Gigabyte R9 290 WindForce OC scores well however, holding an average frame rate of 60 throughout our test.