Automatic CPU Overclocking:
ASRock includes a set of well-tuned CPU overclocking presets. The main profile settings are as follows:
4.0GHz – 40x CPU ratio, 1.20V adaptive VCore, Auto CPU Input voltage, level 5 load-line calibration (LLC).
4.2GHz – 42x CPU ratio, 1.22V adaptive VCore, 1.85V CPU Input voltage, level 5 load-line calibration (LLC).
4.4GHz – 44x CPU ratio, 1.31V static VCore, 1.9V CPU Input voltage, level 1 load-line calibration (LLC).
4.6GHz – 46x CPU ratio, 1.36V static VCore, 1.9V CPU Input voltage, level 1 load-line calibration (LLC).
These are smart profiles for the 5820K CPU, and I can imagine that most chips will be capable of 24/7 stability at the 4.4GHz setting, provided a high performance cooler is used.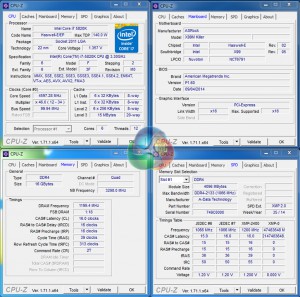 We were able to boot into the 4.6GHz setting with perfect stability. We ran an extended period of Prime95 testing (absolute worst-case scenario for CPU load), and the system was perfectly stable.
CPU temperature, however, reached 90°C within 5 minutes of applying the Prime95 load. And that's with a Corsair H100i CPU cooler and full speed fans. While the 4.6GHz setting was perfectly stable on our system, we would back down to a lower profile for extended usage. 90°C is a higher CPU temperature than I like to see after just 5 minutes of intense load.
We were pleased to note that our memory frequency was left untouched, allowing the kit to operate at its rated XMP settings.
Manual CPU Overclocking:
To test the ASRock Fatal1ty X99M Killer motherboard's CPU overclocking potential, we first increased the CPU VCore to 1.275V, Cache voltage to 1.25V, and CPU Input Voltage to 1.90V. We also disabled the FIVR power saving measures and applied level 1 LLC.
We maintained the DRAM frequency at 2400MHz to take its stability out of the overclocking equation. Cache frequency was maintained at its Multi Core Enhancement level of 3.3GHz, as set by ASRock's board.
ASRock's segregation of CPU and motherboard settings makes the relevant parameter easy to locate. Overclocking in ASRock's UEFI is a straightforward procedure that will be welcomed by gamers who aren't particularly experienced in searching through BIOS settings.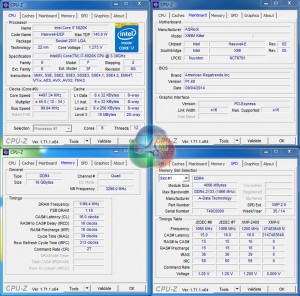 Our 5820K chip's consistent frequency limit of 4.5GHz was as high as we could go with the X99M Killer.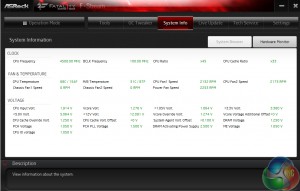 Voltage accuracy of the motherboard was positive. ASRock's hardware monitoring software reported an almost-perfect CPU VCore level and a small – 14mV – overshoot on the CPU Input voltage.
The 4500MHz validation can be viewed here.
Memory Frequency Performance:

Support for high-speed memory kits has been a particularly troubling topic since the X99 launch. We test the motherboard's ability to load the 3000MHz XMP configuration on our G.Skill Ripjaws4 DDR4 memory.
ASRock's X99 Fatal1ty UEFI has no problem detecting the 3GHz XMP configuration of G.Skill's Ripjaws4 memory kit. Getting the kit to initially run at 3GHz is straightforward too – just apply the XMP setting and reboot the system.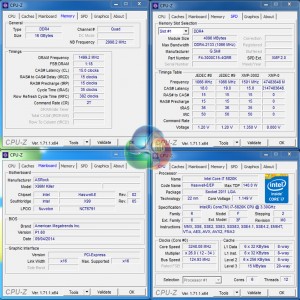 While the X99M Fatal1ty Killer could run the 3GHz memory kit at its XMP frequency with stability, there were some odd system behaviours to be found. For example, the motherboard would refuse to run 3GHz XMP when multi-core enhancement was enabled, presumably due to the switch to a 125MHz BCLK.
However, the most notable oddity occurred during system shut down. The system would power off and then automatically power itself back on and fail to boot. After removing the power and trying to boot again with 3GHz memory, the process would fail. The only solution was to load the default memory settings and start all over again.
This is weird behaviour that we can only assume is related to a BIOS bug. At the moment, 3GHz memory does work, but it is a clear hassle for everyday usage. Hopefully ASRock will fix this issue with future BIOS updates (and I would like to believe that they will). It is also worth noting that ASRock does not display any kits faster than 2800MHz on its memory support list.
The 3GHz memory validation can be viewed here.