We will be outlining the ASRock Fatal1ty X99M Killer motherboard's performance with the Core i7 5820K CPU at its stock frequency (3.6GHz due to forced turbo). Overclocked performance will be outlined later in the review.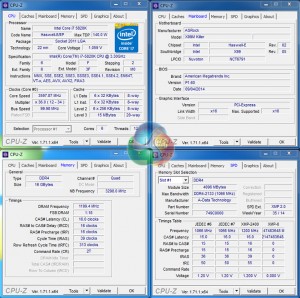 ASRock's X99M Killer does not apply multi-core enhancement (MCE) when XMP is enabled. The all-core turbo mode can be applied with ease by selecting ASRock's well-displayed option in the UEFI.
Applying MCE sees ASRock's Fatal1ty X99M Killer motherboard push the 5820K to a constant 3.6GHz. Unlike many of its competing motherboards, the ASRock UEFI also forces cache frequency to 3.3GHz when MCE is enabled.
While the general user is unlikely to have any quibbles over a free 10% boost to their system's CPU cache speed, it does skew the results of our tests in the direction of ASRock's part (albeit by a small amount).
We have validated ASRock's hardware monitoring software in the past and found its readings to be close to the physical multimeter results. This is a positive, especially when the software is able to show real-time voltages, unlike CPU-Z which sometimes prefers to read from the BIOS settings.
The load CPU voltage for our MCE-clocked (stock) system was just below 1.05V. This voltage level is very forgiving on even mid-range air CPU coolers.
X99 Motherboard Test System:
Compared X99 Motherboards:
Software:
ASRock Fatal1ty X99M Killer BIOS v1.60 (latest).
Catalyst 14.9 VGA drivers.
Tests:

3DMark 1.3.708 – Fire Strike (System)
SiSoft Sandra 2014 SP2 – Processor arithmetic, memory bandwidth (System)
Cinebench R15 – All-core CPU benchmark (CPU)
WinRAR 5.10 – Built-in benchmark (CPU)
HandBrake 0.9.9 – Convert 4.36GB 720P MKV to MP4 (CPU)
ATTO – SATA 6Gbps, USB 3.0, M.2 transfer rates (Motherboard)
RightMark Audio Analyzer – General audio performance test (Motherboard)
Bioshock Infinite – 1920 x 1080, ultra quality (Gaming)
Metro: Last Light – 1920 x 1080, high quality (Gaming)
Tomb Raider – 1920 x 1080, ultimate quality (Gaming)