The MSI GE60 2PE Apache Pro 15.6in gaming notebook is an impressive piece of kit. Despite being light and mobile, it's able to play some of the most graphically intense games out there and generate playable frame rates with settings absolutely maxed out.
It isn't going to break 3Dmark world records, but the combination of a Core i7 and Nvidia G860M makes this a very capable gaming notebook that was able to pass all our gaming tests with ease.
MSI have bundled a small 4,400 mAh battery which limits life on the move. When in full gaming mode, the system shuts down in around an hour. A power cable and plug socket will be a necessity for any kind of serious gaming session.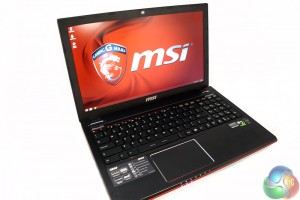 Thanks to the 12GB of RAM and solid state drive, general operation and boot times are incredibly fast. The GE60 2PE Apache Pro is bundled with Windows 8 which may prove unpopular with a specific audience.
We feel the Apache Pro should have shipped with a larger 256GB Solid State Drive. With the 128GB SSD, Titanfall devours 50% of the drive in one fell swoop. There is plenty of storage space thanks to the inclusion of a 1TB mechanical drive – but the performance is distinctly average, averaging around 120-130MB/s.
I enjoyed typing on this laptop –  the Steelseries keys offer tactile feedback under gaming situations and the backlighting was a nice touch, though I didn't enjoy using the touchpad. Quite soon after testing began I found myself yearning for a mouse due to the weird touchpad experience … it was almost as if the touchplate was moving around on the hardware behind it.
We appreciate the additional of the KillerNIC network adapter. This should be great for heavy MMO players or very ping specific titles, as there are many adjustment options available. Our pings during testing rarely breached 80ms.
The audio capabilities of the laptop are fantastic thanks to its Dynaudio speakers, with plenty of volume and a nice, crisp (albeit bass lacking) sound, though we would advise the use of dedicated speakers or headphones to get the most from the laptop.
The overall feel of the GE60's body is reasonable, with the screen hinge requiring a decent amount of force to open and close. The brushed aluminium top coat looks great from a distance. Sadly it attracts fingerprints easily and we had to clean it with a cloth on a regular basis to keep it looking pristine.
The screen's matt finish is fantastic and it means the laptop can be used in a variety of bright (and dark) environments and with Matrix display, you can branch out to give yourself multi-monitor control for business multi-tasking, or added information while gaming.
The MSI GE60 2PE Apache Pro 15.6in will set you back £1200 at retailers such as Overclockers. If you can make do with 8GB of memory and no Solid State drive, then you can save a further £200.
MSI also informed us that for the time being, this laptop will come with a free copy of Titanfall, a free headset or a free notebook rucksack. Claim them here.
Pros
Very powerful CPU/GPU combination for gaming.
Quality matt screen is great for use in bright environments.
Fast RAM and SSD make for snappy system.
Steelseries keyboard with impressive backlighting.
Good selection of ports and accessories, built in BluRay drive.
Cons
Materials used for some parts feel flimsy.
Loose touchpad.
Fans get quite noisy when playing high end games.
Battery life is poor, even when not doing anything strenuous.
Fingerprints and dust show up very easily.
SSD is quite small.

KitGuru Says: While we'd certainly like to see a larger SSD and more powerful battery in this one, the MSI GE60 2PE is still an incredibly powerful laptop for a not-astronomical price. If you're a gamer on the move and you have a plug handy, this one will not let you down.