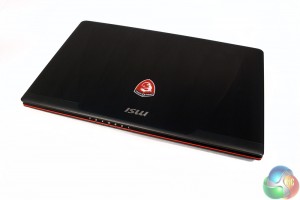 The GE60 2PE is an attractive laptop, with a black aluminium casing that features some minor contours and a central MSI G Series dragon logo to break up the black expanse. The only other bit of colour is the red band that runs all the way around the outside.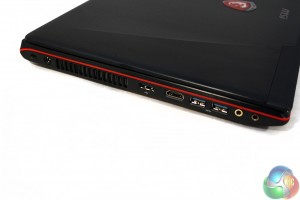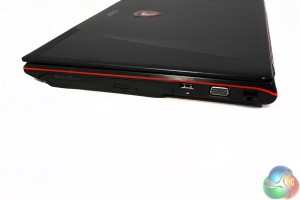 Along the sides are the major ports, air vents and the optical drive. Connectors include a single USB 2.0, HDMI, 2 x USB 3.0 and a headphone and mic jack on one side, and a USB 2.0, VGA and ethernet ports on the other. The Blu Ray drive sits almost completely flush with the frame, with only the indented open/close button really breaking rank.
The display connectors can all actually be utilised at once too, thanks to MSI's Matrix Display, which lets you output to two external monitors at once, allowing for a triple monitor multi-tasking experience.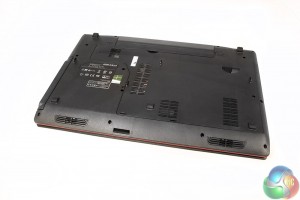 The underside is a matt black, textured plastic.
The grills on the underside are located in specific places to help aid cooling and there's also a pair on the front lip of the notebook for the speakers to pump out the audio. Speaking of which, they were made by MSI in conjunction with Dynaudio over a long period of time and produce a nice sound. It's no 2.1 set up of external speakers, but you wouldn't expect it to be. It's got good volume however and the audio is pretty crisp at the top end. Bass is still a little lacking, but they do a good job overall.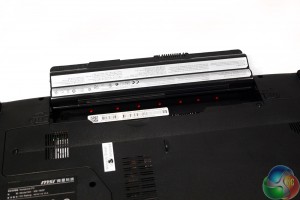 The battery is rather small, rated at 4,400 mAh. We therefore don't expect this laptop to have the greatest battery life.
With the lid open you get a first impression of the screen, with its nice anti-glare coating to keep down reflections to a minimum. We found it worked well, a well thought of feature for those that might like to game in a well lit room.
The screen folds back easily enough but it takes a little bit of force to do so, which should mean that it won't get knocked about too much by minor vibrations – something that can get very irritating if a flight or train decides it's going to shake around more than usual.
While I found the touchpad sensitive from the get go, it did seem a little flimsy. I'm not sure if it's because this is a review unit so others may not have treated it so well, but the touchpad actually felt a little loose, like the plate was moving around on the hardware behind it.
You'll notice too, there's no dedicated buttons for left and right click – or at least, they aren't obvious. They are there, you just have to press where they're supposed to be.
The bezel surrounding the screen is the same plastic as the underside, whereas the main body is made up of brushed aluminium. It's nice to look at, but does have the unfortunate downside of leaving awful fingerprints whenever you touch it. They do fade away, but over time I can see this becoming very messy.
In the top left, you'll notice a pair of buttons that let you cycle through backlighting options on the fly, including cross-fading from one colour to another and changing from multiple colours to one dominant colour. This can also be adjusted via the Steelseries Engine software, to give you more in-depth control of the colour options.
The button next to it customises the volume and power of the built in cooling, letting you up the ante if you feel the need, or scale if back if you think the internal fan is getting a bit too rambunctious.
On the function keys, you'll notice a few different options than your standard media commands, including the ability to enable MSI Eco boost which is designed to improve battery life, switch into airplane mode, change to an external display and disable or re-enable the touchpad.
The keys are laser etched. There's also a slight concave dip to them which makes typing quite pleasurable. We wouldn't rate it as highly as some of the best Lenovo ThinkPad designs however.
There's no left hand windows key, which gamers will likely find pleasing – nothing worse than hitting that key while you're in the middle of session – though it does eliminate the ability to one-hand a lot of windows key functions.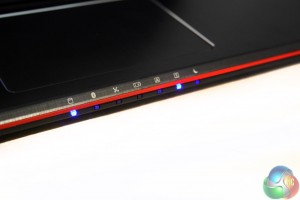 At the front, just ahead of the touchpad, are the indicator LEDs, which give you an idea of system power, whether it's charging or not and when the SSD/HDD is being accessed. They all work fine and wouldn't be worth noting, if not for the fact that when this laptop is in sleep mode, the indicator flashes intermittently non-stop until you take it out of sleep mode.
I appreciate it's trying to get you to shut it down, but a solid, less bright LED would have been preferable to an irritating blinking one.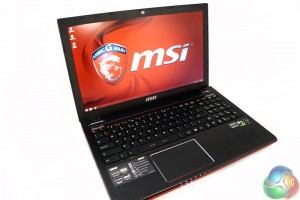 When powered up, the Apache Pro is a nice looking piece of kit. It's smart, but has a slight gamer feel to it, which might be preferable for those that don't want something festooned with stickers and LEDs.
The screen is very capable and movies look gorgeous at 1080p, though with the matt finish you do miss out on some of the most extreme contrast differences. Audio is also pretty good, though as usual with laptop speaker systems, it does lack a lot when it comes to low end frequencies.
That said, the internal soundcard is pretty solid, so if you plug a decent pair of headphones in, you'll be more than happy about what's on offer.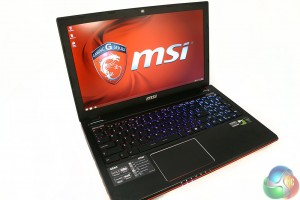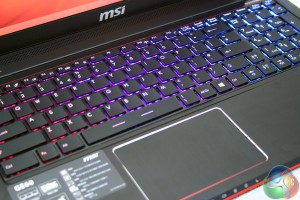 The keyboard for this laptop has some colour gradient LED backlighting, going from red, through purple and blue at default, though through the pre-loaded Steelseries software you can adjust the lighting to your personal preference.