The first check we run on a new test system, especially on branded laptops, is what sort of bloatware installs have made pre-purchase. In this case there aren't too many, though you might have spotted the inclusion of Norton Internet Security. Unfortunately that, along with MSI's registration reminders, loved to pop up during testing.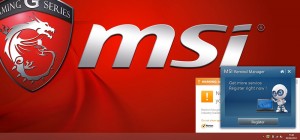 While they never interrupted a benchmark, they did irritatingly cover buttons sometimes and regularly annoyed us. If this was our machine we would de-install the offending software and clean the registry.
Looking at the CPUZ readings, we can see that this laptop comes with the i7 4700HQ chip. While hardly the most contemporary CPU out there, it's certainly powerful and can be boosted from its stock 2.4GHz all the way up to 3.4GHz and packs 6MB of level 3 cache. However here you see it running at a lower clock speed to reduce power consumption when high performance isn't necessary.
This is twinned with 12GB of DDR3 running in dual channel.
The GPU however is the really exciting part of this build, as it's brand new.
The 860M has 640 built in shaders, with a good core clock and comes with 2GB of GDDR5 running through a 128bit channel. This is a capable GPU, so it'll be interesting to see how it handles our gaming benchmarks.
It's paired up with an Intel HD 4600 for low powered scenarios.
Software:
3DMark Vantage
3DMark
3DMark 11
PCMark 8
Cinebench R15
FRAPS Professional
Unigine Heaven Benchmark
Unigine Valley
SiSoft Sandra
CrystalDiskMark
ATTO Disk Benchmark
Cyberlink PowerDVD 10
Cyberlink MediaEspresso
GRID 2
Tomb Raider (2013)
Titanfall
League of Legends
Bioshock Infinite
Technical Monitoring and Test Equipment:
Kingston HyperX 3.0 64GB USB 3.0 drive
Canon 300D camera
Some game descriptions are taken with courtesy from Wikipedia.