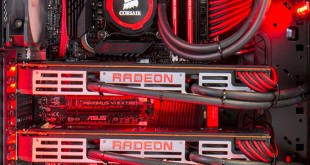 KitGuru review a range of gaming systems every month, from penny pinching £500 builds to wallet sapping £3,000 beasts. Today we take a look at one of the latest high end systems from etailer OverclockersUK. This £4,000 monster features a watercooled, overclocked Core i7 4770k, an Asus Z87 Extreme motherboard, 16GB of fast DDR3 memory and not one, but two AMD R9 295X2 graphics cards running in Quad Crossfire. If you are in the market for a new Ultra HD 4K monitor is this the gaming system you should be shortlisting?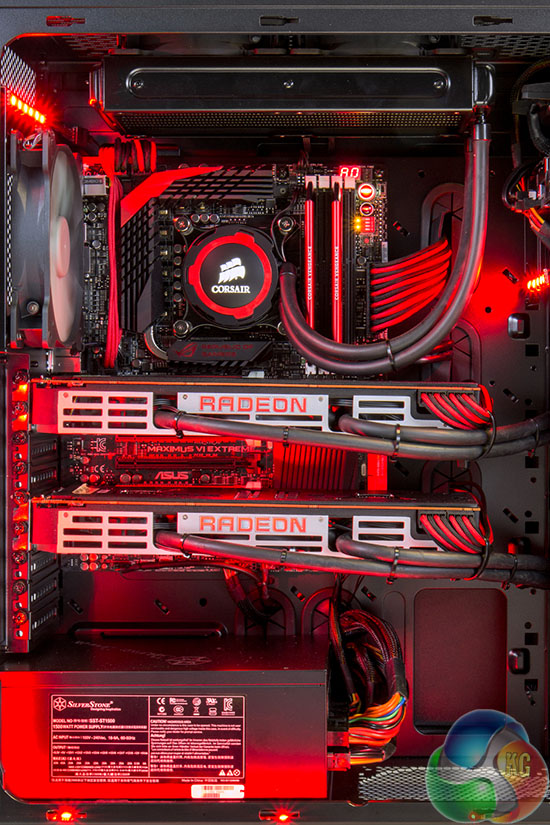 £4,000? Say what? Well much of the price of the "Infinity Vesuvius" system is related to the cost of the lightning quick R9 295X2 graphics cards. If you read our launch review of the R9 295X2 then you will already know just how powerful they are. Do you really need two of them when gaming at 4K? Today we aim to find out.
OverclockersUK "Infinity Vesuvius" Specifications.

Case: Corsair Obsidian 750D Tower Case
CPU: Intel Core i7 4770K Haswell (Socket 1150) Quad Core, Eight Thread Processor Overclocked to at least 4.6GHz
Motherboard: Asus Z87 Maximus VI Extreme (Socket 1150) ATX Motherboard
RAM: Corsair Vengeance Pro 16GB (2x8GB) at 2200MHz Dual Channel Kit
Graphics: 2 x AMD Radeon R9 295X2 8192MB Graphics Cards in Quad Crossfire
Cooling: Corsair H105 Closed Loop Water Cooler
Primary Drive: Samsung 840 Evo Series 250GB Solid State Drive (Options Available)
Secondary Drive: Seagate Barracuda 2TB SATA-III Hard Drive (Options Available)
Tertiary Hard Drive: Optional
Optical Drive: Optional
Audio: 7.1 Channel HD Audio with SPDIF I/O
Operating System: Microsoft Windows 8.1 64-Bit (Options Available)
Power Supply: Silverstone Strider "80+ Silver" 1500W Power Supply
Without question, no one in their right mind would be buying this system to play games on a 1080p monitor. As we have said many times before, a R9 280X or single R9 290 is more than enough for playing the latest Direct X 11 titles at 1920×1080.
Pondering the "Infinity Vesuvius" for 1080p gaming is akin to buying a Ferrari to get to the local supermarket for a pint of milk.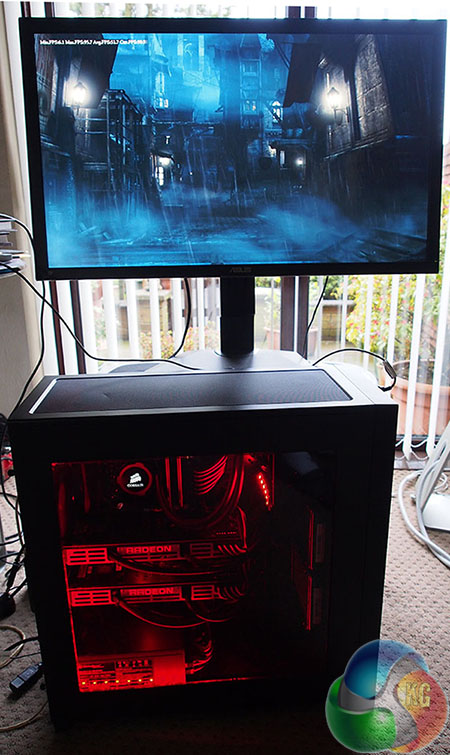 If you want to own a system with two R9 295X2's, then you need to get a new Ultra HD 4K monitor because even gaming at 2560×1600 will suffer from CPU limiting in specific titles. For our review today, we are using an Asus PQ321QE Ultra HD 4K screen running at 4K 3840 x 2160 resolution. We would like to thank ASUS for their support in getting this monitor last year – KitGuru was one of the first publications to use an Ultra HD 4K monitor in high end graphics card reviews. With 4K panel price drops already hitting hard in 2014, it was nice to be at least 6 months ahead of the curve.
Make no mistake 4K gaming is the future.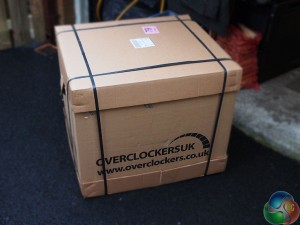 The OverclockersUK "Infinity Vesuvius" system arrives in a very large box with company branding on all sides. Inside, the system is shipped in the Corsair Obsidian 750D Tower case box. It was good to see that Overclockers UK included the Asus Z87 Maximus VI Extreme ATX motherboard box with all the left over cables, discs and literature.
OCUK are using the ultra high end Silverstone Strider 80+ Silver 1,500W power supply, and it uses a slightly different power cable – also included in the box. Be careful not to misplace this, as a standard power cable will not fit. OCUK pack the insides of the system with blue foam to protect the graphics cards during shipping – it is important this is removed before powering the system on.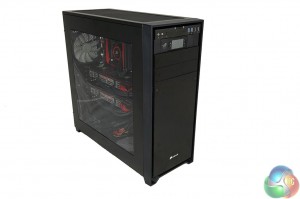 There is no doubt that the Corsair Obsidian 750D is a 'looker'. It ships with a very large side windowed panel to show off the lovely internal build.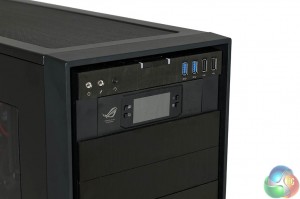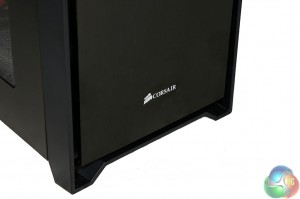 Along the top of the unit is the I/O panel featuring the power button, headphone and microphone ports, alongside 2x USB 3.0 and 2X USB 2.0 ports. Directly underneath is the Asus ROG OC Panel. There is no 'Overclockers UK' branding on the front, just the Corsair logo along the bottom of the case.
The system we reviewed today ships with a 4.7ghz clock speed, although due to the heat and variance when overclocking a Haswell processor, OCUK do mention 'overclocked to at least 4.6GHz' on the "Infinity Vesuvius" system page. As a side note, KitGuru's three 4770k engineering samples are relatively poor overclockers, hitting between 4.5ghz and 4.6ghz – so we can understand why OCUK list this.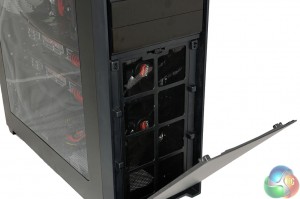 Each R9 295X2 is cooled by a 120mm radiator and we can see they are both fitted at the front of the chassis, with fans positioned to intake. It is worth pointing out that the liquid inside the R9 295X2 radiators will get warm under load, so the intake air won't be entirely cool by the time it leaves the radiator to hit the rest of the system components behind it. Not ideal – but as the 4770k is cooled by the Corsair H105, fitted to the top of the Obsidian 750D – OCUK were out of options.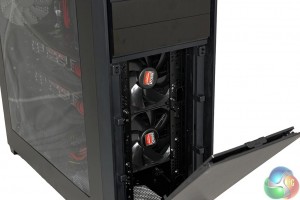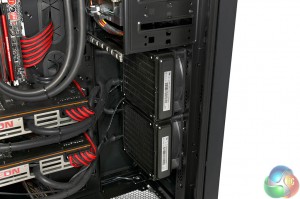 The Corsair Obsidian 750D ships with a removable dust filter so getting access to the two 120mm fans is easy enough. Handy if you want to clean them without removing the radiators.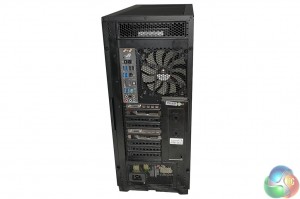 The Asus Z87 Maximus Extreme is one of the best motherboards that money can buy – we reviewed it in August 2013 and it won our top award, you can read the indepth review here.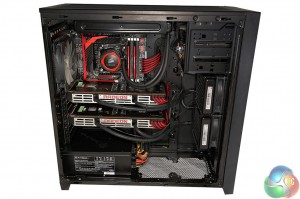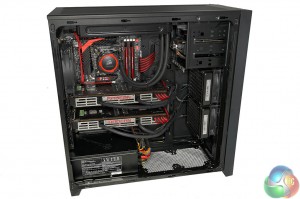 We have no complaints with the build – OCUK have neatly routed all the cables from the monster 1,500W Silverstone power supply.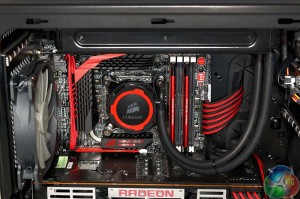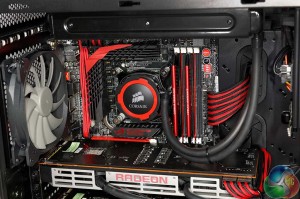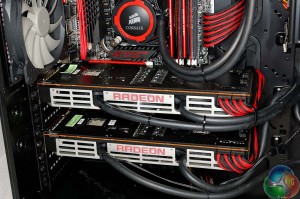 The whole system is coordinated in red and black and looks great – with matching Corsair Vengeance Pro memory. The silver accenting on the R9 295X2 heatsinks give the build a little 'depth' too.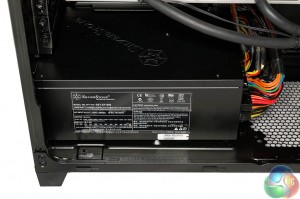 The Silverstone Strider 80+ Silver 1,500 watt power supply has been selected to power the "Infinity Vesuvius" system. We will test power consumption later in the review, but clearly selecting such a powerful unit for this system was a wise move.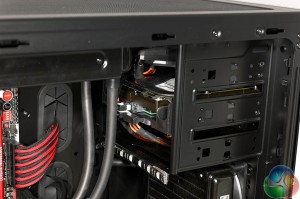 No optical drive is fitted inside the system which is no great loss. OverclockersUK have fitted the ROG OC panel here, along with the 2TB Seagate Barracuda drive and 500GB Samsung 840 EVO SSD. If you need a bluray optical drive then you could always buy an external USB drive – for around £60.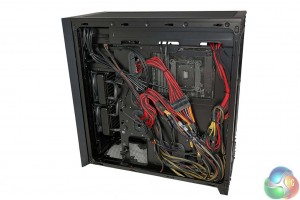 The other side of the chassis is home to many of the cables, shown above. OCUK are using black and red braided cabling so the ugly standard power supply cables can be hidden easily enough out of sight.
On this page we present some super high resolution images of the product taken with the 24.5MP Nikon D3X camera and 24-70mm ED lens. These will take much longer to open due to the dimensions, especially on slower connections. If you use these pictures on another site or publication, please credit Kitguru.net as the owner/source. You can right click and 'save as' to your computer to view later.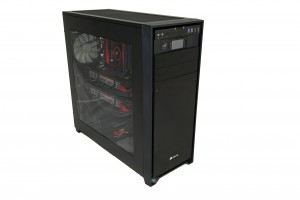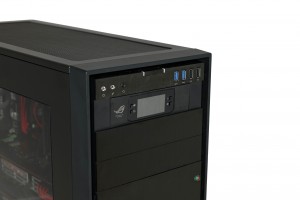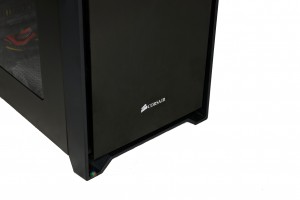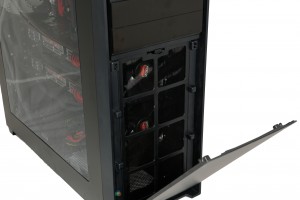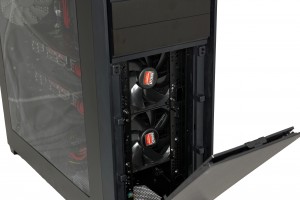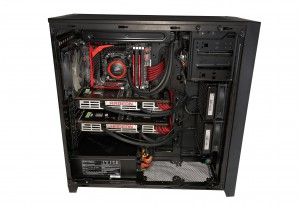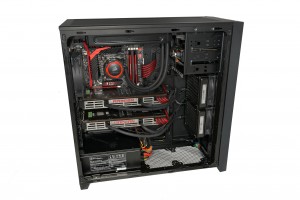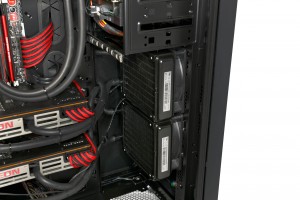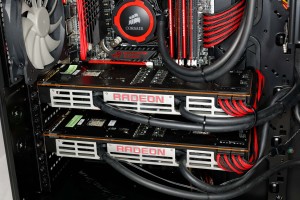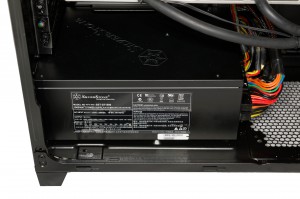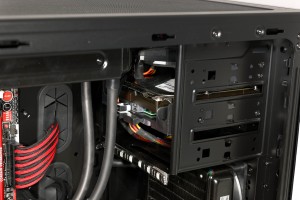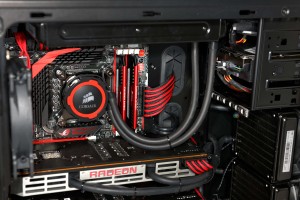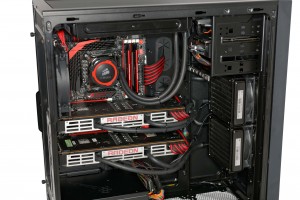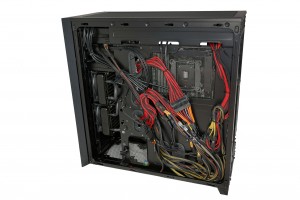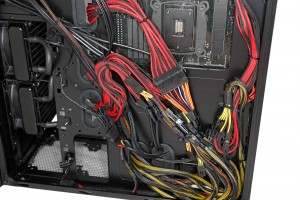 The OverclockersUK "Infinity Vesuvius" R9 295X2 QuadXFire System is based around an overclocked Core i7 4770k processor, running at 4.7ghz.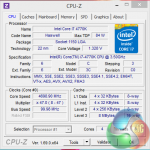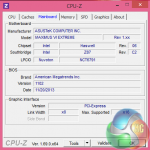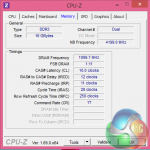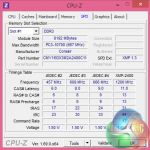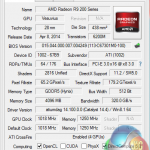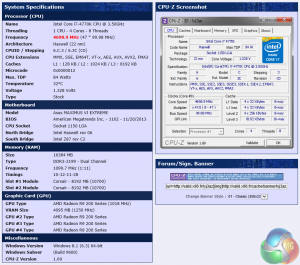 System validation is available over here: http://valid.canardpc.com/lyj3az
Our review sample of the Infinity Vesuvius shipped with the 4770k running at 4.7ghz, although OCUK are clear to state that depending on the specific processor, speeds may be limited to 4.6ghz – it will however never be clocked lower than this. The 16GB of Corsair 2,200mhz memory is running at timings of 10-12-11-28.
GPUZ shows the R9 295X2 graphics cards successfully running in Quad Crossfire – the latest 14.4 beta driver from AMD was sent over for this review.
We are only testing today with an Asus PQ321QE Ultra HD 4K screen running at 4K 3840 x 2160 resolution. Even with an overclocked Core i7 4770k – CPU limiting could prove to be too much of a problem at lower resolutions.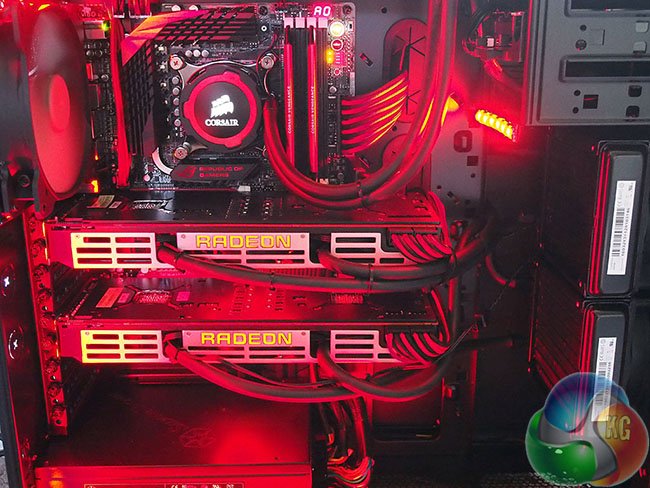 Comparison System for Game Tests:

We feel it is important to have some comparison figures for the game benchmark tests. We are therefore referring to some results we have published in recent weeks on our reference graphics card test rig. This system also uses a Core i7 4770k processor, which is overclocked to 4.4ghz.
It is very important to point out that these results are NOT directly comparable – but are valuable as a reference point for the overall gaming performance of the OverclockersUK "Infinity Vesuvius" R9 295X2 QuadXFire System. We are taking the results using this system from our latest graphics card review which was published on the 15th of April. These are marked in transparent blue throughout the graphs in the review.

Comparison Systems (for specific synthetic test compares):

Hazer Mini Gaming PC
Case: Bitfenix Colossus M Micro ATX Case – Black
Power Supply: Corsair VS450 450W Power Supply
Motherboard: Gigabyte GA-H81M-S2PV Motherboard
Processor: Intel Core i3 4130 3.4GHz Dual Core Processor
Graphics: Nvidia GTX 750 Ti 2GB Graphics Card
Audio: Onboard 7.1 Surround Sound Audio
Optical Drive: 24x DVD Re-Writer
SSD: Kingston SSDNow V300 60GB SATA3 6Gbs Solid State Drive
HDD: 1TB SATA3 6Gbs Hard Drive
Memory: Kingston HyperX 8GB 1600MHz Memory
Mesh Elite Mini Gamer Plus:
Power Supply: 750W Cooler Master GX RS-750, 85% Eff', 80 PLUS Bronze, SLI/CrossFire.
Motherboard: MSI Z87I WIFI – Mini-ITX Motherboard Socket 1150.
Processor:  i7-4770K Quad Core Processor (3.5GHz, 8MB Cache) @ 4.2ghz.
Memory: 16GB DDR3 1866MHz Memory (2x8GB) Kit.
Graphics: 4GB AMD Radeon™ R9 290 – 4GD5 Gaming Series Graphics.
SSD: 240GB SSD – Solid State Drive.
HDD: 2TB SATA III 6Gb/s, 7200rpm, 64MB Cache, 8ms Hard Drive.
PCSpecialist Vanquish 230X:
Processor: Intel Core i5-4670K @ 4.2GHz
Memory: 16GB Kingston HyperX BEAST @ 2400MHz
Motherboard: ASUS Z87-A Motherboard
SSD: 120GB Kingston HyperX 3K SSD
HDD: 1TB SATA III 6Gb/s HDD
Graphics: 3GB AMD Radeon 280X Graphics
Cooler: CoolerMaster Seidon 120M Liquid Cooler
Power Supply: Corsair TX650M Modular PSU
Intel E5 2687W x 2
Motherboard: Asus Z9 PE-D8 WS
Coolers: Corsair H80 x2
Memory: 64GB Kingston Predator 1,600mhz 9-9-9-24 1T
Graphics Card: Sapphire HD7970 6GB Toxic Edition (1,200mhz core 1,600mhz memory).
Power Supply: Seasonic 1000W Platinum Modular
Optical Drive: Asus BluRay Drive
Chassis: Lian Li X2000FN
Monitors: Dell U3011, 3x Ilyama ProLite E2472HDD
Boot Drive: Corsair 240GB Neutron GTX SSD
Secondary Drive: Corsair 240GB Neutron SSD
Intel E5 2660
Motherboard: Gigabyte X79S-UP5-WIFI
Cooler: Corsair H100
Memory: 16GB G.Skill ARES 2,133mhz @ 9-11-10-28
Graphics Card: Sapphire HD7970 6GB Toxic Edition (1,200mhz core 1,600mhz memory).
Power Supply: Corsair AX1200
Optical Drive: Asus BluRay Drive
Chassis: Lian Li X2000a
Boot Drive: Intel 510 120GB
Secondary Drive: Patriot 240GB WildFire
Intel i7 3960X EE
Motherboard: Asus P9X79 WS WorkStation
Cooler: Corsair H100
Memory: 8GB Corsair Dominator GT8 2400mhz memory
Graphics Card: Sapphire HD7970 6GB Toxic Edition (1,200mhz core 1,600mhz memory).
Power Supply: ADATA 1200W
Optical Drive: Asus BluRay Drive
Chassis: Cooler Master Cosmos 2
Boot Drive: Crucial C300 128GB SSD
Secondary Drive: Patriot 240GB Pyro SE
Intel i7 3820
Motherboard: ASRock Extreme4-M
Cooler: Intel reference cooler
Memory: 8GB Corsair GTX8 @ 2133mhz
Power Supply: ADATA 1200W
Chassis: Lian Li PC60
Boot Drive: Crucial C300
Secondary Drive: Patriot Pyro SE 240GB
Intel i5 3570K @ 4.2 – OCUK Prodigy Arctic Gaming System
Motherboard: ASRock Z77E-ITX Intel Z77
Cooler: Coolit Liquid
Memory: Corsair Vengeance White 8GB (2x4GB) DDR3 PC3-12800C9 1600MHz Dual Channel Kit
Power Supply: OCZ ZS 750W PSU
Chassis: Bitfenix Prodigy Mini ITX Case – White
Boot Drive: OCZ Vertex 4 128GB
Secondary Drive: 1TB HDD
AMD FX 8150 Black Edition
Processor: AMD FX 8150 Black Edition
Motherboard: Gigabyte 990FXA-UD7
Cooler: Noctua NH D14
Memory: G-SKill Ripjaws 1600mhz 8GB (2x 4GB)
Power Supply: ADATA 1200W
Chassis: SilverStone Raven 3
Boot Drive: Intel 40GB SSD
Secondary Drive: Patriot 120GB WildFire
Intel Core i7 990X
Processor: Intel Core i7 990x
Cooler: Corsair H100
Motherboard: Gigabyte G1 Assassin
Memory: Kingston HyperX 6GB
Drives: Crucial RealSSD C300 256GB
Power Supply: Corsair AX1200
Chassis: Antec Twelve Hundred
Core i7 970 @ 4.6ghz
Graphics: Sapphire HD7970 6GB Toxic Edition (1,200mhz core 1,600mhz memory).
Cooling: Coolit Vantage
Motherboard: MSI X58A-GD65
Chassis: Thermaltake Level 10 GT
Power Supply: Corsair AX1200
Memory: 6GB ADATA @ 2133mhz 9-10-9-32
Storage: Kingston SSDNow V+ 512GB Gen 2 SSD (Storage) / Crucial RealSSD C300 256GB (OS boot)
Intel Core i7 2700k
Processor: Intel Core i7 2700k
Cooling: ThermalTake Frio OCK
Motherboard: Gigabyte GA-Z68AP-D3 Z68 Motherboard
Chassis: Silverstone Raven 3.
Power Supply: Corsair 850W.
Memory: Corsair 1600mhz memory
Storage: Intel 80GB SSD (boot) / Patriot Wildfire 120GB SSD.
Intel Core i7 2600k
Processor: Intel Core i7 2600k
Motherboard: ASRock Fatal1ty Z68 Professional Gen 3
Cooler: Intel XTS-100H
Memory: ADATA 1600mhz DDR3 8GB (2x4GB)
Power Supply: Thermaltake Toughpower 850W
Boot Drive: Intel 510 SSD 250GB
Intel Core i5 2500k
Processor: Intel Core i7 2500k
Motherboard: Gigabyte GA-Z68AP-D3 Z68 Motherboard
Cooler: Arctic Cooling Freezer Xtreme Rev.2 CPU Cooler
Memory: Corsair 1600mhz memory 8GB (2x4GB)
Power Supply: Corsair 850W.
Boot Drive: Patriot Pyro 120GB SSD.
AMD Phenom II X6 1100T
Processor: AMD Phenom II X6 1100T
Motherboard: Gigabyte 990FXA-UD7
Cooler: Noctua NH D14
Memory: G-SKill Ripjaws 1600mhz 8GB (2x 4GB)
Power Supply: ADATA 1200W
Chassis: SilverStone Raven 3
Boot Drive: Intel 40GB SSD
Secondary Drive: Patriot 120GB WildFire.
Software:
3DMark Vantage
3DMark 11
3DMark
PCMark 8
Cinebench R11.5 64 bit
Cinebench R15
FRAPS Professional
Unigine Heaven Benchmark
CrystalDiskMark
Cyberlink PowerDVD Ultra 11
Cyberlink MediaEspresso
Atto Disk Benchmark
CrystalDiskMark
SiSoft Sandra
Technical Monitoring and Test Equipment:
Asus USB BluRay Drive
Thermal Diodes
Raytek Laser Temp Gun 3i LSRC/MT4 Mini Temp
Extech digital sound level meter & SkyTronic DSL 2 Digital Sound Level Meter
Nikon D3X with R1C1 Kit (4 flashes), Nikon 24-70MM lens.
Games:
Thief 2014
Total War: Rome 2
Tomb Raider
Metro: Last Light
GRID 2
Battlefield 4
All the latest BIOS updates and drivers are used during testing. We perform generally under real world conditions, meaning KitGuru tests games across five closely matched runs and then average out the results to get an accurate median figure. If we use scripted benchmarks, they are mentioned on the relevant page.
Some game descriptions edited with courtesy from Wikipedia.
Futuremark released 3DMark Vantage, on April 28, 2008. It is a benchmark based upon DirectX 10, and therefore will only run under Windows Vista (Service Pack 1 is stated as a requirement) and Windows 7. This is the first edition where the feature-restricted, free of charge version could not be used any number of times. 1280×1024 resolution was used with performance settings.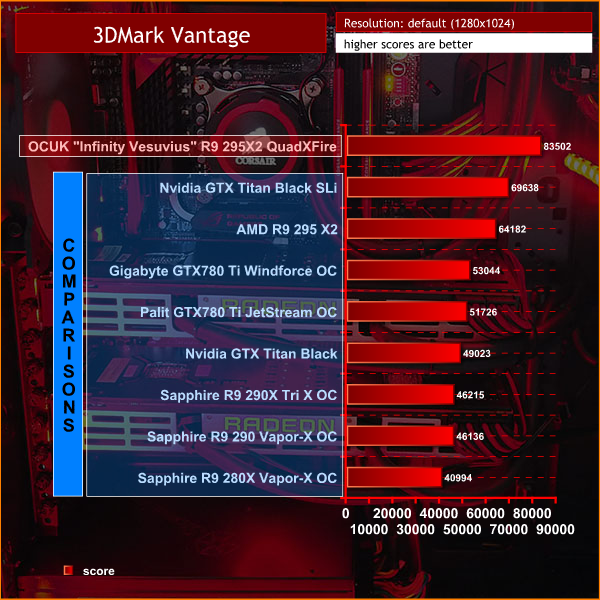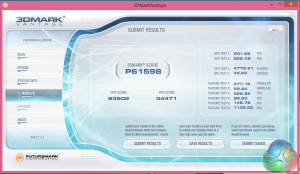 No shortage of performance – this is by far the highest result we have ever seen – scoring 83,502 points. Incredible!
3DMark 11 is designed for testing DirectX 11 hardware running on Windows 7 and Windows Vista the benchmark includes six all new benchmark tests that make extensive use of all the new features in DirectX 11 including tessellation, compute shaders and multi-threading. After running the tests 3DMark gives your system a score with larger numbers indicating better performance. Trusted by gamers worldwide to give accurate and unbiased results, 3DMark 11 is the best way to test DirectX 11 under game-like loads.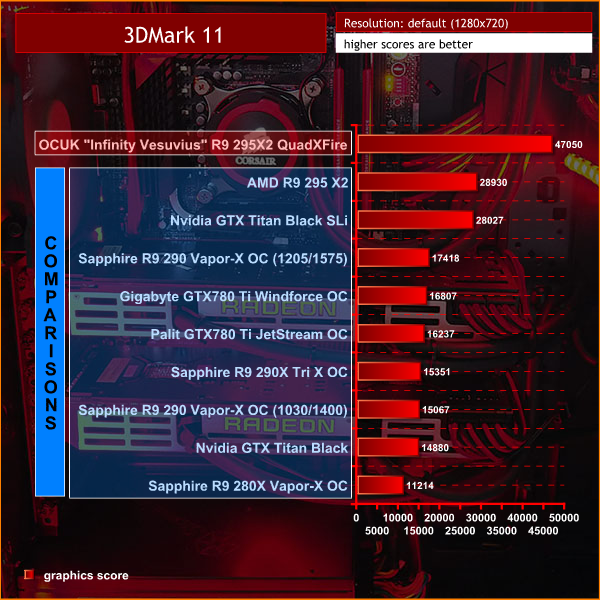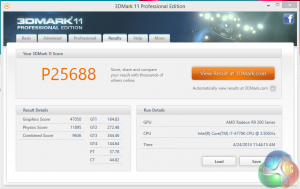 The system scores 25,688 points, but we are interested in the graphics score, which is a blistering 47,050 points – way ahead of our previous best, the single R9 295X2 running in our reference graphics test bed.
3DMark is an essential tool used by millions of gamers, hundreds of hardware review sites and many of the world's leading manufacturers to measure PC gaming performance.
Futuremark say "Use it to test your PC's limits and measure the impact of overclocking and tweaking your system. Search our massive results database and see how your PC compares or just admire the graphics and wonder why all PC games don't look this good.
To get more out of your PC, put 3DMark in your PC."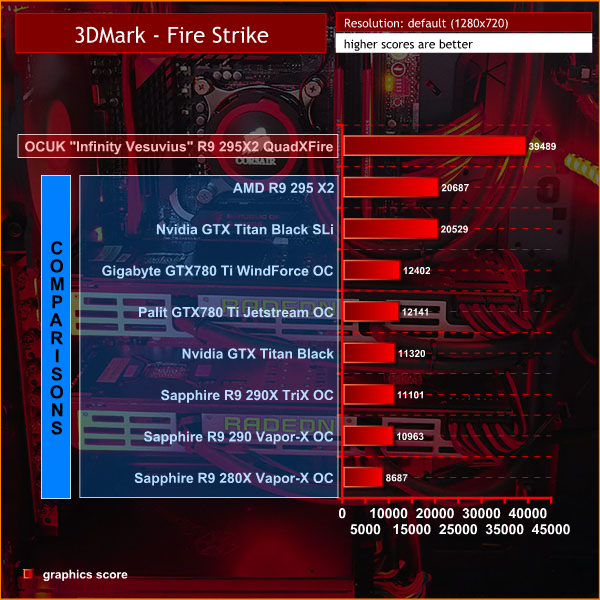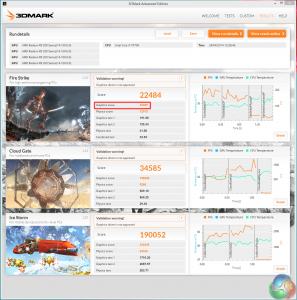 The Fire Strike graphics test is almost 40,000, almost double of our previous best with – yes, you guessed it, a single R9 295X2 graphics card.
Unigine provides an interesting way to test hardware. It can be easily adapted to various projects due to its elaborated software design and flexible toolset.
A lot of their customers claim that they have never seen such extremely-effective code, which is so easy to understand.
Heaven Benchmark is a DirectX 11 GPU benchmark based on advanced Unigine engine from Unigine Corp. It reveals the enchanting magic of floating islands with a tiny village hidden in the cloudy skies. Interactive mode provides emerging experience of exploring the intricate world of steampunk.
Efficient and well-architected framework makes Unigine highly scalable:
Multiple API (DirectX 9 / DirectX 10 / DirectX 11 / OpenGL) render
Cross-platform: MS Windows (XP, Vista, Windows 7) / Linux
Full support of 32bit and 64bit systems
Multicore CPU support
Little / big endian support (ready for game consoles)
Powerful C++ API
Comprehensive performance profiling system
Flexible XML-based data structures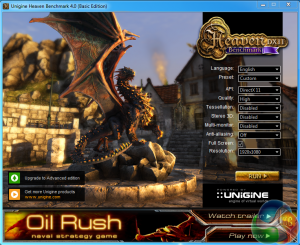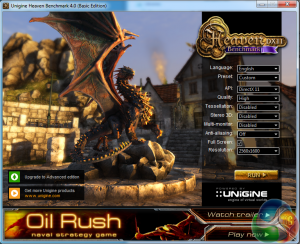 We use the settings shown above at 1920×1080 and 2560×1600.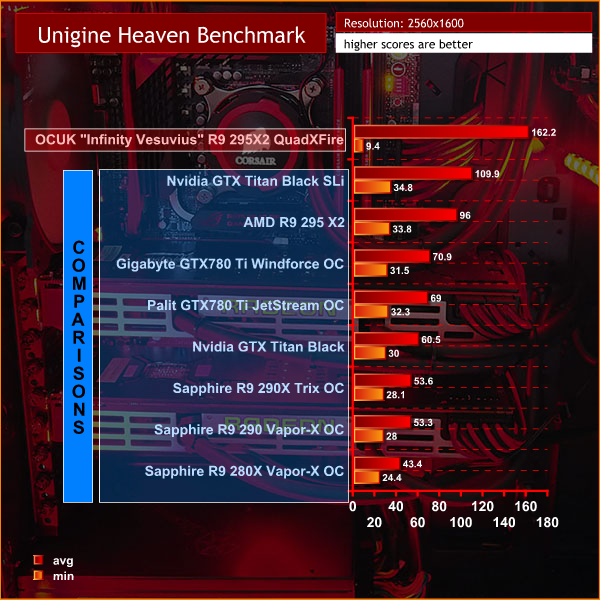 We mentioned earlier in the review that CPU limiting would be an issue, even at 1600p. This test is a good indication of this. A single R9 295X2 (on a slightly slower system) averages 110 frames per second – the dual cards on the Infinity Vesuvius average 162 frames per second.
The minimum frame rate may seem low but this was due to a little micro stutter on one part of the benchmark – barely noticeable in the real world.
Valley Benchmark is a new GPU stress-testing tool from the developers of the very popular and highly acclaimed Heaven Benchmark. The forest-covered valley surrounded by vast mountains amazes with its scale from a bird's-eye view and is extremely detailed down to every leaf and flower petal. This non-synthetic benchmark powered by the state-of-the art UNIGINE Engine showcases a comprehensive set of cutting-edge graphics technologies with a dynamic environment and fully interactive modes available to the end user.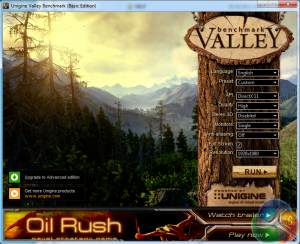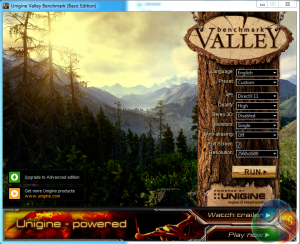 We test with the settings above both at 1920×1080 and 2560×1600.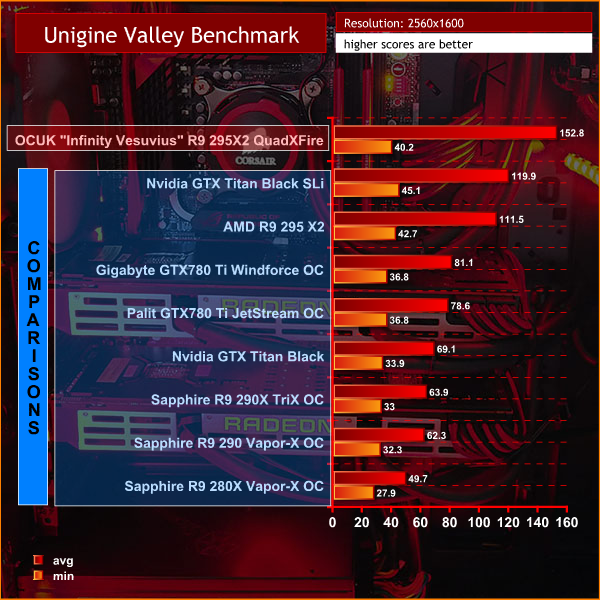 CPU limiting is again an issue at 1600p as the results show – still the results are the highest we have seen at this resolution.
SiSoftware Sandra (the System ANalyser, Diagnostic and Reporting Assistant) is an information & diagnostic utility. It should provide most of the information (including undocumented) you need to know about your hardware, software and other devices whether hardware or software.
Sandra is a (girl's) name of Greek origin that means "defender", "helper of mankind". We think that's quite fitting.
It works along the lines of other Windows utilities, however it tries to go beyond them and show you more of what's really going on. Giving the user the ability to draw comparisons at both a high and low-level. You can get information about the CPU, chipset, video adapter, ports, printers, sound card, memory, network, Windows internals, AGP, PCI, PCI-X, PCIe (PCI Express), database, USB, USB2, 1394/Firewire, etc.
Native ports for all major operating systems are available:
Windows XP, 2003/R2, Vista, 7, 2008/R2 (x86)
Windows XP, 2003/R2, Vista, 7, 2008/R2 (x64)
Windows 2003/R2, 2008/R2* (IA64)
Windows Mobile 5.x (ARM CE 5.01)
Windows Mobile 6.x (ARM CE 5.02)
All major technologies are supported and taken advantage of:
SMP – Multi-Processor
MC – Multi-Core
SMT/HT – Hyper-Threading
MMX, SSE, SSE2, SSE3, SSSE3, SSE 4.1, SSE 4.2, AVX, FMA – Multi-Media instructions
GPGPU, DirectX, OpenGL – Graphics
NUMA – Non-Uniform Memory Access
AMD64/EM64T/x64 – 64-bit extensions to x86
IA64 – Intel* Itanium 64-bit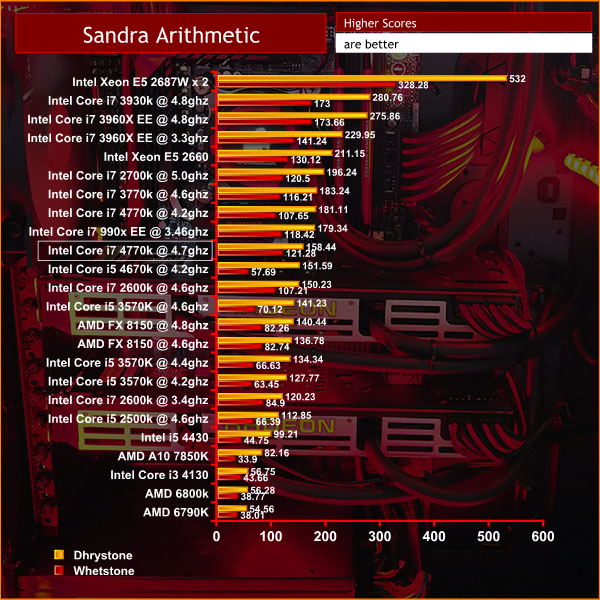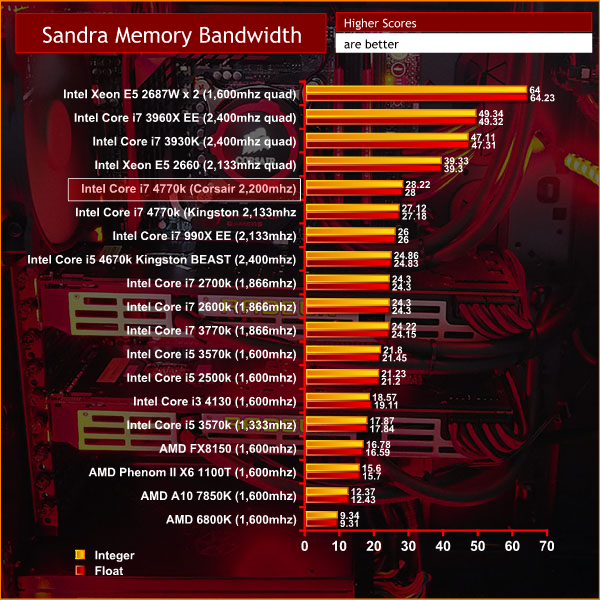 Performance is as good as we have seen from a Quad core Intel processor. There will be more powerful systems than the Infinity Vesuvius for 3D rendering duties, but for a gaming system, the highly overclocked Core i7 4770k makes perfect sense. Memory performance is very strong, hitting close to 30 GB/s bandwidth.
CINEBENCH R11.5 64 Bit is a real-world cross platform test suite that evaluates your computer's performance capabilities. CINEBENCH is based on MAXON's award-winning animation software CINEMA 4D, which is used extensively by studios and production houses worldwide for 3D content creation. MAXON software has been used in blockbuster movies such as Spider-Man, Star Wars, The Chronicles of Narnia and many more. CINEBENCH is the perfect tool to compare CPU and graphics performance across various systems and platforms (Windows and Mac OS X). And best of all: It's completely free.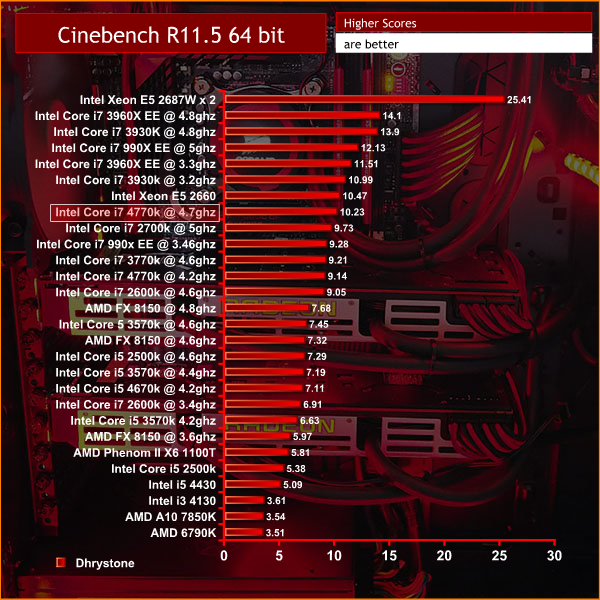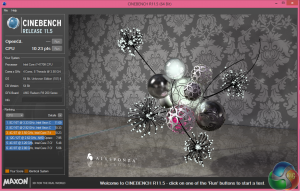 The scores indicate excellent 3D rendering performance. Obviously if you spend even more for a Xeon based system you will get better performance than this, but the system won't be as good for gaming – which is the primary point of buying the Infinity Vesuvius.
CINEBENCH 15 is a cross-platform testing suite that measures hardware performance and is the de facto standard benchmarking tool for leading companies and trade journals for conducting real-world hardware performance tests. With the new Release 15, systems with up to 256 threads can be tested. CINEBENCH is available for both Windows and OS X and is used by almost all hardware manufacturers and trade journals for comparing CPUs and graphics cards.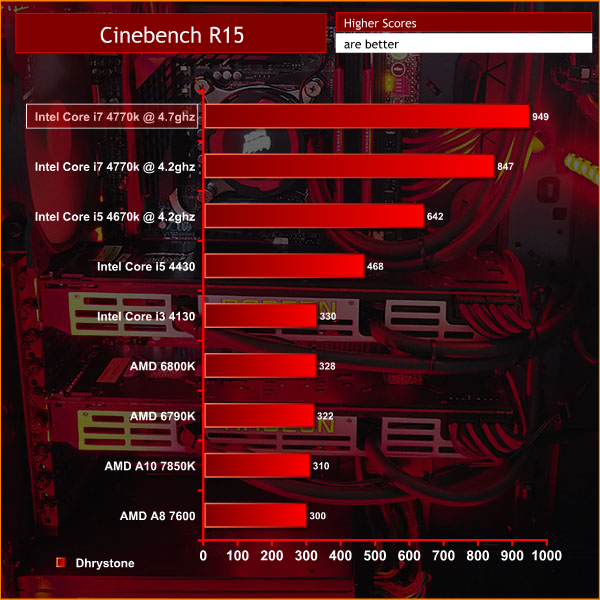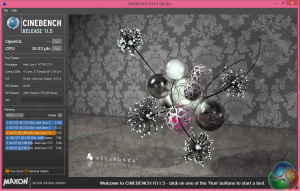 The system scores almost 1,000 points in the latest Cinebench benchmark.
CyberLink MediaEspresso 6 is the successor to CyberLink MediaShow Espresso 5.5. With its further optimized CPU/GPU-acceleration, MediaEspresso is an even faster way to convert not only your video but also your music and image files between a wide range of popular formats.
Now you can easily playback and display your favourite movies, songs and photos not just on your mobile phone, iPad, PSP, Xbox, or Youtube and Facebook channels but also on the newly launched iPhone 4. Compile, convert and enjoy images and songs on any of your computing devices and enhance your videos with CyberLink's built-in TrueTheater Technology.
New and Improved Features
Ultra Fast Media Conversion – With support from the Intel Core i-Series processor family, ATI Stream & NVIDIA CUDA, MediaEspresso's Batch-Conversion function enables multiple files to be transcoded simultaneously.
Smart Detect Technology – MediaEspresso 6 automatically detects the type of portable device connected to the PC and selects the best multimedia profile to begin the conversion without the need for user's intervention.
Direct Sync to Portable Devices – Video, audio and image files can be transferred in a few easy steps to mobile phones including those from Acer, BlackBerry, HTC, Samsung, LG, Nokia, Motorola, Sony Ericsson, and Palm, as well as Sony Walkman and PSP devices.
Enhanced Video Quality – CyberLink TrueTheater Denoise and Lighting enables the enhancement of video quality through optical noise filters and automatic brightness adjustment.
Video, Music and Image File Conversion – Convert not only videos to popular formats such as AVI, MPEG, MKV, H.264/AVC, and FLV at the click of a button, but also images such as JPEG and PNG and music files like WMA, MP3 and M4A.
Online Sharing – Conversion to video formats used by popular social networking websites and a direct upload feature means posting videos to Facebook and YouTube has never been easier.
For our testing today we are converting a 4.4GB 720p MKV file (1h:58mins) to Apple Mp4 format for playback on a portable device. This is a common procedure for many people and will give a good indication of system power.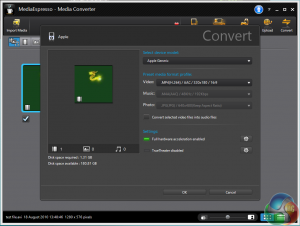 We enable hardware acceleration to ensure the AMD R9 295X2 hardware plays a part in the encoding process.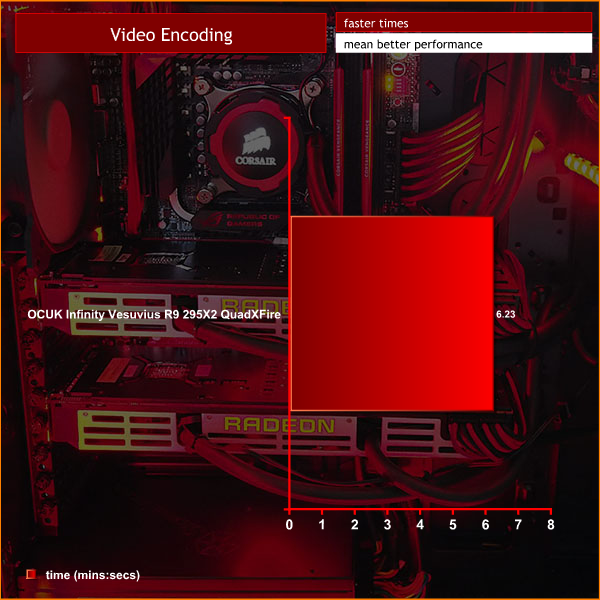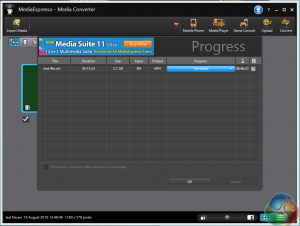 A final time of 6 minutes and 23 seconds is one of the best results we have ever recorded. The combination of fast memory, high overclocked 4770k processor and fast Solid State drive all help reduce the time taken.
Crystalmark is a useful benchmark to measure theoretical performance levels of hard drives and SSD's. We are using V3.0.1 x64. We test the Samsung Solid State Drive, and the Seagate 1TB Barracuda hard drive.


The Samsung 840 EVO Solid State Drive performs exceptionally well, hitting around 540 MB/s and 522 MB/s in the sequential read and write test, respectively. The Seagate Barracuda 2TB is as fast as you would expect from a mechanical drive hitting between 200 and 210 MB/s.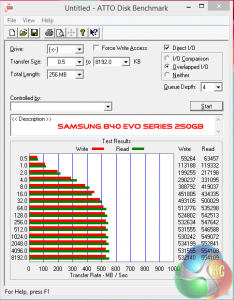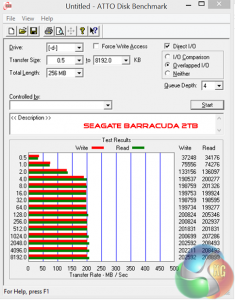 The ATTO Disk Benchmark shows similar performance characteristics from both drives.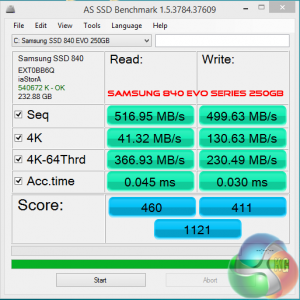 In real world terms, the OverclockersUK "Infinity Vesuvius" system is very responsive and boots up into the desktop in less than 20 seconds.
To test the USB 3.0 capabilities of the system, we use one of the fastest drives we have – the Patriot SuperSonic Magnum 256GB. We reviewed this way back in February last year.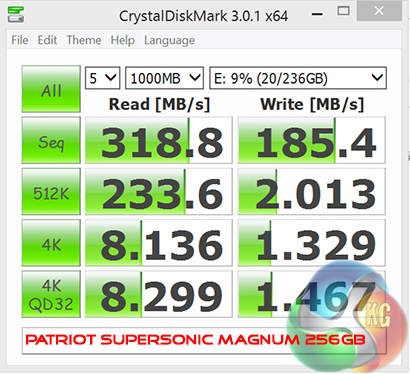 The Asus Z87 Maximus VI Extreme motherboard really delivers the goods in this test, with a record 318.8 MB/s result from the drive – in the sequential read test. Sequential write from this drive is never as fast, but a 185 MB/s score is fantastic.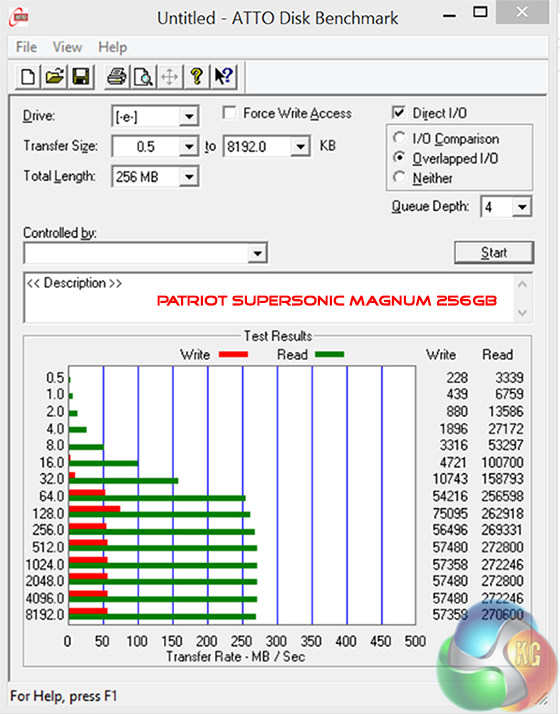 ATTO never scores as well with this particular drive, although the results are good – hitting around 270 MB/s in the read test.
In Thief 2014 Players control Garrett, a master thief, as he intends to steal from the rich. Similar to previous games in the series, players must use stealth in order to overcome challenges, while violence is left as a minimally effective last resort.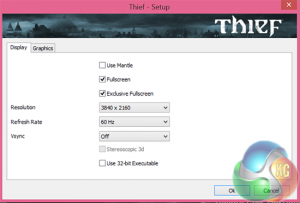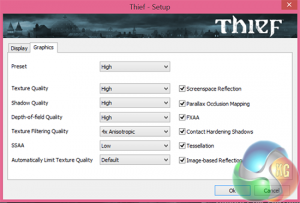 We tested the OverclockersUK "Infinity Vesuvius" system at Ultra HD 4K at High settings – these are the same settings we have used in recent high end graphics card reviews – and are ideal to compare against other graphics card configurations.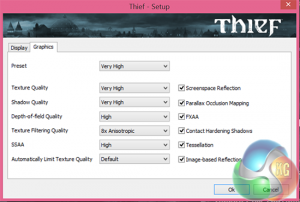 We also test at 'Very High' settings which has never been perfectly playable with any graphics card configuration to date at 4K. We found that the R9 295X2 in QuadXFire didn't take ANY performance hit moving from high to very high image quality settings. There may be some CPU limiting taking place, even at 3,840×2,160 however the Crossfire profile of this game may not be optimised for QuadX – additionally Mantle rendering Crossfire support is not working either.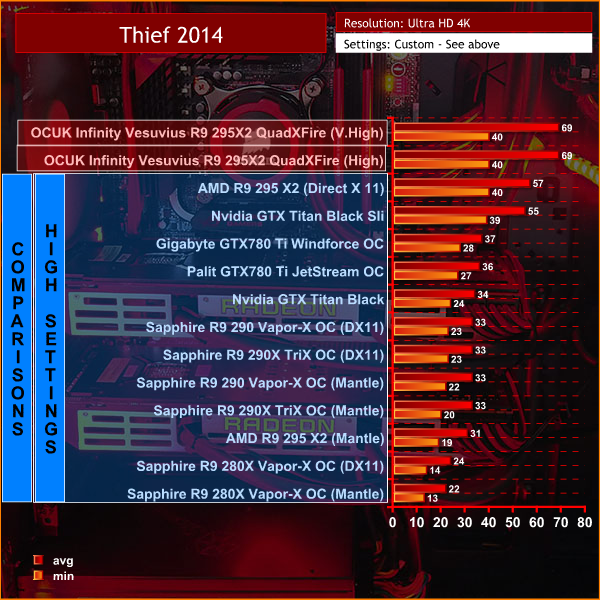 Performance is exceptionally high, while the variables are not massively higher than a single R9 295X2, we could increase the graphics quality from High to Very High without any kind of performance hit.
Total War ROME 2 is the eighth stand alone game in the Total War series, it is the successor to the successful Rome: Total War title. The Warscape Engine powers the visuals of the game and the new unit cameras will allow players to focus on individual soldiers on the battlefield, which in itself may contain thousands of combatants at a time. Creative Assembly has stated that they wish to bring out the more human side of war this way, with soldiers reacting with horror as their comrades get killed around them and officers inspiring their men with heroic speeches before siege towers hit the walls of the enemy city. This will be realised using facial animations for individual units, adding a feel of horror and realism to the battles.


We test at Ultra HD 4K resolution with the ULTRA Preset.
NOTE: We also added test results at the 'EXTREME' preset – a setting which has not yet been playable at 3,840×2,160.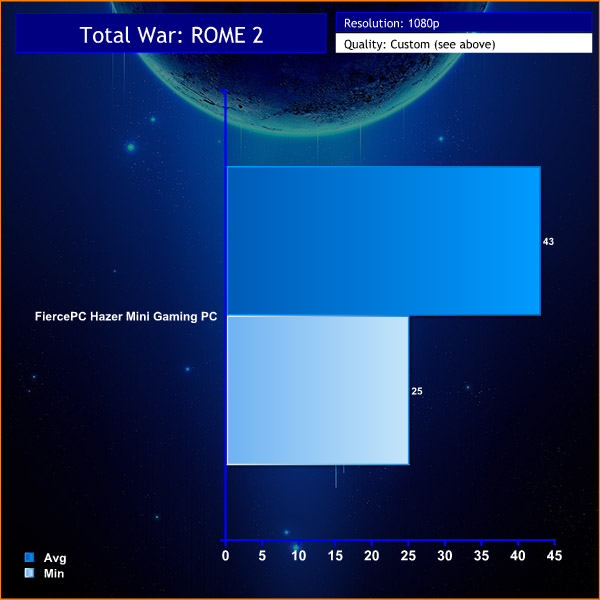 Total War: ROME 2 is an incredibly demanding engine and even a single R9 295X2 can drop to 27 frames per second at Ultra HD 4K resolutions – at the ULTRA setting. The OverclockersUK "Infinity Vesuvius" R9 295X2 QuadXFire System produces an average of 109 frames per second, staggering performance. With the image quality settings toggled to EXTREME, the system maintains smooth frame rates, dropping only once below 30 frames per second.
No one really needs an average of 110 frames per second — however with dual R9 295X2's you are able to maximise the image quality without suffering from problematic frame rates.
Tomb Raider received much acclaim from critics, who praised the graphics, the gameplay and Camilla Luddington's performance as Lara with many critics agreeing that the game is a solid and much needed reboot of the franchise. Much criticism went to the addition of the multiplayer which many felt was unnecessary. Tomb Raider went on to sell one million copies in forty-eight hours of its release, and has sold 3.4 million copies worldwide so far.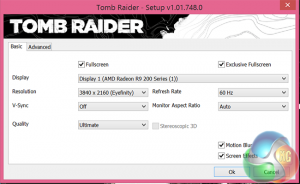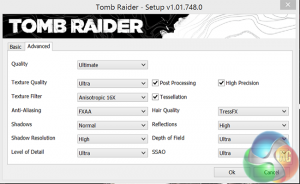 We use the highest image quality settings possible, at Ultra HD 4K resolution.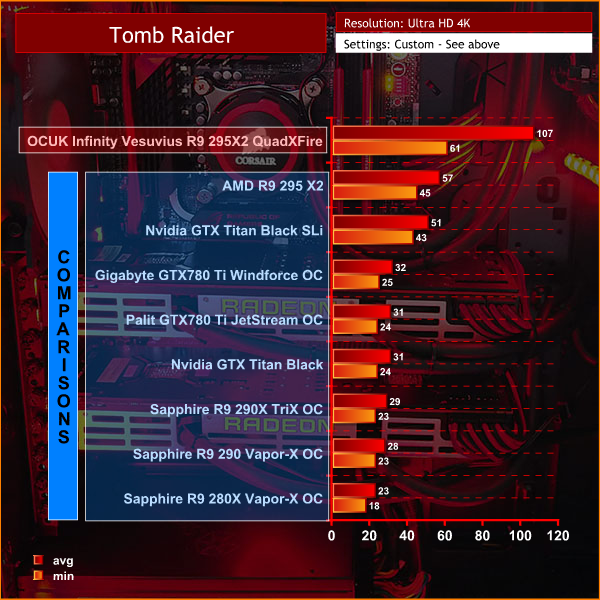 Tomb Raider is a fantastic game, both in terms of visual quality and gameplay. We had a good experience with a single R9 295 X2, however the OverclockersUK "Infinity Vesuvius" R9 295X2 QuadXFire system pushes the frame rates into a completely new stratosphere. If you like to maintain a constant 60 frames per second at Ultra HD 4k with maximum image quality settings then this is the only system we have reviewed that can do it.
Metro: Last Light takes place one year after the events of Metro 2033, proceeding from the ending where Artyom chose to call down the missile strike on the Dark Ones. The Rangers have since occupied the D6 military facility, with Artyom having become an official member of the group. Khan, the nomad mystic, arrives at D6 to inform Artyom and the Rangers that a single Dark One survived the missile strike.
4A Games' proprietary 4A Engine is capable of rendering breathtaking vistas, such as those showing the ruined remnants of Moscow, as well as immersive indoor areas that play with light and shadow, creating hauntingly beautiful scenes akin to those from modern-day photos of Pripyat's abandoned factories and schools.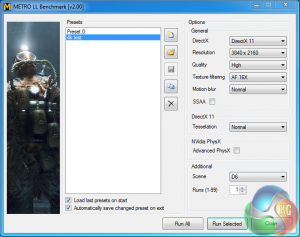 We tested this particular game with the extremely demanding built in benchmark. Settings detailed above. Direct X 11 mode, Quality is set at High, 16 AF, normal Motion blur, Tessellation Normal, Advanced PhysX disabled and SSAA disabled.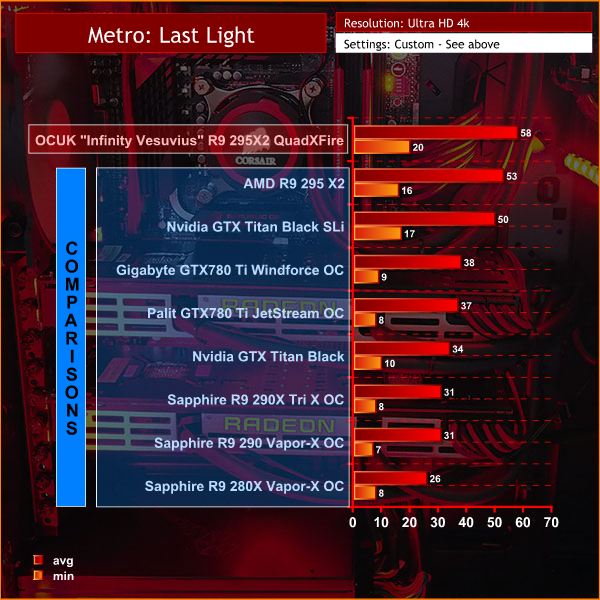 AMD clearly need to work a little more on this Crossfire profile, moving from a single card to two doesn't reap a huge reward.
Grid 2 is the sequel to the racing video game Race Driver: Grid. It was developed and published by Codemasters. The game includes numerous real world locations such as Paris, numerous United States locations, and many more, and also includes motor vehicles spanning four decades. In addition, it includes a new handling system that developer Codemasters has dubbed 'TrueFeel', which aims to hit a sweet spot between realism and accessibility.


The reason for buying the OverclockersUK "Infinity Vesuvius" R9 295X2 QuadXFire System is to run at ultra high resolution and to maximise every image quality setting you can. This is exactly what we did today. Using AMD's 16xQCSAA/8f16x EQAA settings.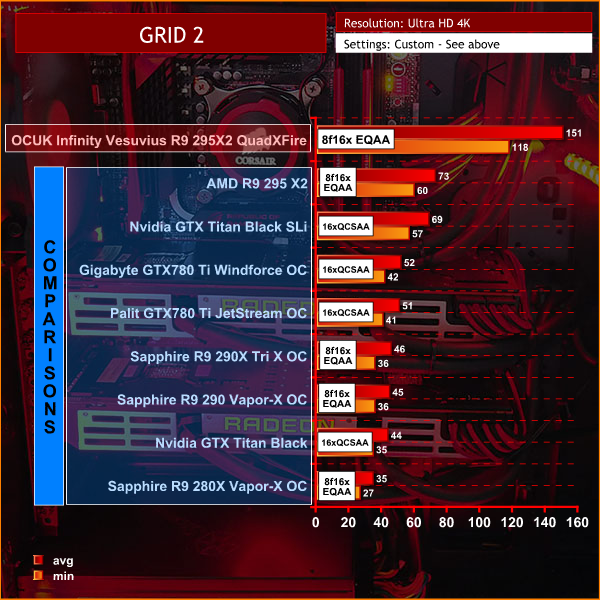 A great game to play, and it looks quite incredible at Ultra HD 4K, especially with the image quality settings maxed out.
Battlefield 4 (also known as BF4) is a first-person shooter video game developed by EA Digital Illusions CE (DICE) and published by Electronic Arts. The game is a sequel to 2011′s Battlefield 3. Battlefield 4 is built on the new Frostbite 3 engine. The new Frostbite engine enables more realistic environments with higher resolution textures and particle effects. A new "networked water" system is also being introduced, allowing all players in the game to see the same wave at the same time.Tessellation has also been overhauled.


We test at Ultra HD 4K with HIGH image quality settings – shown above.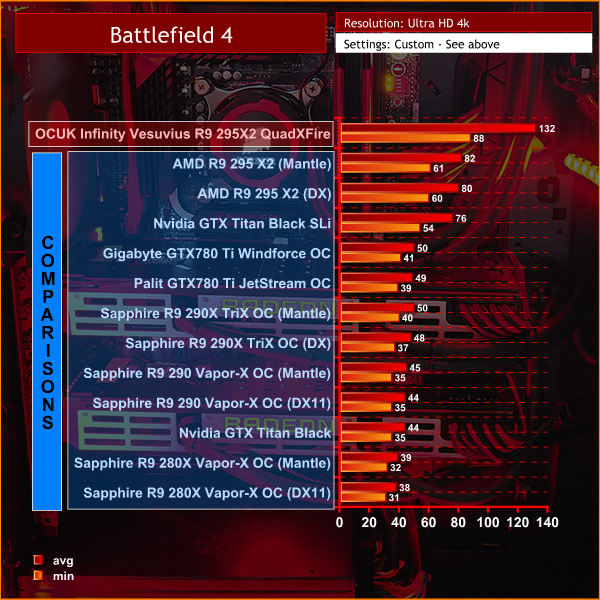 Battlefield 4 can bring some systems to their knees at high image quality settings. This may be hard to believe when you see the frame rate produced by the dual R9 295X2 cards in the OverclockersUK "Infinity Vesuvius" R9 295X2 QuadXFire System!
The tests were performed in a controlled air conditioned room with temperatures maintained at a constant 23c – a comfortable environment for the majority of people reading this.Idle temperatures were measured after sitting at the desktop for 30 minutes. Load measurements were acquired by playing Tomb Raider 2014 for 60 minutes and measuring the peak temperature.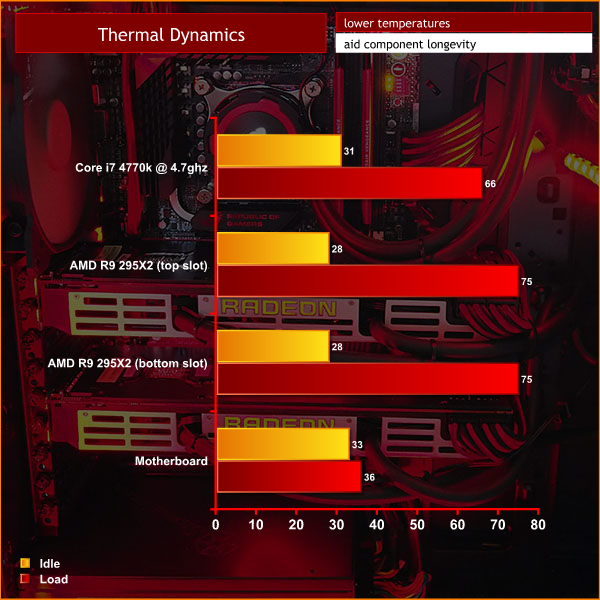 The system runs very cool, considering the high end hardware.
Ambient noise in the room is around 20-25dBa. We measure from a distance of around 1,5 meters from the closed chassis and 4 foot from the ground to mirror a real world situation.
We use a calibrated meter.
KitGuru noise guide
10dBA – Normal Breathing/Rustling Leaves
20-25dBA – Whisper
30dBA – High Quality Computer fan
40dBA – A Bubbling Brook, or a Refridgerator
50dBA – Normal Conversation
60dBA – Laughter
70dBA – Vacuum Cleaner or Hairdryer
80dBA – City Traffic or a Garbage Disposal
90dBA – Motorcycle or Lawnmower
100dBA – MP3 player at maximum output
110dBA – Orchestra
120dBA – Front row rock concert/Jet Engine
130dBA – Threshold of Pain
140dBA – Military Jet takeoff/Gunshot (close range)
160dBA – Instant Perforation of eardrum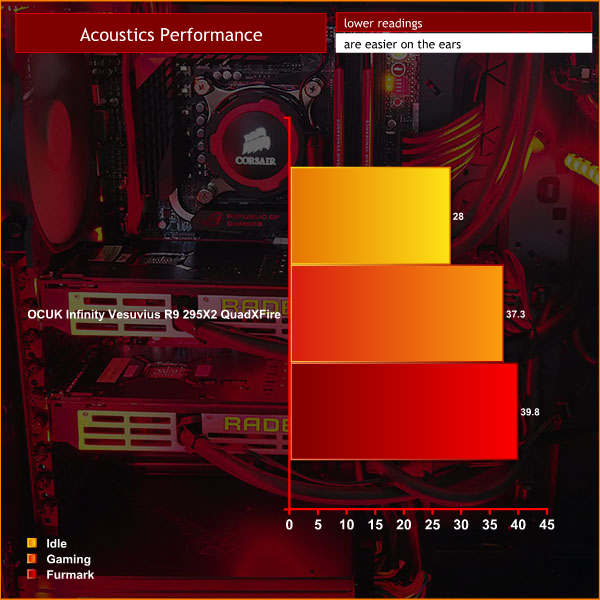 The system is very quiet when idle, but becomes clearly audible under gaming load. Surprisingly it isn't as loud as I had initially considered it might be. Overclockers UK have spaced the R9 295X2 cards apart to allow for airflow between the cards, which helps a little.
We test power consumption at the socket with a calibrated meter under the following conditions.
1: when idle
2: under Cinebench load
3: running the 3Dmark 11 'combined test'
4: running Tomb Raider at Ultra HD 4K with 'ultimate' image quality settings.
The monitor is not included in the power draw – just the demand via the system power supply.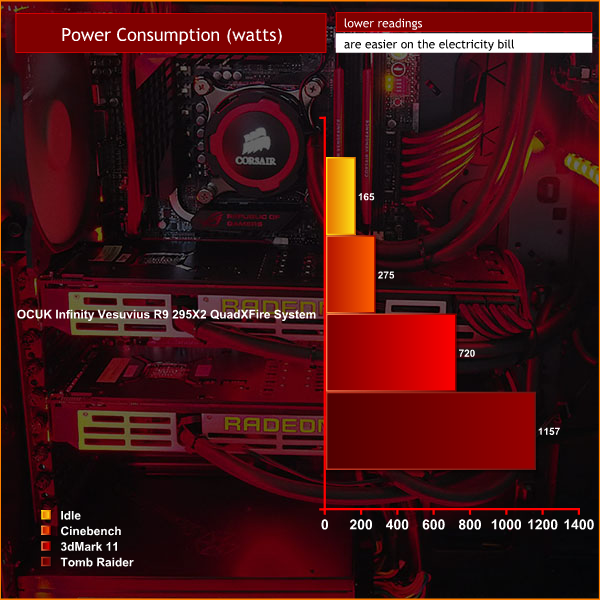 When idle, this system consumes more power than many we have recently reviewed under load, stable at 165 watts. This rises to 275 watts when the CPU is fully loaded in Cinebench. Tomb Raider at Ultra HD 4K is the ultimate real world test – under these conditions, the system consumes 1,157 watts.
The OverclockersUK "Infinity Vesuvius" R9 295X2 QuadXFire System claims a new KitGuru record in regards to power demand. Hard to believe that a 1,200 watt power supply might struggle to cope with this system under extended stressed load. Overclockers UK have obviously paid attention to the insane power demand and used the SilverStone 1,500 watt power supply – just to play safe.
The OverclockersUK "Infinity Vesuvius" R9 295X2 QuadXFire System is the fastest system we have reviewed by a clear margin. This is the Bugatti Veyron of gaming systems. The Infinity Vesuvius has actually broken several records in our labs this week – but we will get to those shortly.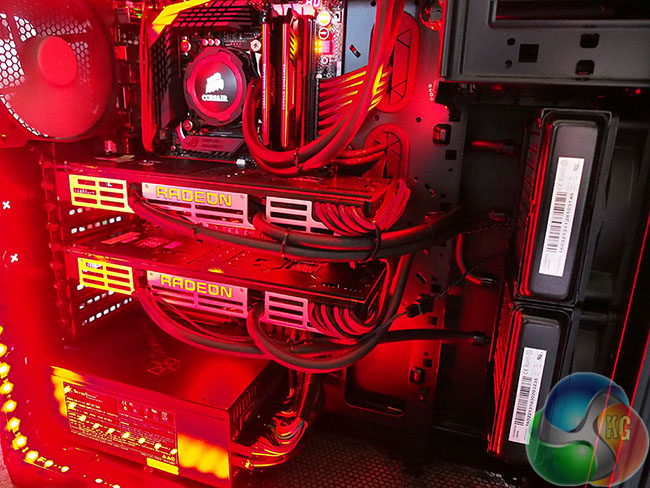 For many, the Infinity Vesuvius will be considered completely overkill – the £4,000 price tag alone will immediately alienate all but the most wealthy of enthusiast gamers. A portion of KitGuru's readership always end up buying the most expensive, highest performing hardware available – we know this from the reader systems we post on our active Facebook page. I wouldn't class KitGuru as a mainstream technology publication – our readers are very educated, and a small percentage will have the cash available to buy an OCUK Infinity Vesuvius.
While many will balk at the £4,000 price tag, it is worth pointing out that more than half the cost of the system is due to the adoption of two AMD R9 295 X2 graphics cards. One of these cards is enough to power any game at Ultra HD 4K, but adding another can give a boost to frame rates, and even allow for higher image quality settings as shown with our Total War Rome 2 testing today.
I have been making this point now for 4 months, but I feel the need to reiterate it again today. If you are contemplating buying this system to play games on a 1080p or 1600p monitor, then you are wasting your time. CPU limiting will be such a problem that we can really only recommend buying this system if you are in the market for, or already own an Ultra HD 4K monitor.
Overclockers UK do deserve credit for the selection of components in the build, they have only used quality products from respected companies such as Asus, Silverstone, Corsair and Samsung. OCUK earn bonus points for spending time colour coordinating the components, lighting them well and using custom black and red cable braiding. The system is beautifully presented behind the windowed panel of the Corsair Obsidian 750D.
Our review last year of the Asus Z87 Maximus VI Extreme ATX motherboard highlighted that it was one of the best boards that money could buy. Using this as the foundation of the system was a great move, and you can read our indepth analysis from last year, over on this page.
While the "Infinity Vesuvius" has broken a series of performance benchmarks due to the might of combined R9 295 X2 graphics cards, it also breaks the record for the most power used when gaming. At Ultra HD 4K, when playing Tomb Raider at the 'Ultimate' graphics setting – this system demands a staggering 1,157 watts of power.
Many system builders may not have paid attention and used a quality 1,200 watt power supply and hoped for the best, but OCUK did tell us that they researched the power demand internally and opted for the very expensive Silverstone Strider 1,500 watt unit. We could make the point that using this system regularly to play games may hit your electricity bill hard, but we can't imagine many people with £4,000 spare to drop on a system will worry about a few quid extra on an electric bill.
While a 1200watt or 1,250 watt power supply may have coped for some time powering these components, it is not ideal to run so close to the redline for long periods of time. Again, we need to credit OverclockersUK for putting a little extra thought into the build process.
Noise levels are surprisingly good, due in part to the Corsair Obsidian 750D chassis. This is truly a high quality chassis design and it manages to mask a percentage of the fan noise under load. When the side panel is removed, our noise meter reading rose from 37dBa to 40dBa.
We spent many days stress testing this system and found it was immensely stable. It never crashed once, nor did we experience any hard locks, random crashes or instability. The only downside to owning this system is that it produces a lot of heat when running, and will easily warm up a room when gaming within the space of an hour. The R9 295X2's are extremely hot running cards, and a serious flow of hot air is expelled out the rear of the case when gaming.
At the end of the day, only you can decide if this is a system for you. At £4,000 it does merit serious consideration and many people like to build their own systems. If however you have the money to spare and want to own something built to exacting standards with phenomenal gaming prowess then the Infinity Vesuvius is certainly a Must have product. Our only recommendation is to ensure you partner up with an Ultra HD 4K monitor because otherwise CPU limiting will be a major problem.
You can snag one of these over at Overclockers UK, HERE.
Discuss on our Facebook page, over HERE.
Pros:
the fastest system we have tested.
fantastic build quality.
a check list of KitGuru award winning components.
colour coordinated.
BIOS is finely tuned.
power demands have been carefully considered
Cons:
Your other half may kill you for buying it.
Pumps a ton of heat into the living room.
May hit your electricity bill hard – long term. Peaks are 1,150 watts when gaming.
Kitguru Says: The OverclockersUK "Infinity Vesuvius" is the Bugatti Veyron of gaming systems.