The market for people buying an almost £500 CPU and using it for gaming at 1080p is likely to be very slim. What 1080p does is give a good indication of the CPU's raw gaming performance as GPU power is sufficient to push frame rates to a level where the CPU and memory limitations can be observed.
We supplement the 1080p gaming results with a trio of games tested at 4K. That $500 saved against Intel's competing 8C16T CPU could buy a nice 4K monitor, so we will show how Ryzen 7 performs at such a resolution.

Gears of War 4

We run the built-in benchmark using a 4K resolution and the same settings as the 1080p test (Ultra quality preset, Async Compute enabled).
Note: The Core i7-2700K and i7-4790K are not shown in Gears of War 4 as the game download was too large to install on their system SSD and the clunky Windows Store platform gives errors when moving games installed on a secondary SSD between test systems.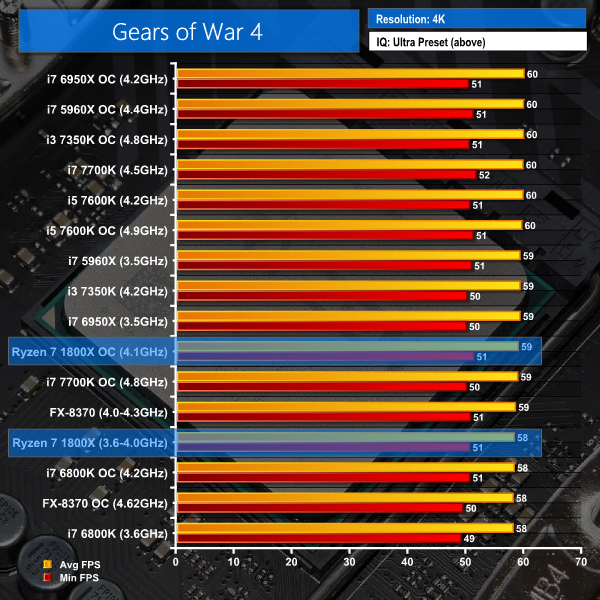 All of the CPUs will deliver a solid gameplay experience at 4K in Gears of War where GPU performance is the limiting factor.
Grand Theft Auto V

We run the built-in benchmark using a 4K resolution and the same settings as the 1080p test (generally Maximum quality settings including Advanced Graphics).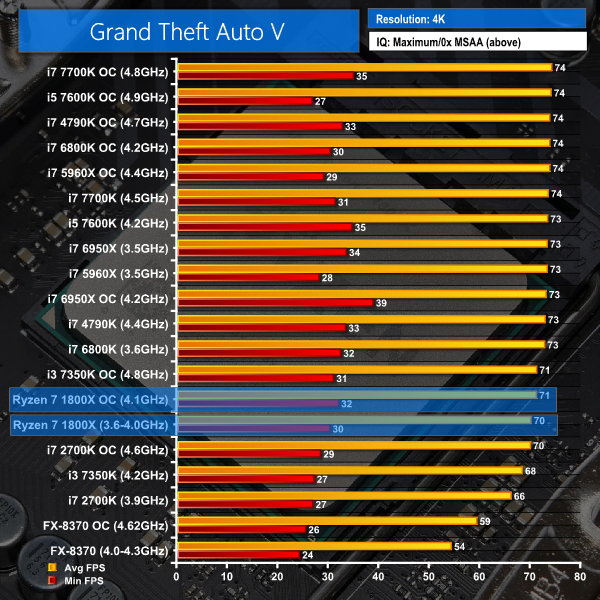 Ryzen 7 1800X performance in GTA V is very slightly behind the modern Intel pack. You can expect better frame rates with Ryzen 7 than on a Sandy Bridge i7 2700K system. There was no major bottlenecking of the Titan X Pascal with Ryzen 7; the GPU spent most of its time running above 90% load when tasked with a 4K resolution.
The Witcher 3 Wild Hunt

We run our custom 107-second benchmark in a densely-populated town area using a 4K resolution and the same settings as the 1080p test (Maximum quality, Nvidia settings disabled).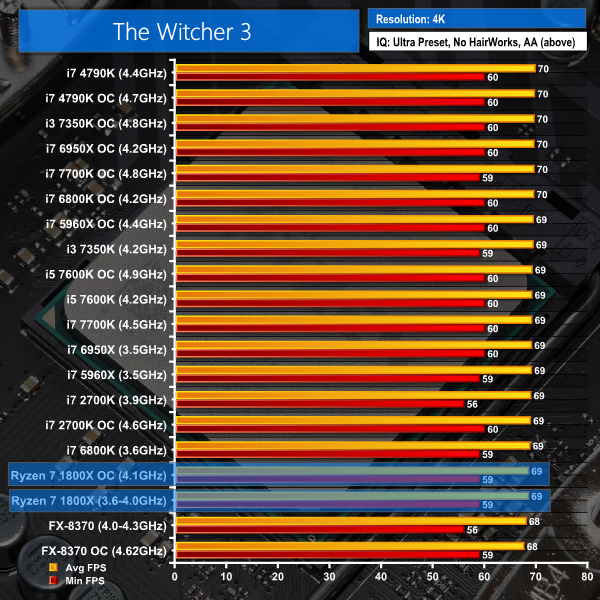 You are unlikely to notice any difference in performance between Ryzen 7 1800X and competing Intel processors when playing The Witcher 3 at 4K. The Titan X Pascal is hammering along at 99% load and Ryzen 7 1800X does not do anything to limit that.
There are also plenty of CPU cycles spare with the 1800X, allowing you to conduct other tasks in the background without significant slow down to the game.
4K Gaming Performance Overview:
Ryzen 7 1800X is a perfectly good processor for 4K gaming. So much onus is placed on GPU horsepower that even the mighty Titan X Pascal is pushed to its limits before all-out CPU performance hits the microscope. With the Ryzen 7 1800X (and competing solutions in our testing) being capable of around 60FPS+ at 4K, there's no need to wish for more when 60Hz is currently as good as it gets for 4K monitors.
That $500 you can save by opting for the Ryzen 7 1800X instead of an 8C16T HEDT Intel chip can be put towards a GTX 1080 Ti (or future AMD competitor) which will be a superb 4K gaming combination. Of course, that point can be taken further by saying that a sub-$300 Core i5 is equally sufficient but factoring in the computational performance of Ryzen 7, outside of gaming, puts the comparison into perspective.