7-Zip
7-Zip is an open source Windows utility for manipulating archives. We measure the Total Rating performance using the built-in benchmark tool. The test stresses all CPU cores to 100% and shows an affinity for memory bandwidth.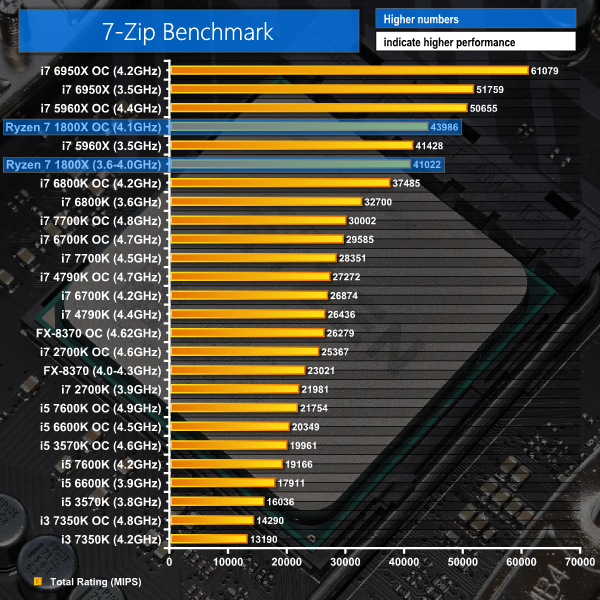 7-Zip likes memory bandwidth so it's no surprise to see the quad-channel-equipped 5960X outpacing Ryzen 7 1800X and its dual-channel DDR4. The overclocked 6C12T 6800K also gets close to stock-clocked Ryzen 7 1800X performance thanks to its greater memory bandwidth and higher clock speed.
When factoring in price, the 1800X is a compelling option if you have workloads that involve a lot of file compression and decompression.
Mozilla Kraken

Mozilla Kraken is a browser-based JavaScript benchmark that tests a variety of real-world use cases. We use Chrome as the test browser. The test exhibits very little multi-threading and shows an affinity for CPU clock speed and IPC.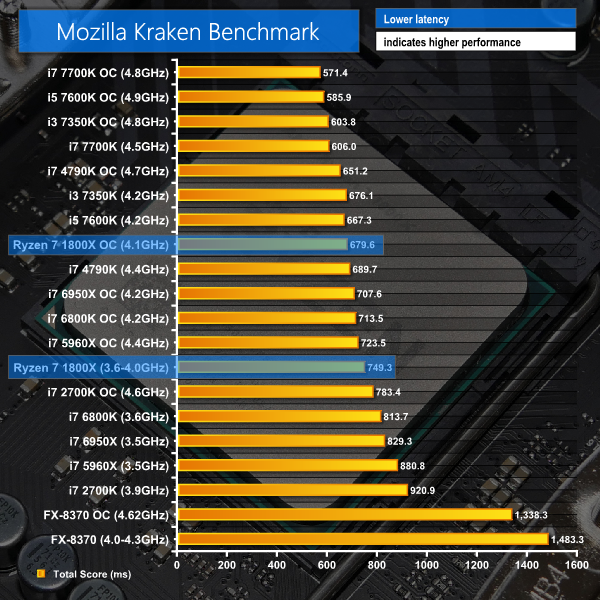 Kraken essentially analyses single-thread performance with a mixture of high clock speed and strong IPC being primary driving factors.
As such, it is absolutely no surprise to see highly-overclocked Intel chips topping the chart, irrelevant of their core count. AMD's Ryzen 7 1800X puts in a really good show, though, managing to outpace the entire Broadwell-E and Haswell-E comparison stack at both stock and overclocked speeds.
WPrime

WPrime is a leading multithreaded benchmark for x86 processors that tests your processor performance by calculating square roots with a recursive call of Newton's method for estimating functions. We use the 1024M test in WPrime to analyse processor calculation performance.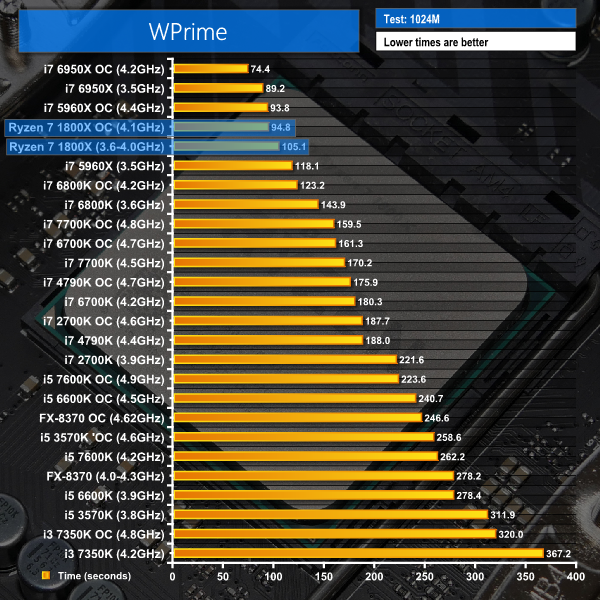 Computationally-intensive calculations will work very well on the Ryzen 7 1800X processor if they can be parallelised across its sixteen threads. Only the 10-core 6950X and higher-clocked 8C16T 5960X manage to outpace the Ryzen 7 1800X configurations in WPrime's 1024M test.
CPU-related testing overview:
As was the case with video-centric computational tasks, AMD's Ryzen 7 1800X continues to display strong performance irrelevant of whether the operation is multi-threaded or cares more for IPC and clock speed.
Mozilla Kraken speaks volumes for the single-threaded performance of Ryzen and WPrime continues to prove the worth of a high core count to software that can parallelise operations. Concern does, however, creep into the frame with the 7-Zip result where the eight-core Ryzen 7 chip starts to look limited on memory bandwidth compared to Intel's HEDT, quad-channel alternatives.
Refreshing our memory to the <£500 retail price helps emphasise the impressiveness of the computational performance thus far.