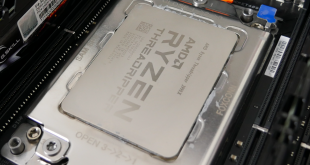 I think it is fair to say that most people were surprised when AMD announced the plans to launch a sixty-four core High-End Desktop (HEDT) processor. The previous highest core count processors seen on the HEDT platforms came in at 32 cores, so shifting gears to 64 cores is a monumental upgrade and it gives AMD a CPU for which Intel has no true competitor at a price point even remotely similar.

Watch via our Vimeo Channel (Below) or over on YouTube at 2160p HERE
00:16 The AMD Ryzen Threadripper 3990X!
00:40 Processor details and overview
02:50 Test System Details
04:38 CPU clock performance details
05:29 Overclocking 64 cores is challenging !
06:27 IceGiant ProSiphon Elite Cooler Prototype Teaser for later !
06:45 Some (amazing) performance results
11:10 Why would you need this processor and what are the potential issues?
15:20 Power Consumption results
16:47 Power Consumption performance per watt
17:45 Wraith Ripper Temperatures
18:51 IceGiant ProSiphon Elite Prototype Cooler
21:10 ProSiphon Elite Performance results (wow!)
24:46 AMD 3990X – how good is it and do you really need it?
28:32 Threadripper 3000 and TRX40 platform lead the way – here is why.
29:54 Scaling discussion and adoption
31:21 Business uses
32:41 KitGuru's closing thoughts

As this is a Threadripper 3000 CPU that slots into the TRX40 platform, we strongly encourage you to read our Ryzen Threadripper 3960X and 3970X launch review for a more in-depth overview of the platform. There are, however, several key differences for the 3990X versus its lower core count siblings.
Starting with the obvious, this is a 64-core, 128-thread processor with a $3990 USD price tag and 280W TDP rating. Helping stick to the 280W budget sees AMD deploying the 3990X with a base clock of 2.9GHz and maximum boost speeds 200MHz below its siblings, at 4.3GHz. The Zen 2-based chip is built using TSMC 7nm process technology and AMD's distinguished chiplet design approach.
You still get the same 0.5MB serving of L2 cache per core but, this time, there are more cores which results in more cache. The same is true for L3 cache which is deployed on a per-CCD basis and therefore allows the eight-CCD 3990X to ship with 256MB.
With the key differences highlighted and much of the remaining Ryzen Threadripper 3990X's information already known, let's jump into the testing.
Our objective with CPU overclocking is to hit frequencies that we think will be achievable for daily use by the platform's buyers. As such, we test with sensible cooling hardware in the Cooler Master Wraith Ripper CPU cooler. We also aim to use sensible voltages that lead to manageable thermal results. Later in the review we did also use the immense IceGiant ProSiphon Elite prototype CPU cooler to see how far we could really push things, but for now we start using the Wraith Ripper.
Stability is confirmed by running multiple Cinebench tests, Handbrake video conversion, and extended Blender rendering runs. We do not use Prime95 as we have found it to be overly demanding as a stress test application with the more recent AVX-capable versions.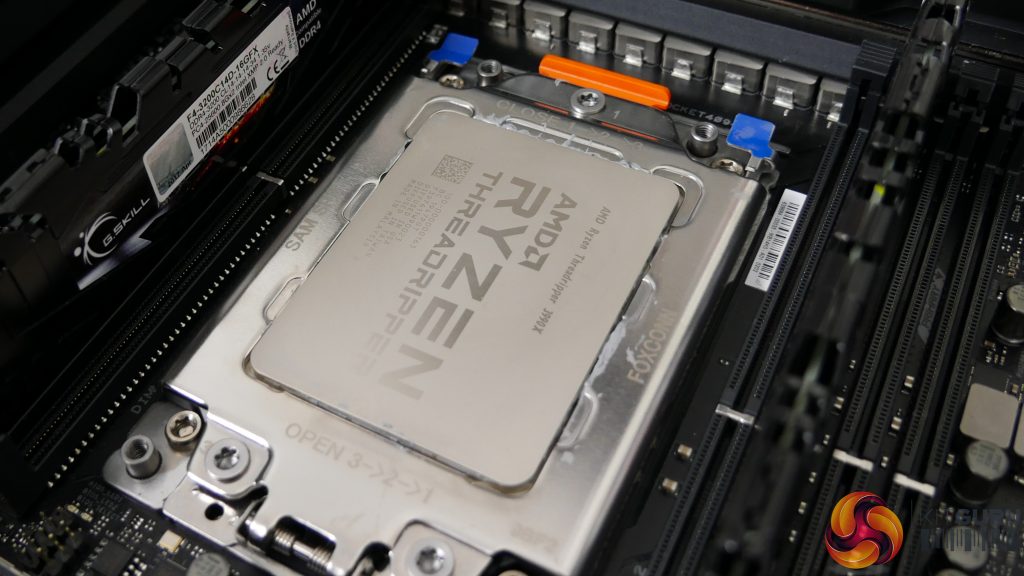 The partnering hardware of choice is the MSI TRX40 Creator motherboard, 32GB of 3200MHz CL14 DDR4, and a Seasonic Prime TX-1000 1kW Titanium PSU.
AMD Ryzen Threadripper 3990X Stock Frequency:
On the 3990X, all-core frequencies hovered around the 2950-3100MHz mark. For our extended Blender Classroom rendering run, the average speed across all cores was around 2950MHz. Around 4 minutes of back-to-back Cinebench runs held stable at 3GHz. This was using the Cooler Master Wraith Ripper CPU cooler.
Maximum boosts on the 3990X peaked at 4350MHz in our Cinebench R20 1T testing. This is slightly above the maximum advertised operating clock of 4.3GHz and highlights that the current AGESA version looks to be operating well.
AMD Ryzen Threadripper 3990X Precision Boost Overdrive + 200MHz Auto OC Frequency:
Overclocking was challenging due to the thermal headaches presented by such a high core count processor. We first checked with PBO and found it to deliver superb results thanks to the power delivery shackles of the 280W TDP being removed. The 64 cores had more room to open up the frequency taps.
Further testing suggested that there was no real need for us to manually overclock; PBO was delivering all the power and CPU frequency that our cooler could take while staying below the 95C target maximum temperature.
The PBO clocks operated at around 3700MHz initially and then quickly settled at just over 3.5GHz as the CPU cooler struggled to stay at or below 95°C. 3.5GHz on all cores out of a reasonably priced air CPU cooler is an impressive overclocking result. Users with better cooling solutions should expect higher operating frequencies from PBO.
Make sure you check later in the review where we use the beastly IceGiant ProSiphon Elite prototype CPU cooler to really see how far we can push this 64-core chip.
We will be outlining the AMD Ryzen Threadripper 3990X CPU's performance while using the MSI TRX40 Creator and ASUS ROG Zenith Extreme II Alpha motherboards. A 32GB (4x8GB) kit of 3200MHz CL14 DDR4 memory serves our test system.
Given the likely usage scenarios for such high core count HEDT processors, where a few percent additional frequency is not worth the risk of instability that could cost real projects real money, we feel that Precision Boost Overdrive is the best way to push this CPU. Precision Boost Overdrive also maintains preferential maximum boost clocks whilst eliminating instability and overheating concerns.
As such, our performance testing will focus on the 3990X running at its stock Precision Boost 2 settings with the Cooler Master Wraith Ripper CPU cooler and while overclocked using Precision Boost Overdrive and the +200MHz setting with 1000, 1000, 1000 limits in the BIOS.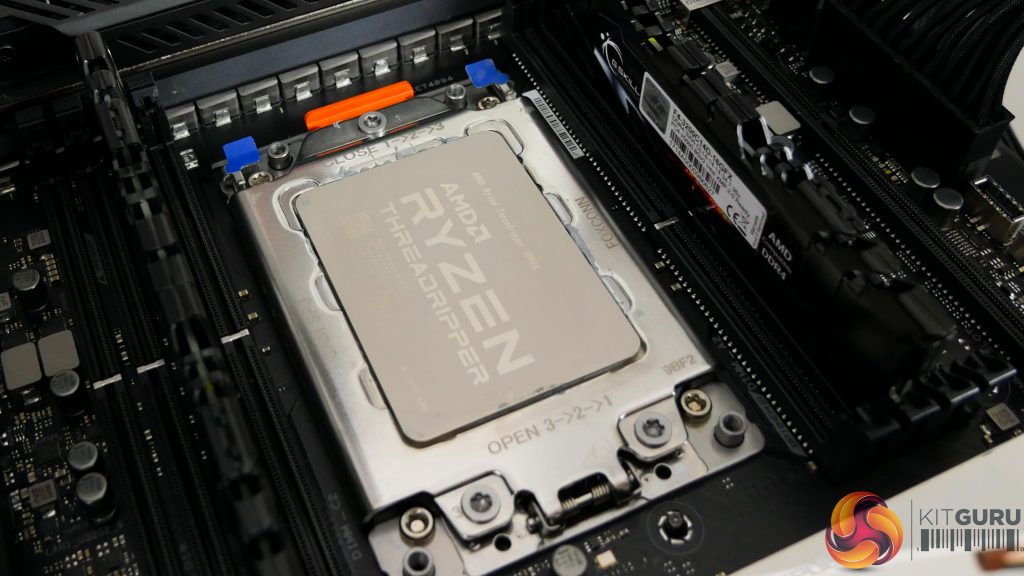 Today's comparison processors come in the form of:
Cascade Lake-X Core i9-10980XE (18C36T).
Skylake-X Core i9-9980XE (18C36T).
Matisse 'Zen 2' Ryzen 9 3950X (16C32T).
Zen+ Ryzen Threadripper 2970WX (24C48T) and Ryzen Threadripper 2990WX (32C64T).
Zen 2 Ryzen Threadripper 3960X (24C48T) and Ryzen Threadripper 3970X (32C64T).
Each processor is tested at its default out-of-the-box settings. We also include reasonable overclocking performance data where relevant.
For the Intel CPUs, forced turbo is enabled by default when XMP is enabled and, in most scenarios, cannot be disabled. As such, we test using the forced turbo frequencies with the Intel processors.
All-core load frequencies for the tested chips are as follows:
Ryzen Threadripper 3990X = Around 2950-3100MHz.
Core i9-9980XE = 3.8GHz (without AVX2/AVX-512 reductions).
Core i9-10980XE = 3.8GHz (without AVX2/AVX-512 reductions).
Ryzen Threadripper 2970WX = Around 3350-3400MHz.

Ryzen Threadripper 2990WX = Around 2975-3100MHz.
Ryzen Threadripper 3960X = Around 4025MHz.
Ryzen Threadripper 3970X = Around 3850-3900MHz.
Ryzen 9 3950X = Around 3800-3950MHz (AGESA 1.0.0.4).
CPU Test System Common Components:
Graphics Card: Gigabyte Aorus RTX 2080 Ti XTREME (custom fan curve to minimise thermal throttling).
Memory: 16GB (2x8GB) G.Skill 3200MHz 14-14-14-34 DDR4 @ 1.35V (4x8GB for quad-channel systems).
CPU Cooler: Corsair H100X with 2435 RPM SP120L fans (Cooler Master Wraith Ripper for Threadripper platforms).
Games SSD: Aorus 2TB PCIe Gen 4 M.2 SSD & Crucial MX300 750GB SATA SSD.
Power Supply: Seasonic Prime TX-1000 Titanium 1000W.
Operating System: Windows 10 Pro 64-bit 1903 and 1909 Update.
sTRX4 System (Ryzen Threadripper 3990X):

Ryzen Threadripper 3990X CPU: AMD Ryzen Threadripper 3990X 'Castle Peak' 64 cores, 128 threads (PBO+200MHz overclocked).
Motherboard: MSI TRX40 Creator (sTRX4, TRX40, 1.32N1 BIOS, AMD AGESA CastlePeakPI-SP3r3-1.0.0.3) and ASUS ROG Zenith Extreme II Alpha (sTRX4, TRX40, 0807 BIOS, AMD AGESA CastlePeakPI-SP3r3-1.0.0.3).
System Drive: WD Black SN750 500GB PCIe NVMe SSD.
CPU Cooler: Cooler Master Wraith Ripper.
sTRX4 System (Ryzen Threadripper 3960X, Ryzen Threadripper 3970X):

Ryzen Threadripper 3970X CPU: AMD Ryzen Threadripper 3970X 'Castle Peak' 32 cores, 64 threads (PBO+200MHz overclocked).

Ryzen Threadripper 3960X CPU: AMD Ryzen Threadripper 3960X 'Castle Peak' 24 cores, 48 threads (PBO+200MHz overclocked).
Motherboard: ASUS ROG Zenith Extreme II (sTRX4, TRX40, 0601 BIOS, AMD AGESA CastlePeakPI-SP3r3-1.0.0.2).
System Drive: ADATA SX8200 480GB PCIe NVMe SSD.
CPU Cooler: Cooler Master Wraith Ripper.
AM4 System (Ryzen 9 3950X):

Ryzen 9 3950X CPU: AMD Ryzen 9 3950X 'Matisse' 16 cores, 32 threads (PBO+200MHz overclocked).
Motherboard: Gigabyte X570 Aorus Master (AM4, X570, F10a BIOS, AMD AGESA Combo-AM4 1.0.0.4).
System Drive: WD Black SN750 500GB PCIe NVMe SSD.
TR4 System (Ryzen Threadripper 2970WX, Ryzen Threadripper 2990WX,):

Ryzen Threadripper 2990WX CPU: AMD Ryzen Threadripper 2990WX 'Colfax' 32 cores, 64 threads.
Ryzen Threadripper 2970WX CPU: AMD Ryzen Threadripper 2970WX 'Colfax' 24 cores, 48 threads.
Motherboard: Gigabyte X399 Gaming 7 (TR4, X399, F12h BIOS, AMD AGESA SummitPI-SP3r2-1.1.0.2).
System Drive: ADATA XPG SX950 240GB SATA SSD.
CPU Cooler: Cooler Master Wraith Ripper.
LGA 2066 System (i9-9980XE, i9-10980XE):

Core i9-10980XE CPU: Intel Core i9-10980XE 'Cascade Lake-X' 18 cores, 36 threads (4.6GHz @ 1.165V overclocked).
Core i9-9980XE CPU: Intel Core i9-9980XE 'Skylake-X' 18 cores, 36 threads (4.5GHz @ 1.175V overclocked).
Motherboard: Gigabyte X299X Designare 10G (LGA 2066, X299, F3a BIOS).
System Drive: Corsair Neutron XT 480GB SATA SSD.
Tests:

Productivity-related:
Cinebench R15 – All-core & single-core CPU benchmark (CPU)
Cinebench R20 – All-core & single-core CPU benchmark (CPU)
Blender 2.81a – All-core rendering of the BMW, Classroom, and Gooseberry benchmarks (CPU)
Corona – 1.3 benchmark run (CPU)
POV-RAY v3.8.0 alpha – Benchmark run using the 1920×1080, 16:9, AA 0:3 setting (CPU)
Adobe Media Encoder 2020 – Export a 25 minute and 7 second Premiere Pro 2020 project to the YouTube 4K H.264 40Mbps preset. The Premiere Pro project features a mix of colour correction and motion adjustment, PNG or JPEG static images, and 100Mbps 4K30 H.264 A-roll and B-roll. The video is our 'ASRock X570 Taichi Motherboard Review' on YouTube (CPU & Memory).
HandBrake x264 – Convert 1440p60 H264 video to 1080p60 H264 using the YouTube HQ 1080p60 preset (CPU & Memory)
HandBrake x265 – Convert 4K30 100Mbps H264 video to 1080p30 40Mbps H265 using the H.265 MKV 1080p30 preset (CPU & Memory)
7-Zip – Built-in 7-Zip benchmark test (CPU & Memory)
SiSoft Sandra – Memory bandwidth and Cache & Memory Latency Test (Memory)
AIDA64 – Memory bandwidth, memory latency, memory & cache latency (Memory)
Gaming-related:
3DMark Time Spy – Time Spy (DX12) test (Gaming)
Shadow of the Tomb Raider – Built-in benchmark tool, 1920 x 1080, Highest quality preset, no AA, DX12 version (Gaming)
Sandra Memory Bandwidth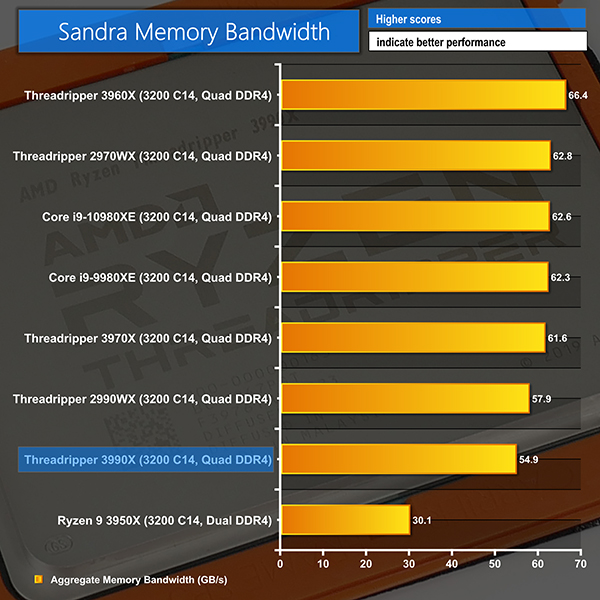 Starting off with the SiSoft Sandra Memory Bandwidth test, we see an interesting result. Despite using the same quad-channel DDR4 3200 CL14 memory, the 3990X scores relatively weakly in terms of outright memory bandwidth. We see a similar reduction in performance when looking at the difference between the 32 core 3970X and the 24 core 3960X.
All Threadripper 3000 CPUs feature the same central IO die memory controller, but our data suggests that there is a fight for the bandwidth as increasing numbers of cores are trying to carve out their fair allocation of system RAM. It will be interesting to see if this has an effect on our test results.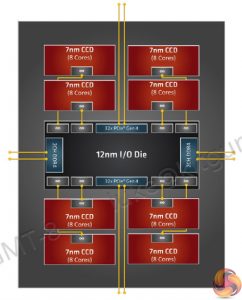 More Infinity Fabric links to the IO die, brought about by a larger number of CCDs, outline the importance of high-speed memory. We continue to use 3200MHz DIMMs with tight timings, but my previous testing has outlined that AMD's suggestions to use 3600MHz memory (and an 1800MHz Infinity Fabric clock by default) are justified.
Just make sure your chosen modules fit under a large TR4 CPU cooler; our Corsair Dominator sticks do not work with the Cooler Master Wraith Ripper.
AIDA64 Memory Performance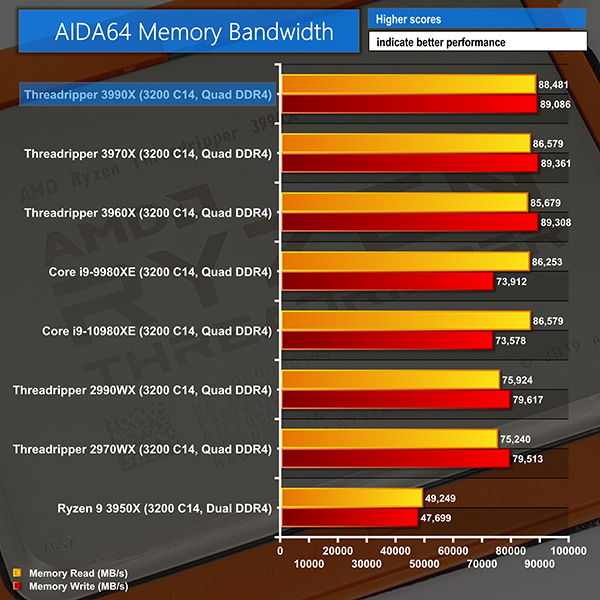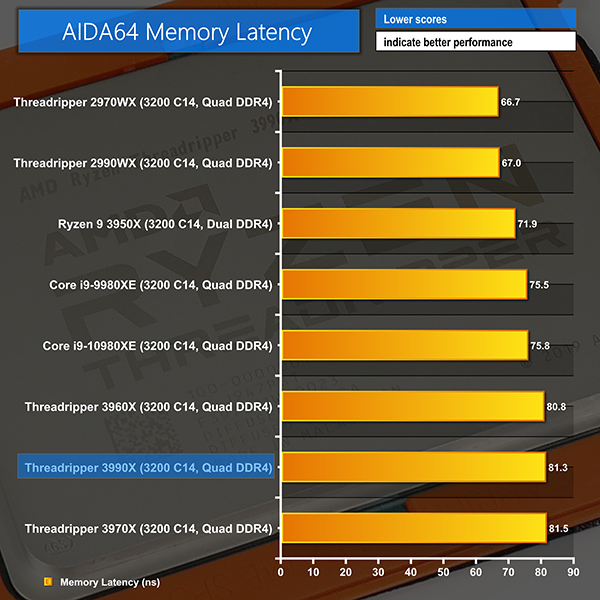 AIDA does not show the same behaviour as SiSoft Sandra with respect to memory bandwidth results. With that said, we have seen that Sandra's numbers typically translate better into real world performance differences than AIDA's do.
Latency performance for the memory subsystem is about where we would expect. We do not notice any major deficits versus the alternative Threadripper 3000 options, though the 24-core 3960X is consistently a little quicker.
Cinebench R15 & R20 nT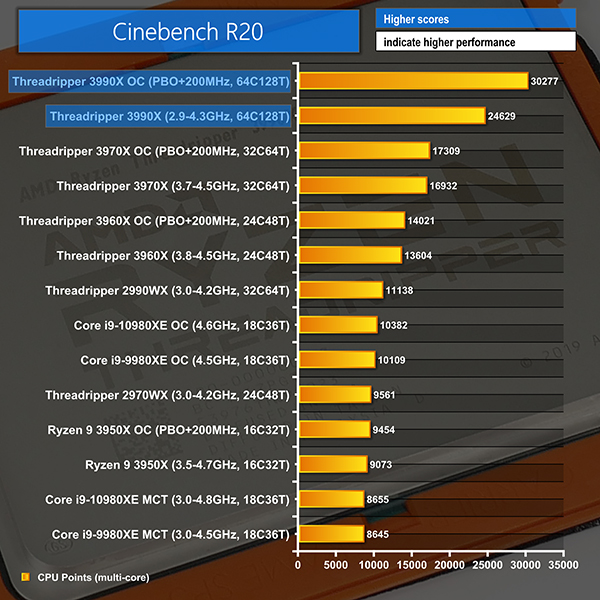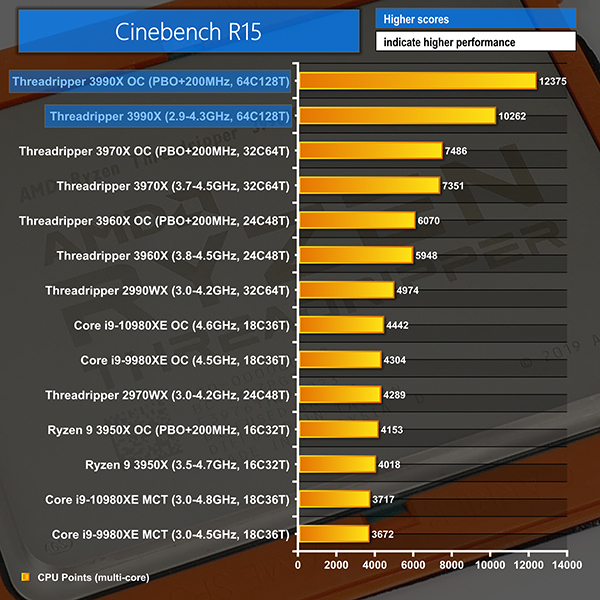 Cinebench nT numbers in both R15 and R20 are, quite simply, magnificent. AMD has clearly opened up an entirely new level of performance in this real-world benchmark, so much so that we had to rescale our chart axis. All 128 threads were usable thanks to the way in which Cinebench is built.
Comparing R20 numbers to its 32-core sibling, the 3990X is 45% faster at stock and 75% better when both CPUs are overclocked using Precision Boost Overdrive. It is quite remarkable to see Cinebench breaking through the 30,000-point barrier when overclocked.
Doubling the core count posts a stock versus stock performance uplift of 40% for the 3990X in R15. That lead for the 64-core extends to 65% when both CPUs have their power delivery shackles eliminating by PBO.
These levels of performance truly are remarkable and are unlike anything we have ever seen on a high-end desktop or single-CPU workstation platform.
Cinebench R15 & R20 1T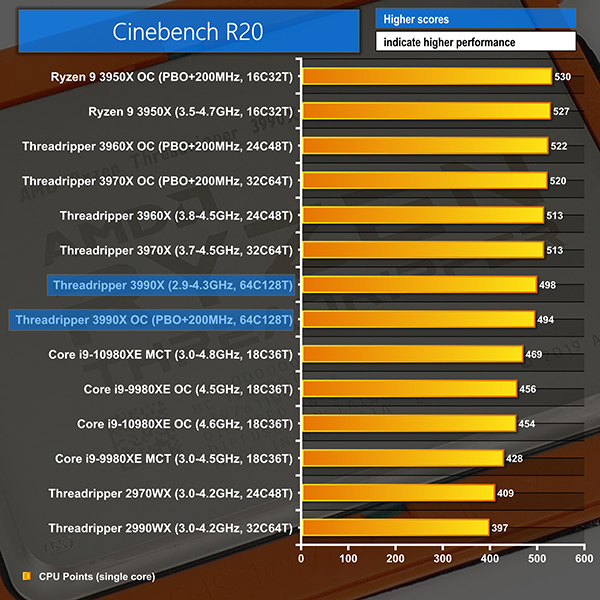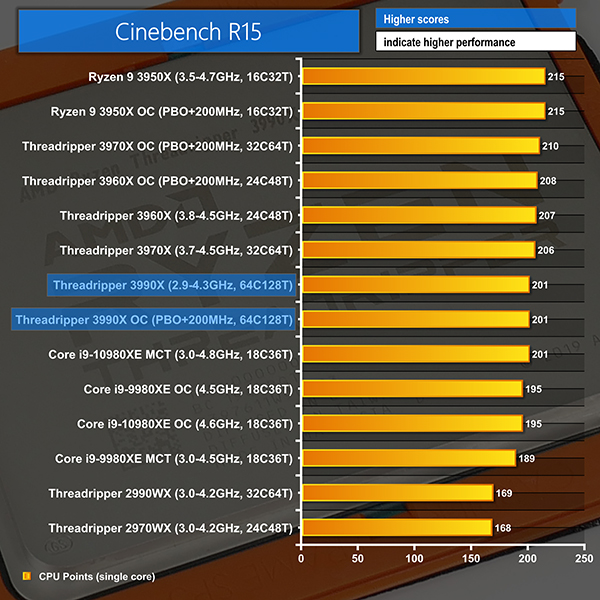 Unsurprisingly, given its lower maximum boost frequency, the 3990X cannot quite match 3960X or 3970X levels of single-thread performance in Cinebench.
As we can see from the comparison to Intel's HEDT processors, albeit at a lower cost than the 64-core Threadripper, it is clear that AMD does a good job of balancing lightly threaded workloads with the ability to ramp up to a 128-thread render when required. The 3990X is stellar in this single-threaded test, and that's perfectly fine when you credit how immense its multi-threaded performance is.
The superb Precision Boost 2 algorithm is to thank.
Blender BMW Benchmark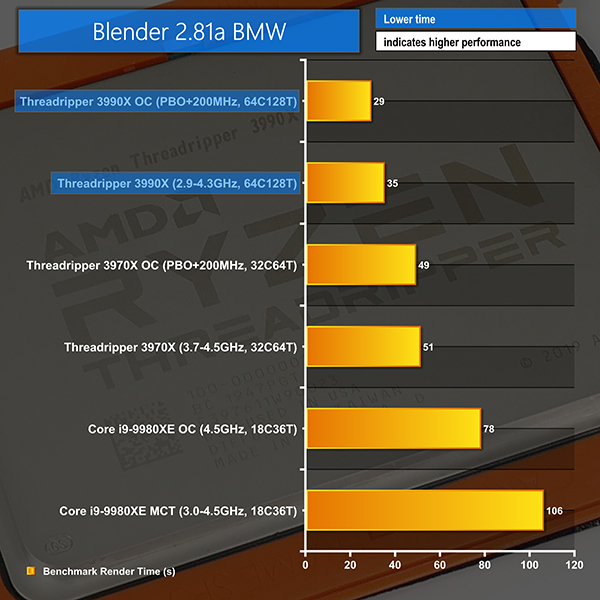 We have updated our Blender tests to use the latest version – 2.81a. This means that our previous 2.79b test data is no longer comparable. As such, comparison figures in these charts are currently light while we continue to gather data.
The quick BMW test absolutely flies when all 128 threads on the 3990X are loaded. Cutting 20 seconds off the render time compared to the overclocked 3970X is certainly not a result to underestimate when the performance improvement works out at 69%.
Blender Classroom Benchmark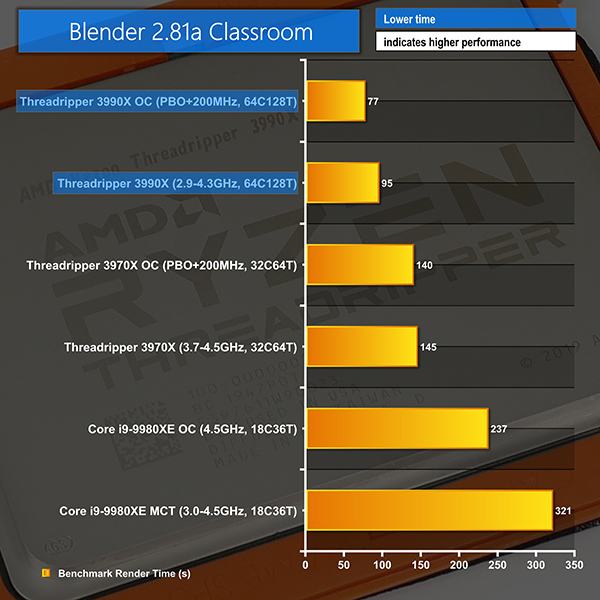 The longer classroom test is another clear success for AMD's 64-core HEDT flagship. Even operating at stock conditions, the 3990X completes the render in less than 100 seconds – a full 50 seconds faster than the stock-clocked 3970X. That results in a 53% performance uplift.
Open the taps with PBO enabled and the 3990X takes 63 seconds off the overclocked 32-core Threadripper. 82% higher performance from 100% more cores and cash money is an attractive proposition for certain buyers.
Blender Gooseberry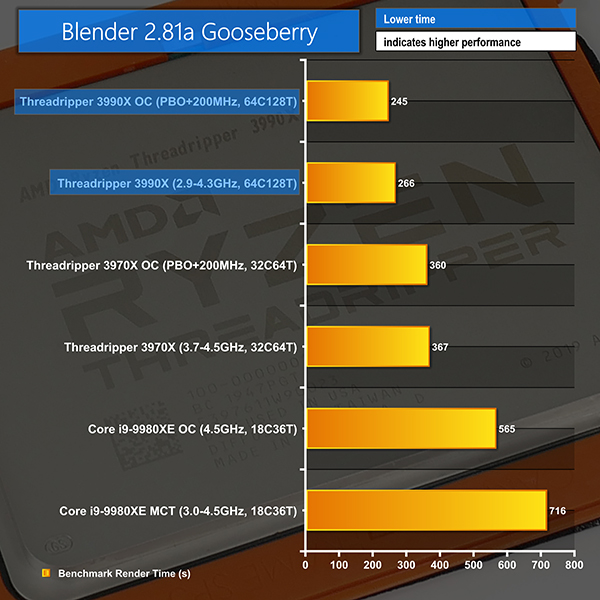 The Gooseberry test is an interesting result and perhaps more representative to certain target markets for Threadripper. As this test has periods of lightly threaded preparation work before completing a multi-threaded render, the performance gains from the 64-core chip aren't as wide as in the previous test runs.
A victory of 101 seconds versus the stock 3970X translates into 38% higher performance, while PBO increases the 64-core's lead to 115 seconds and 47% greater render throughput capability.
The Blender results are very simple as the rendering application is well-programmed to take advantage of 128 threads. If your project work is time critical enough, important enough, and valuable enough that 100% more monetary outlay for performance gains of 38-82% seems like a reasonable deal, the Threadripper 3990X is a fantastic choice.
Corona 1.3 Benchmark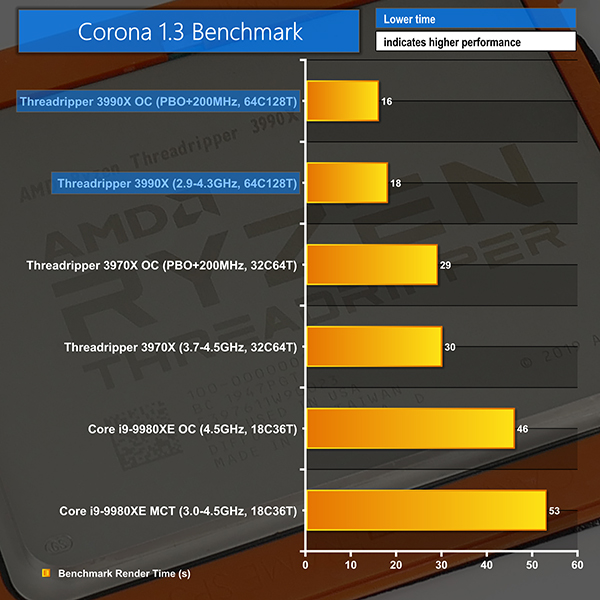 Corona 1.3 benchmark is another new addition to our test suite and therefore has limited comparison data currently.
This rendering application works well with all 128 threads and therefore the 3990X delivers clear performance uplift. Compared to the 32-core 3970X, the 3990X is 12 seconds quicker at stock and extends its lead to 13 seconds with both chips overclocked.
While these may sound like small time savings for such a sizeable cost differential, the percentage differences are important, as is the influence of rendering large numbers of images as part of your day-to-day job. Savings of more than 10 seconds per job on 20-30 seconds renders quickly add up.
POV-RAY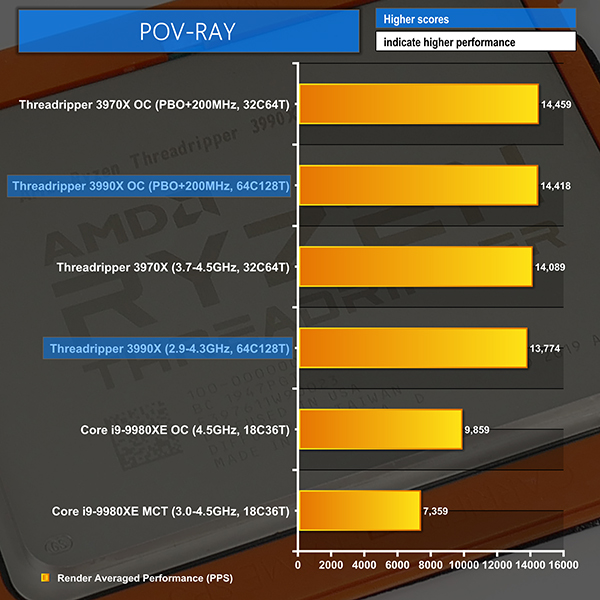 POV-RAY currently only supports up to 64 threads even with the latest beta version available via GitHub. AMD has told us that they have submitted an updated version that supports 128 threads and it is awaiting GitHub approval. We will update our test data in future pieces once that version is available, but for now, we are sticking to the latest public release and its 64-thread limitation.
This test is simply more of what we have seen from other 64-thread applications. The 3990X roughly matches the 3970X, barring small performance losses for frequency differentials. If you need faster performance in POV-RAY, the 3990X will not deliver that until the updated version is available. But if you want to run the demanding render whilst also continuing with other resource-intensive work, the 3990X CPU is currently better positioned to handle that.
7-Zip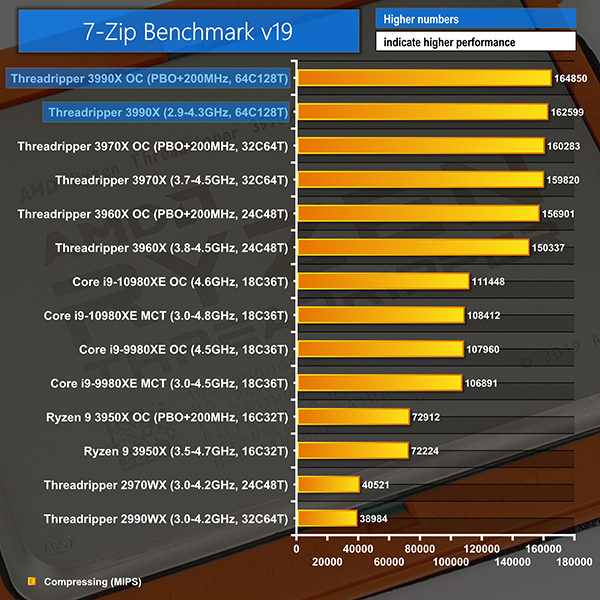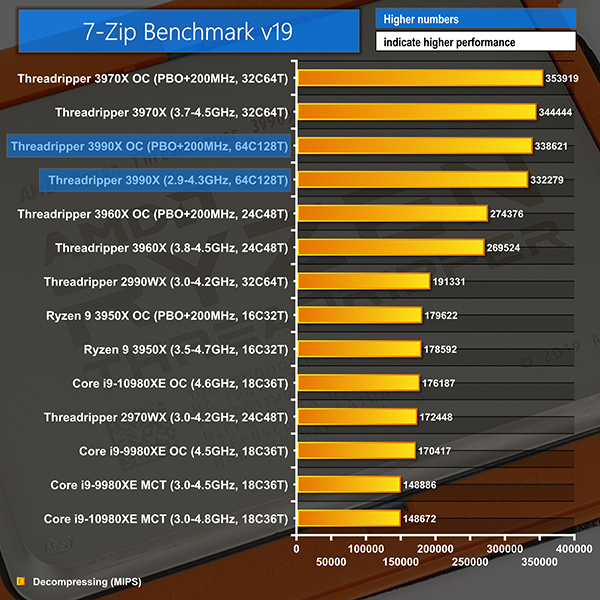 7-Zip does not make use of more than 64-threads and therefore offers no meaningful performance improvement versus the 3970X. The abilities of Precision Boost 2 mean that the 3990X increases its multi-threaded clock speed accordingly when only 64-threads are loaded, thus allowing it to run at frequencies comparable to the 32-core Threadripper.
Decompression actually runs slightly worse on the 3990X compared to the 3970X. Repeated testing on different motherboards confirmed this result, so this would look to be the first negative outcome from the 3990X's reduction in recorded memory bandwidth.
While 7-Zip performance is no better than the cheaper 3970X, the 3990X does have half of its threads left idling while 7-Zip operates. In theory, one could load up another instance of 7-Zip, put load on those remaining 64 threads, and get double the throughput. In practise, it does not work like that. There is, however, clear capability to multitask even heavily while 64-thread limited applications are running on one processor group.
Adobe Media Encoder 2020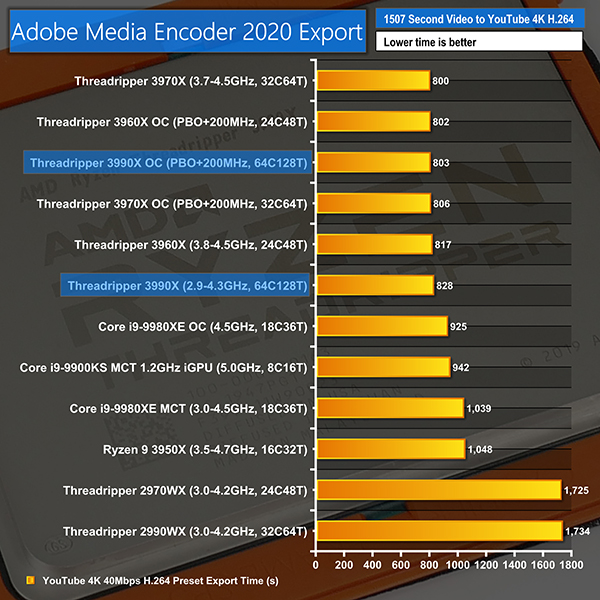 Adobe Media Encoder is another application that does not benefit from 64-cores for our test workload. That point actually extends to 32 cores, as the 3970X delivers no tangible performance uplift versus the 3960X.
As previously noted, there is plenty of computational headroom (in excess of 60%) left untapped even at the toughest points of our 4K H.264 video export. That leaves plenty of capability for the 3990X to multitask with minimal slow-down.
AMD's testing guide highlights how more demanding workloads, such as dealing with high resolution RAW footage and H.265 outputs, stress the CPU more heavily and show some benefits for the 64-core 3990X. This is something that I will be keen to do follow-up testing on post-launch.
The key point to take from our result is that budding YouTubers or video editors shooting in 4K and dealing with H.264 exports need not run out and buy a 3990X; the 3960X is a smart choice for such workloads.
Handbrake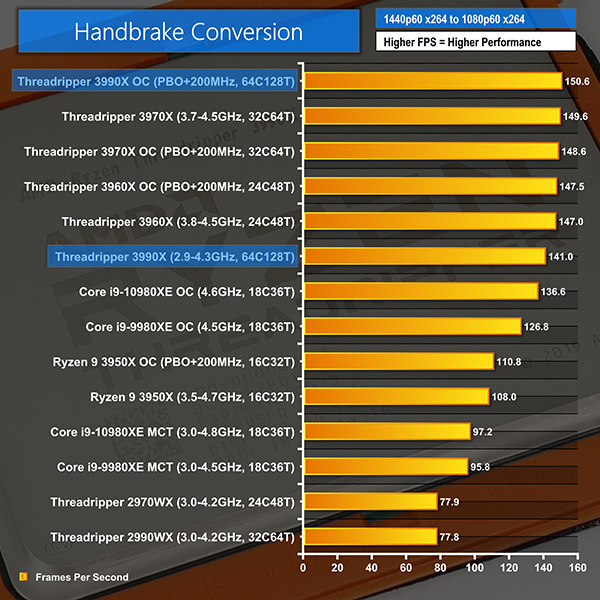 A Precision Boost 2 clock frequency deficit versus the Threadripper 3000 alternatives is to blame for the 3990X's reduced stock performance. This is interesting and surprising but is confirmed by our data logs.
There is no reason why the 3990X and half of its threads somewhat loaded by Handbrake should be running any slower than the 3970X with the same loaded thread count.
The clear caveat is that the 3970X approaches operating frequency levels that are close to the 3990X's peak boost clock; the 64-core chip is therefore less comfortable operating at those lofty heights even though some cores are sat idling and there is package power budget remaining.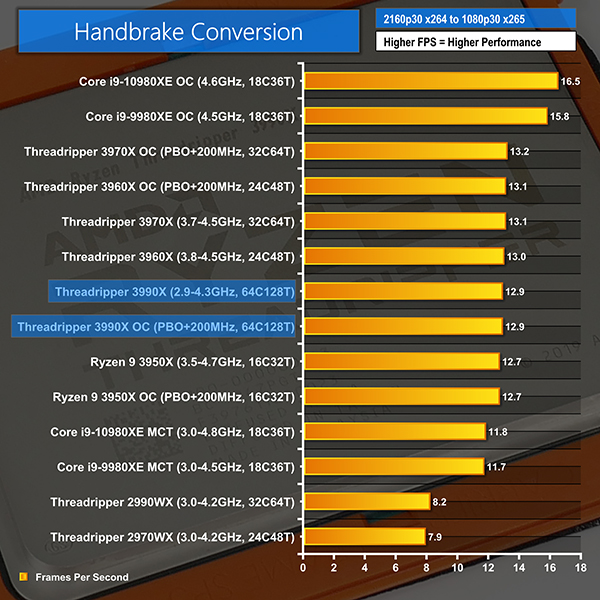 Our x265 Handbrake test shows similar behaviour whereby the 3990X is comparable to the 24- and 32-core chips. Intel HEDT parts and their fat AVX pipelines still rule the show when it comes to x265 performance in Handbrake.
Clearly, Handbrake offers up no tangible performance gains for the 3990X as it cannot address more than 64 threads. If you simply run Handbrake and step away from your system, there is no benefit from the 64-core chip. But if you convert your high-res video footage in Handbrake, whilst also exporting media from Adobe Premiere, whilst also packaging up the raw A-Roll footage using 7-Zip, maybe then the 3990X and its heavy multi-tasking capabilities will come into play.
3DMark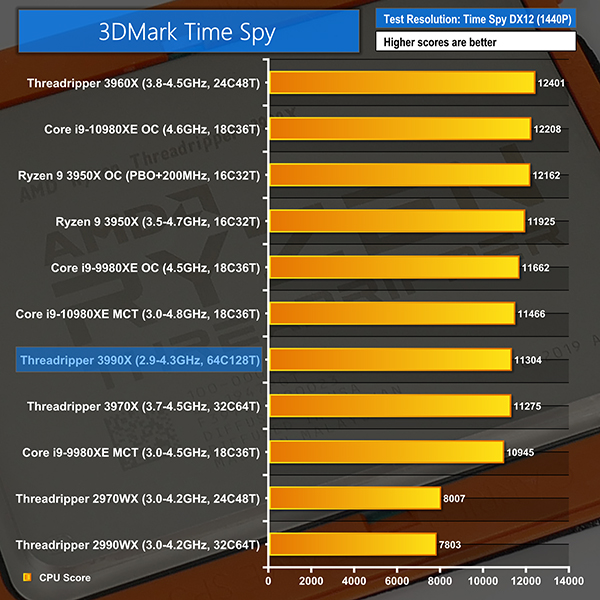 Shadow of the Tomb Raider

We run the built-in benchmark using the DirectX 12 mode, anti-aliasing disabled, and the Highest quality preset.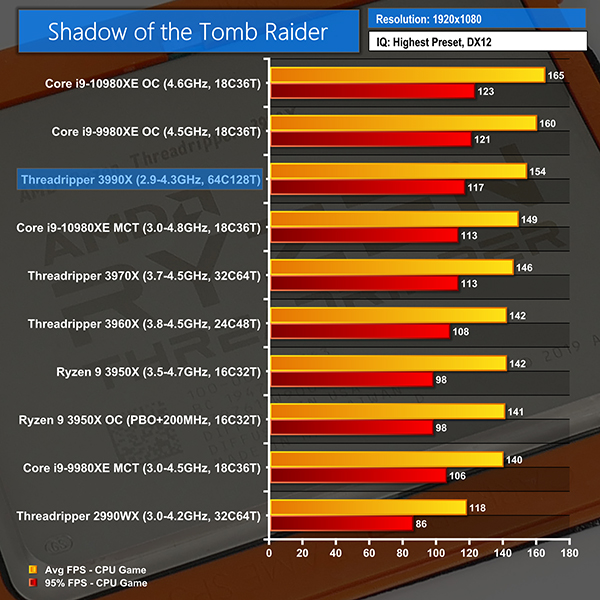 Yes, you can game on the 3990X if you want, but I see no reason why you would want to. I would perhaps go as far as arguing that if you're the type of system user whose PC is not crunching numbers, completing simulations, or rendering images overnight, and therefore has time to be used for gaming, the 3990X is perhaps not for you.
With that said, Shadow of the Tomb Raider ran perfectly well without needing to use the core-disabling game mode. In fact, the 3990X was slightly faster than the 3970X on average and this follows a similar trend of this game's preference for higher core count chips, even if they are clearly not 100% utilised.
If you want to see more gaming numbers, look at our 3970X review as the 3990X is likely to continue with similar performance.
We leave the system to idle on the Windows 10 desktop for 10 minutes before taking a power draw reading. For CPU load results, we read the power draw while producing approximately 5 minutes worth of runs of the Cinebench R20 multi-threaded test. We also run the Blender Classroom Rendering stress test.
Both Cinebench and Blender are used instead of synthetic stress tests such as AIDA64. This is because some CPUs – most notably Intel's HEDT Core processors when operating under default turbo conditions – will heavily reduce their clock speed with the AVX-based AIDA64 workload, thus giving an unrepresentative reading.
The power consumption of our entire test system (at the wall) is shown in the chart. The same test parameters were used for temperature readings.
Power Consumption
Power draw readings are accurate to around +/-5W under heavy load due to instantaneous fluctuations in the value. We use a Titanium-rated Seasonic 1000W Prime TX-1000 PSU (with 8-pin plus 4-pin or 8-pin plus 8-pin power connectors where possible).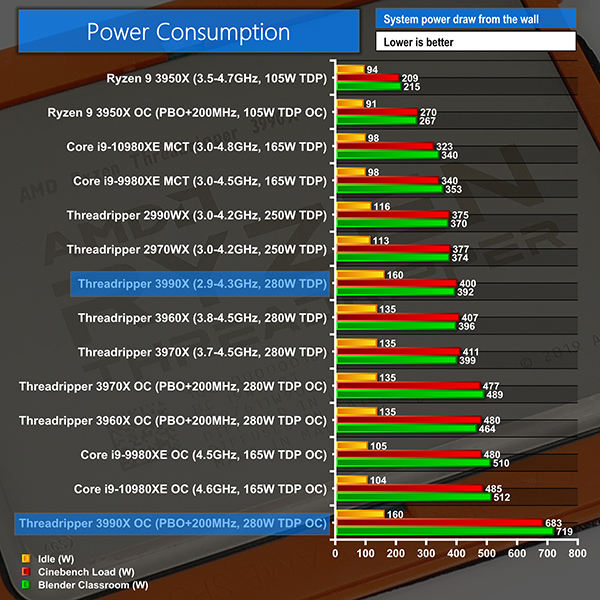 AMD's efficiency gains with Zen 2 and TSMC 7nm process technology have been critical in allowing 64 cores to be squeezed into a 280W TDP package. As is the case with all Threadripper CPUs, that 280W TDP rating translates directly into the package power budget for the Precision Boost 2 algorithm.
Unsurprisingly, the 280W TDP 3990X demands the same amount of power as the other 280W TDP Threadripper chips – around 400W under heavy all-core load. The differences between our Threadripper 3960X or 3970X and 3990X idle readings pertain to variations between the test motherboards in each case.
It is actually quite remarkable to see AMD offering more than three times as many cores as Intel's HEDT flagship whilst only commanding around 60W more power under stock load conditions.
Removing the power-limiting shackles by using PBO, AMD's Threadripper 3990X becomes extremely thirsty. Our readings highlight power draws of around 700W at the wall once the PBO frequencies settle to sensible stable points. For the first runs, where temperature induced PBO throttles have not kicked in, we recorded almost 900W of power draw from the wall.
If you were not convinced that the overclocked Threadripper 3990X will need a high wattage power supply and serious cooling, you should be now. Oh, and do not forget about the demand placed on a motherboard VRM. These numbers highlight clearly just how far outside of the Zen 2 optimum power efficiency range the 3990X has to operate to jump from around 3GHz stock all-core clocks to around 3.5 to 3.6GHz overclocked all-core frequency.
Performance Per Watt – Cinebench R20 nT
Huge multi-threaded resources and a power efficient, yet reasonable, operating frequency are ingredients for success in our Cinebench performance per Watt metric. The 64-core 3990X delivers, beating out the 32-core 3970X by around 50%.
This is important to professional buyers who either individually, or through a company, must consider electricity usage. Being able to get renders done with higher efficiency can, at scale, translate into tangible savings on project costs across a team of staff. There's also the benefit of being able to use the same 280W TDP rated CPU cooler and motherboard that the 3970X runs on.
Performance Per £ (price efficiency) – Cinebench R20 nT
The price premium commanded by a flagship product rarely paints a positive picture in our performance per pound chart. That trend continues for the 3990X, which comes in 100% more expensive than the 3970X but does not deliver 100% more performance.
This really is a case of buyers being able to justify the additional expenditure, even if is not particularly cost efficient, by being able to complete more high value project work in a given period of time. Paying an extra £2000 for a processor that offers performance levels that allow you to take on £3000 of extra work can make business sense in many people's models.
Temperatures
Temperature recordings were taken using a Cooler Master Wraith Ripper TR4-specific air cooler. Ambient temperatures were around 23-24°C. Competing CPUs without the asterisk in the chart were tested with a Corsair H100X 240mm AIO and are therefore not directly comparable.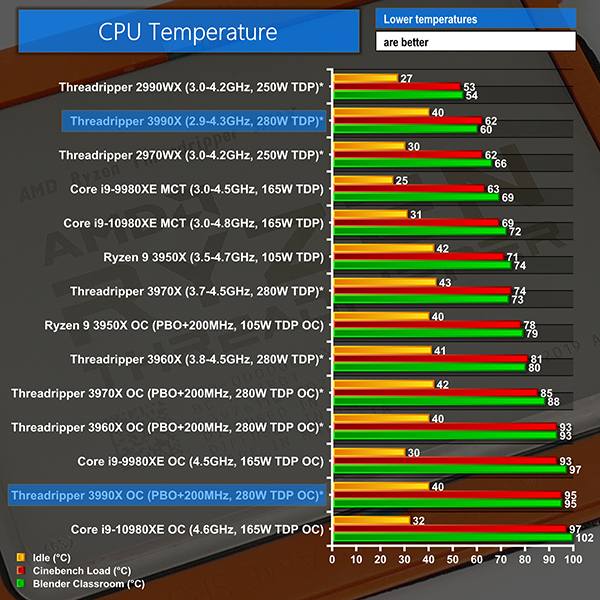 Using the Cooler Master Wraith Ripper, recorded temperatures were very low at just over 60°C. This is because the temperature profile of AMD's Zen 2 processors is frequency-biased and the lower frequency of the 3990X allows it to operate at a lower core voltage and therefore lower temperatures. That's a lot of 'lowers'.
You will note spikes above 75°C during usage as the frequency is ramped up by Precision Boost 2 when fewer cores are loaded or there is power budget available. But our sustained, all-core testing highlights that the Threadripper 3990X is just as easy to cool as the 24- and 32-core siblings. Understandable, given its 280W TDP.
Of course, that logic completely changes when the power shackles are smashed with Precision Boost Overdrive overclocking applied.
The 64-core beast quickly runs into its 95°C maximum temperature target and therefore downclocks accordingly. PBO is a very smart algorithm, though. Rather than downclock the processor and leave thermal headroom on the table, it instead sticks to the 95°C maximum temperature target and regularly makes minor frequency and power budget adjustments. This is all in pursuit of the right balance that gives the user maximum frequency without exceeding the temperature target.
Software-reported CPU package power was in the order of 500W for these readings. However, extended stress tests running towards the 1-hour mark saw the delivered package power drop to around 400-450W in order to stick to the 95°C target.
The talk of thermals gives us a perfect transition to this beast – the IceGiant ProSiphon Elite.
This prototype unit is fundamentally an air CPU cooler as it has no moving parts or a liquid pump, but it does not use conventional heatpipes. Instead, a dielectric fluid is boiled by heat from the CPU and this vapor in turn flows through to the condenser where it is cooled back to a liquid – by dumping its heat to the fin array for dissipation – and is driven by gravity back to the CPU evaporator block.
The process is continuous and as it does not use conventional heatpipes, the cooler is better able to deal with high thermal loads where heatpipe internal structures will typically saturate with vapor – this is known as 'dry-out'.
Clearly, this is still in prototype phase and will not be shipping until around May or June. But with the suggestions of 'better than air cooler performance levels without the moving parts and leakage concerns of liquid cooling', we were keen to test it out on the hottest (literally) new processor on the block.
We were even more keen when seeing that the current pre-order price is a very reasonable $120 USD.
For more details on how the IceGiant ProSiphon Elite works, make sure you go over and check the technical information on the IceGiant website. We plan to do more testing with this innovative new solution, so make sure you check back for that content.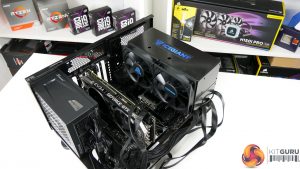 Manual Overclock Test (<400W CPU Package Power):
Our first quick test was a simple static overclock of around 1.07V under load and an achievable frequency of 3.5GHz. This translated into a wall socket power draw of around 520W for the entire system and a software-reported CPU package power draw of around 385W in Cinebench and 350W in AIDA64. Certainly a heavy load for an air cooler.
The IceGiant ProSiphon Elite and its 2200 RPM 120mm fans absolutely crushed this test. Back-to-back Cinebench R20 runs saw the CPU peaking at 72°C, while a 15-minute run of AIDA64 stress test also peaked at 72°C.
This was a highly impressive result and the Cooler Master Wraith Ripper by comparison was running closer to the mid-80s, albeit with greater CPU power draw due to the higher operating temperature.
PBO Overclock Test (around 600-650W CPU Package Power):
The next step was to throw the demanding Precision Boost Overdrive operation at the IceGiant cooler. For this test, we set the maximum CPU power budget at 1000W.
We knew that the Cooler Master Wraith Ripper was hitting against the 95°C thermal limit with the 3990X running under PBO conditions. As such, the CPU was downclocking and the thermal load was reduced. Our key goal was to find out by how much the ProSiphon Elite could reduce the CPU's thermally induced downclocking.
To say that we were surprised by the performance shown by the ProSiphon Elite would be an understatement.
The CPU cooler did not downclock the processor and instead maintained the roughly 650W peak CPU package power delivery throughout our extended Cinebench testing. This was remarkable as power draw from the wall was peaking at around 860W and the IceGiant cooler was completely fine.
In fact, the temperature had levelled at 91°C after 30 minutes of continuous Cinebench loading, meaning that the peak operating clock was maintained at around 3.8GHz across 64 cores and we lost less than 2% in our Cinebench scoring. That is remarkable.
Furthermore, an hour of AIDA64 stress test also ran perfectly fine with the IceGiant ProSiphon Elite. The CPU package power levelled off at around 500W, which was 680W wall power draw. This resulted in an operating frequency of 3.8GHz with a CPU temperature of 91°C.
Thoughts:
For me, the key takeaway from this brief period of testing with the IceGiant ProSiphon Elite is the CPU cooler's ability to open up an entirely new tier of cooling performance to users who do not want the risk, expense, or potential maintenance requirements of liquid cooling, but who need more performance than air can offer for high thermal load CPUs, such as Threadripper 3000.
The potential risk of downtime through pump and tubing failure, or the requirement for maintenance, make liquid cooling solutions unappealing to many workstation users. Personally, I would prefer to use an air cooler with no moving parts (other than fans) or leakage risks for a system that will cost upwards of £10,000 and be expected to run without hitches for 3-5 years. That's where the IceGiant ProSiphon Elite has a clear USP, especially when looking at its Threadripper capabilities.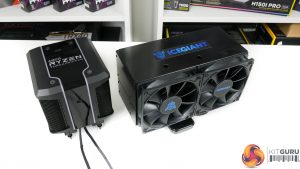 The IceGiant cooler allowed us to run our 64-core 3990X somewhat unrestrained in the PBO equation and with significantly higher power delivery and operating frequency than the Cooler Master Wraith Ripper, whilst also running at a lower temperature.
I am extremely keen to see how this cooler performs against alternative options for Threadripper, so make sure you check back for future content.
I think it is fair to say that the AMD Ryzen Threadripper 3990X delivers just as we expected, and that's a good thing.
In applications that can leverage 128 threads, the performance uplifts versus alternative options are superb. Cinebench, Blender, Corona – they all benefit heavily from being given 128 threads to work with, especially when the power restraints are removed by overclocking.
On the flip side, some pieces of software simply do not benefit from more than 64 threads in Windows, and that too was expected. The 3990X is wasted running Handbrake and 7-Zip. Adobe Premiere does not value the 64-core chip over its 24- and 32-core siblings for our specific H.264 test scenario, though that may not be true if you have more demanding workloads. And POV-RAY needs an update, which AMD has already submitted to GitHub, before it will leverage more than 64 threads.
I think it would be fair to say that if you 'think' you need the 64-core Threadripper 3990X, you probably do not need it. But if you do indeed need 128 threads for your workstation, you probably know that you need it. This CPU is for people who measure their day-to-day project's render time, or simulation time, or compile time in hours and days, not seconds and minutes.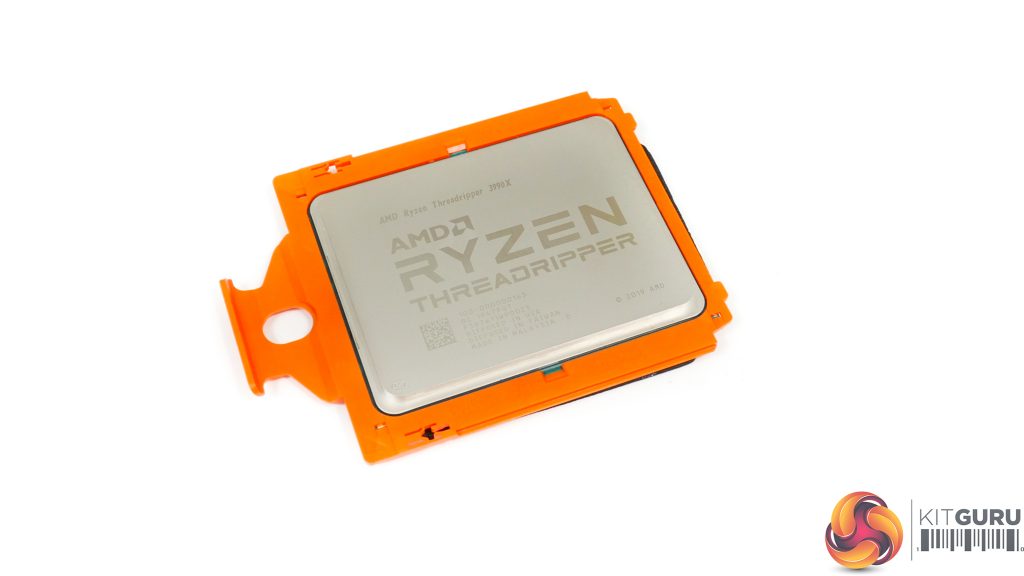 With regards to temperatures and power consumption, the 280W-rated 3990X operates just like any other Threadripper 3000 CPU out of the box. In fact, it tends to run a little cooler than the lower core count siblings when all threads are loaded thanks to an operating clock and voltage reduction.
As soon as you turn up the Precision Boost Overdrive settings and allow the chip to overclock itself, the operating temperatures and power draw go through the roof! With reasonable CPU cooling, 95°C is seen pretty quickly, at which point the CPU downclocks and draws less power, while our wall socket meter was reading 890W at points throughout testing.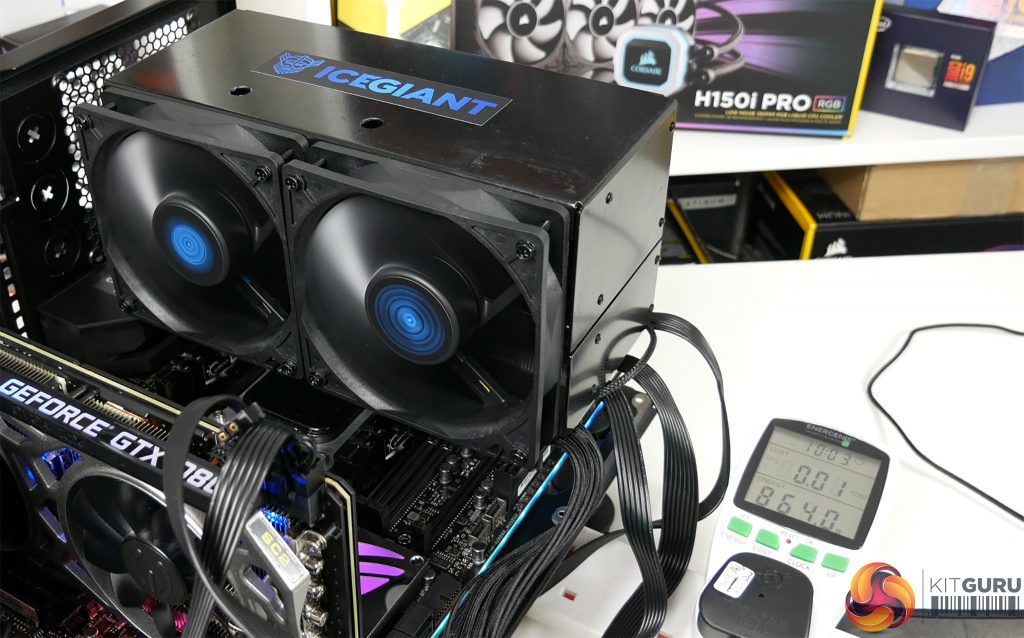 Of course, if you want to offer up improved cooling, such as the truly innovative IceGiant ProSiphon Elite prototype that we conducted additional testing on, do not be surprised to see those wall power draw numbers linger at 890W for extended periods of time. Good cooling equals fewer frequency reductions equals obscenely high power draw numbers, with performance to back them up.
You have to love how simple yet effective the Precision Boost algorithm for AMD's Ryzen processors is. That's especially true for chips that operate in a heavily power-limited state by default, such as the 3990X.
All of our same feedback for the TRX40 platform stands true with the 3990X. You can check back to our 3970X and 3960X review for those points but, put simply, the TRX40 platform is the most-feature rich and highest-performance platform on the market.
You get PCIe Gen 4 lanes galore, high-speed storage interfaces at every angle, and the wise inclusion of a high-bandwidth pipeline between the CPU and chipset. Thankfully, the motherboard options are also strong, with many offerings taking VRM performance incredibly seriously, which is clearly important for an overclocked 3990X.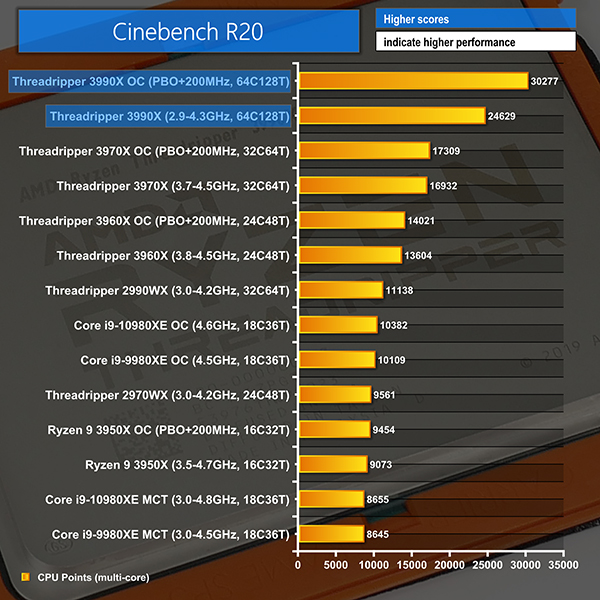 It is clear that we do not see 100% scaling moving from the 32-core Threadripper to the 64-core flagship. The TDP-induced frequency limitations are partly to blame, but it is also clear that some workloads do not scale linearly at this level of performance. Does that make the 3990X bad value compared to the lower core count offerings? Well, no; not really.
If some content creators or businesses can pay 100% extra for a processor that delivers, say, 40%+ performance uplifts, that can make perfect sense if their projects are of sufficient value and time criticality.
I would be perfectly happy to pay an extra $2000 for a processor if it meant that my staff could reasonably get through 40% more computationally demanding project work. With staff costs rates of perhaps $200 per hour not uncommon in many industries, that added CPU cost is quickly recouped by delivering a greater amount of useful project work to clients.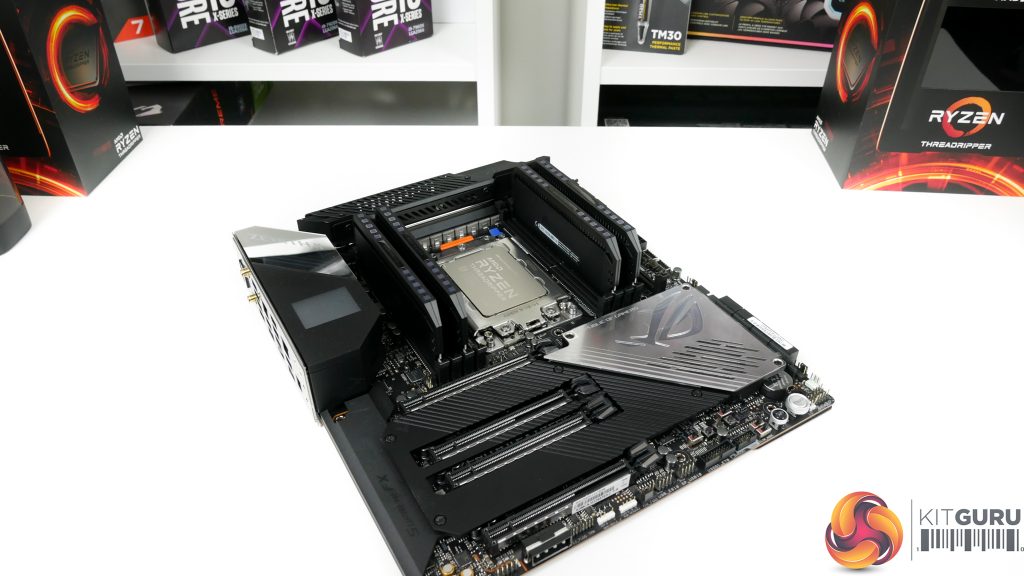 Of course, there are more ways in which 64 cores can be leveraged on a workstation type processor. At $3990, the Threadripper 3990X is a bargain compared to the 64-core EPYC 7742 which comes in at around $7000 list price.
Run a server for your small business? That $3000 saving is real money, yet you still get 128 threads and strong memory capacity allowance. Perhaps you want to carve up four virtual machines for your small team, whilst also leaving some cores for Docker applications and real-time encrypted backup. The 3990X could be a good option, as you still get the preferential PCIe lane capability for GPU pass-through and there's ECC memory support.
Clearly, the 3990X can blur the lines between HEDT/workstation processors and EPYC server offerings for small businesses willing to go down a more DIY route. I think that is a good thing as it allows small businesses to come up with more novel approaches to meet their IT demands.
It is strikingly clear that the AMD Ryzen Threadripper 3990X is not a CPU for everybody. You only have to look at the $3990 price tag to figure that out. In fact, it is arguably a processor that will appeal to many but will only realistically be considered and purchased by a select few with workloads that demand such compute power from the CPU.
And it is those users who will really see the benefits from this 64-core behemoth by being able to do things at a speed that their previous workstation simply could not achieve, at a price point where Intel simply cannot compete.

The MSRP for the 64-core Ryzen Threadripper 3990X is set at $3990 USD. Overclockers UK is stocking the processor for £3689.99 HERE.
Discuss on our Facebook page HERE.
Pros:
Remarkable performance if the software can deal with 128 threads.
Good lightly threaded performance thanks to Precision Boost 2.
Superb power efficiency.
Reasonable temperatures and power draw at stock.
Plentiful PCIe Gen 4 connectivity.
High-bandwidth CPU-to-TRX40 chipset link.
Respectable overclocking headroom, if you have high performance cooling.
A new level of HEDT/workstation performance.
Cons:
Many applications in Windows do not support more than 64 threads.
Memory bandwidth reduction versus 3960X and 3970X can slightly harm performance.
KitGuru says: AMD is continuing to assert its performance dominance in the HEDT/workstation market by offering a processor that is affordable enough to allow reasonable people working on reasonable projects for reasonable companies with reasonable IT budgets to reach an echelon of performance that simply was not available prior to the Ryzen Threadripper 3990X. That deserves an immense amount of credit. The importance of this statement that AMD has made to the market should not be underestimated.