Launching today alongside its bigger brother, the RX 6800 XT, this review has focused on AMD's RX 6800. Priced at £529.99 here in the UK, this GPU sits between the RTX 3070 and the RX 6800 XT.
That is reflected in its overall performance, too. Compared to the RTX 3070, the RX 6800 is on average 9% faster at both 1440p and 4K, while it is 11% slower than the RX 6800 XT at 1440p, and 12% slower at 4K. Versus the RTX 2080 Ti, its an 7% win for the RX 6800 at 1440p which increases to 8% at 4K. Compared to the RX 5700 XT, this RDNA 2-based GPU delivers an extra 58% performance at 1440p, while it is 68% faster at 4K.
It really is a very capable GPU for both 1440p and 4K gaming. I would rather use it at the former resolution, where we saw it deliver no less than 75FPS on average, but it many cases the frame rate is well over 100FPS. 4K is still very possible, just not in every game – half of the 14 games we tested in this review showed average frame rates dipping below 60FPS.

When analysing the RX 6800 from a value perspective, it isn't able to quite match the RTX 3070, which remains the cost per frame leader. It is very close, however, coming in just 4% more expensive per frame at 1440p. We also have to remember that it is faster overall, too, by almost 10% on average, so it's not a true apples-to-apples comparison.
There is also the small matter of ray tracing, something that RDNA 2 now supports thanks to one Ray Accelerator that comes embedded within each Compute Unit. A driver issue with Watch Dogs: Legion meant I wasn't able to test as many games as I would have liked, but Nvidia does still have the upper hand here based on our testing in Control and Shadow of the Tomb Raider. Overall performance of the RX 6800, with ray tracing enabled, could be crudely described as something akin to a 2080 Super, though performance scaled differently in each of our games.
How much this matters to you is going to be down to your opinions on ray tracing in games, but I think AMD has done well to achieve this level of performance with its first ray tracing enabled GPU. At the end of the day, I still think raw raster performance is a bigger deal to the vast majority of people, but prospective RX 6000 owners will be able to enable ray tracing and get a decent level of performance, and it's not too far off RTX 3070-levels of performance in Shadow of the Tomb Raider.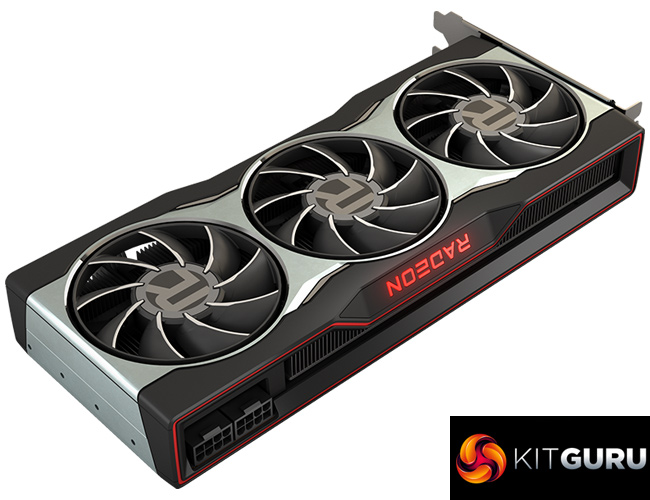 As for AMD's new reference cooler, this is a marked improvement compared to the blower-style coolers of old. The new triple-fan design looks good, it feels very premium in the hand with its die-cast aluminium shroud, and it delivers excellent thermal and acoustic performance. Noise levels came in at a similar level to the RTX 3080 Founders Edition, while the GPU core remained below 70C during our testing.
In terms of power draw, our testing saw the RX 6800 drawing a little less than its 250W total board power rating, as it averaged 237W across our 30 minute stress test. This is almost 20W more power than the RTX 3070, but when factoring in the increased performance on offer from the RX 6800, it is actually a match for the Nvidia GPU when looking at performance per Watt. That means AMD now has a GPU which is tied for the top-spot in terms of performance efficiency. It is a truly remarkable turnaround for AMD – if you'd told me three years ago that AMD would be a joint leader for performance per Watt, I'd have laughed.
Manual overclocking also revealed some decent gains for the RX 6800. We were able to push GPU clock speed over 2400MHz, with memory speeds increased by 7.5% as well. This resulted in performance uplifts of about 9% based on our testing, which isn't bad at all. It will be fascinating to see how AMD partners can push the clock speed further.
Overall, AMD has delivered a terrific GPU in the form of the RX 6800. It was promised to be faster than the RTX 2080 Ti, and those claims hold true, which means it is also faster than the RTX 3070. However, I don't see the RTX 3070 as a direct competitor to the RX 6800. The AMD GPU is £60 more expensive here in the UK (based on the MSRPs, at least), so we would certainly expect it to deliver a bit more performance. Really, the RX 6800 is currently occupying a position where it has no true competitor as it slots neatly between the RTX 3070 and RX 6800 XT in terms of both pricing and performance.
That means the RTX 3070 is still a very valid purchase, but if you want to spend a bit more on the RX 6800, you will in turn get a bit more performance. AMD has simply positioned this GPU where it exists pretty much on its own – but I can't imagine that will be the case for long!
We don't yet have a buy link for the RX 6800, but AMD has informed us the UK MSRP is £529.99.
Discuss on our Facebook page HERE.
Pros
Faster than RTX 3070 and RTX 2080 Ti.
Just as power efficient as RTX 3070.
16GB VRAM capacity.
Huge boost in clock speed compared to RDNA/RX 5700 XT.
Hardware-accelerated ray tracing is finally supported by an AMD GPU.
Reference design runs quiet and cool.
Cons
Ray tracing performance isn't as competitive as Nvidia's solutions.
AMD currently has no answer to DLSS.
KitGuru says: RX 6800 may not grab the headlines quite like the RX 6800 XT, but it delivers excellent performance for those who want something a bit faster than the RTX 3070 without coughing up the cash for RX 6800 XT.