Today marks the launch of Sapphire's Toxic RX 6900 XT Limited Edition, the first Toxic-branded card to hit the market in almost five years. Harnessing the power of AMD's flagship RX 6900 XT, we can think of the Toxic as the best case scenario for this GPU – it's been unshackled from its power constraints, while a 360mm AIO takes care of any cooling worries we might have around a 400W graphics card.
In all honesty, I wasn't expecting the performance difference versus the reference 6900 XT to be as big as it is. Granted, we tested using Sapphire's Toxic Boost mode, which is a one-click overclock found within the TriXX software, but realistically who is going to buy this kind of GPU and not want to run it in its fastest possible mode?
Toxic Boost enables the Toxic 6900 XT to outperform the reference card by up to 11% at 4K, but by 8% on average. This means the Toxic can really close the gap on RTX 3090. Our data puts the reference 6900 XT 10% slower than the RTX 3090, again at 4K. For the Sapphire Toxic, this gap is reduced to just 3%, close enough to call it a tie. In fact, at 1440p, there's on average 0% difference between the two GPUs, and the Toxic is even 3% faster at 1080p, though I can't imagine anyone spending this sort of cash for 1080p gaming.
The Toxic is also able to run out as a much more convincing winner against the RTX 3080. Where the reference 6900 XT is just 2% faster on average, the Toxic increases that to 11%. It's also 18% faster than the reference RX 6800 XT at 4K.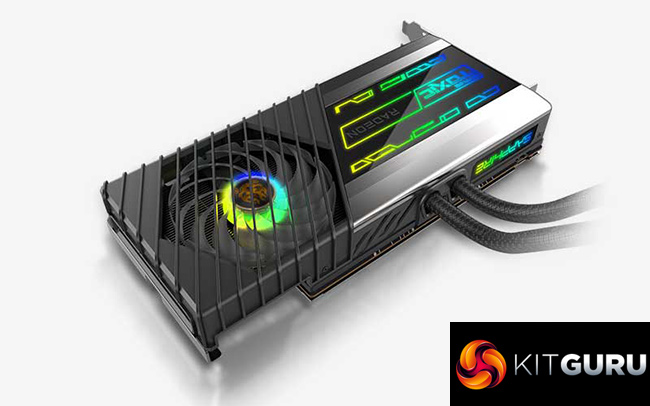 It's not a surprise to learn that strapping a 360mm AIO to this GPU results in pretty impressive thermals. In fact, even when using Toxic Boost – which raises total board power to 400W – we didn't see the GPU run hotter than 64C. When noise-normalised, it is comfortably cooler than either AMD's reference 6900 XT, or Gigabyte's Gaming OC model that we reviewed last month.
Of course, adding 100W of power negatively affects overall efficiency. Our data shows that the Toxic 6900 XT, when using Toxic Boost, draws 36% more power for its 8% performance gain. I don't see this as a problem though –  if you're spending this much money on a GPU, you're obviously not worried about the financial side, and it's pretty much always been the case that power has to increase exponentially to get as much out of a GPU as you can.
In actual fact, Sapphire's Toxic Boost one-click overclock works so well that I couldn't get anything more from the GPU when manually overclocking. There is of course sample-to-sample variance at play, so it could be that my card is just a bit limited, but Sapphire has pushed the GPU pretty hard with Toxic Boost.
So, should you buy the Sapphire Toxic RX 6900 XT? With an MSRP of £1299, it's only going to be for the most cash-rich of enthusiasts, and given the current state of affairs where Sapphire's own Nitro+ 6900 XT is currently listed at £1399.99, I'd say this card will be priced closer to £2000 when it hits the retail channel.
The obvious question to ask would be, 'why not just buy an RTX 3090?' and I think that is a valid question. For as close as the Toxic comes to the RTX 3090, it is 3% slower at 4K, and that's when the GPU is at it's limit, whereas there is still scope to overclock the RTX 3090 and stretch that lead further. With an air cooled card, you obviously don't have to find room for a 360mm radiator, either.
Then again, I think there is a niche audience of enthusiasts out there who would buy a GPU like this, just because it's something fun and something different. For 99% of buyers, it's not going to make any sense. But for that cash-rich group of enthusiasts, the overclockers who want to extract every last megahertz from the GPU, and for those where every single point matters with that 3DMark score… that's who Toxic is for. On a technical level, what Sapphire has done here is very impressive indeed.

The Toxic 6900 XT is available from Overclockers UK HERE.
Discuss on our Facebook page HERE.
Pros
On average 8% faster than reference, when testing at 4K.
More-or-less as fast as RTX 3090 when using Toxic Boost.
400W power limit.
Clean aesthetic.
360mm AIO means thermals are not a concern, even when using Toxic Boost.
Cons
Significantly less efficient than reference.
Fans can get a bit raucous under load.
Likely going to cost significantly more than the £1299 MSRP.
KitGuru says: It's clearly not going to appeal to everyone, but the Sapphire Toxic RX 6900 XT is a highly impressive piece of engineering designed for serious enthusiasts.
Be sure to check out our sponsors store EKWB here