AMD have released a new overclocking software suite which they are calling 'Radeon WattMan'. This software can control GPU voltage, engine clocks, memory clocks, fan speed and temperature.
While we are only reviewing the reference AMD card today, partner cards are likely going to be sold in various states of overclock, so we felt it was important to try and present some findings today with the RX 480 when overclocked. This should, in theory, give us an indication of what will be possible when the 14nm architecture is pushed to the limit.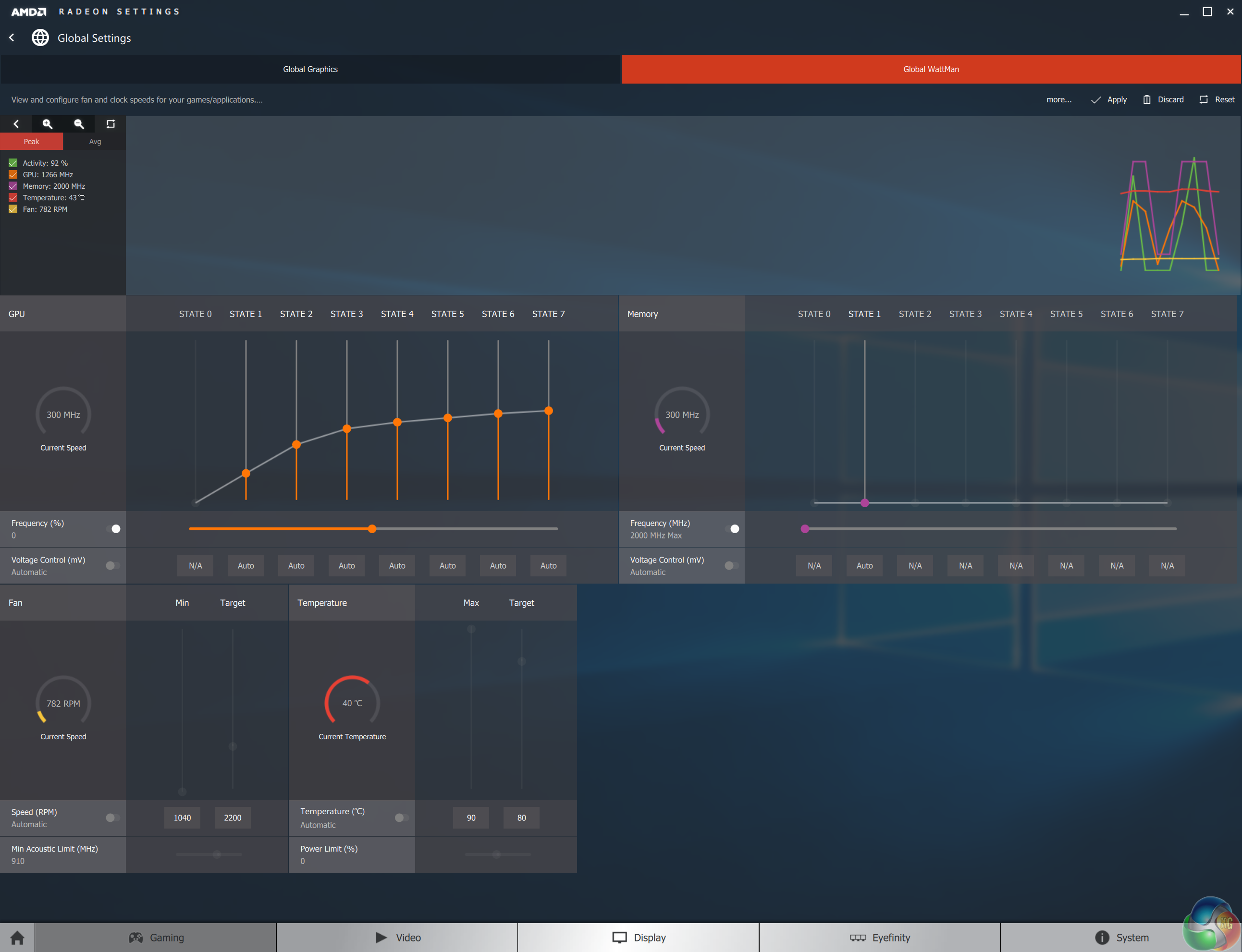 The software suite also has a histogram which records and displays the GPU activity, clock speeds, temperature and fan speed. This data can be used to tweak settings to try and improve performance in various areas.
As you can see from the image above, the interface could certainly be classed as attractive, although I can't help but feel AMD could have crammed all this into a much smaller, cleaner interface and without the need for transparency on all the panels.  I prefer a simple, small, clean interface. There is for instance no need for all the space taken up with 7 states for the memory overclocking, as only one is applicable with the rest basically redundant.
I spent a lot of time overclocking the RX 480 8GB and using how to best set up the parameters in Radeon WattMan. Simply increasing the voltage and clock speeds won't lead to great results and often the card will deliver lower performance than at the default settings. This is directly related to the small heatsink that AMD have inside their cooler shroud. The RX 480 will throttle.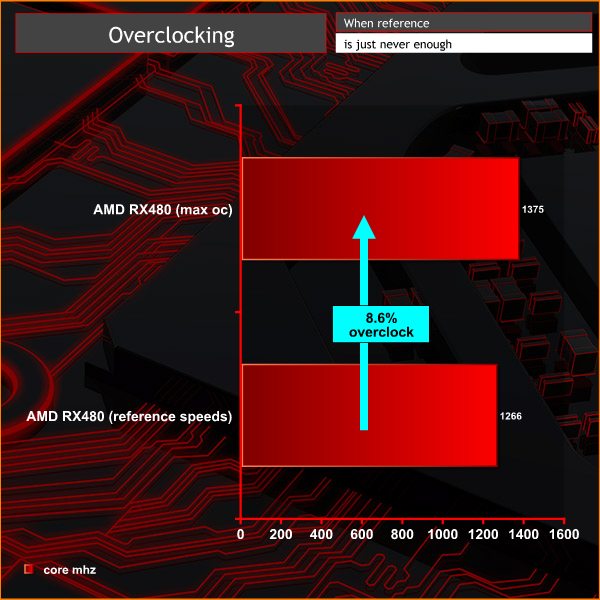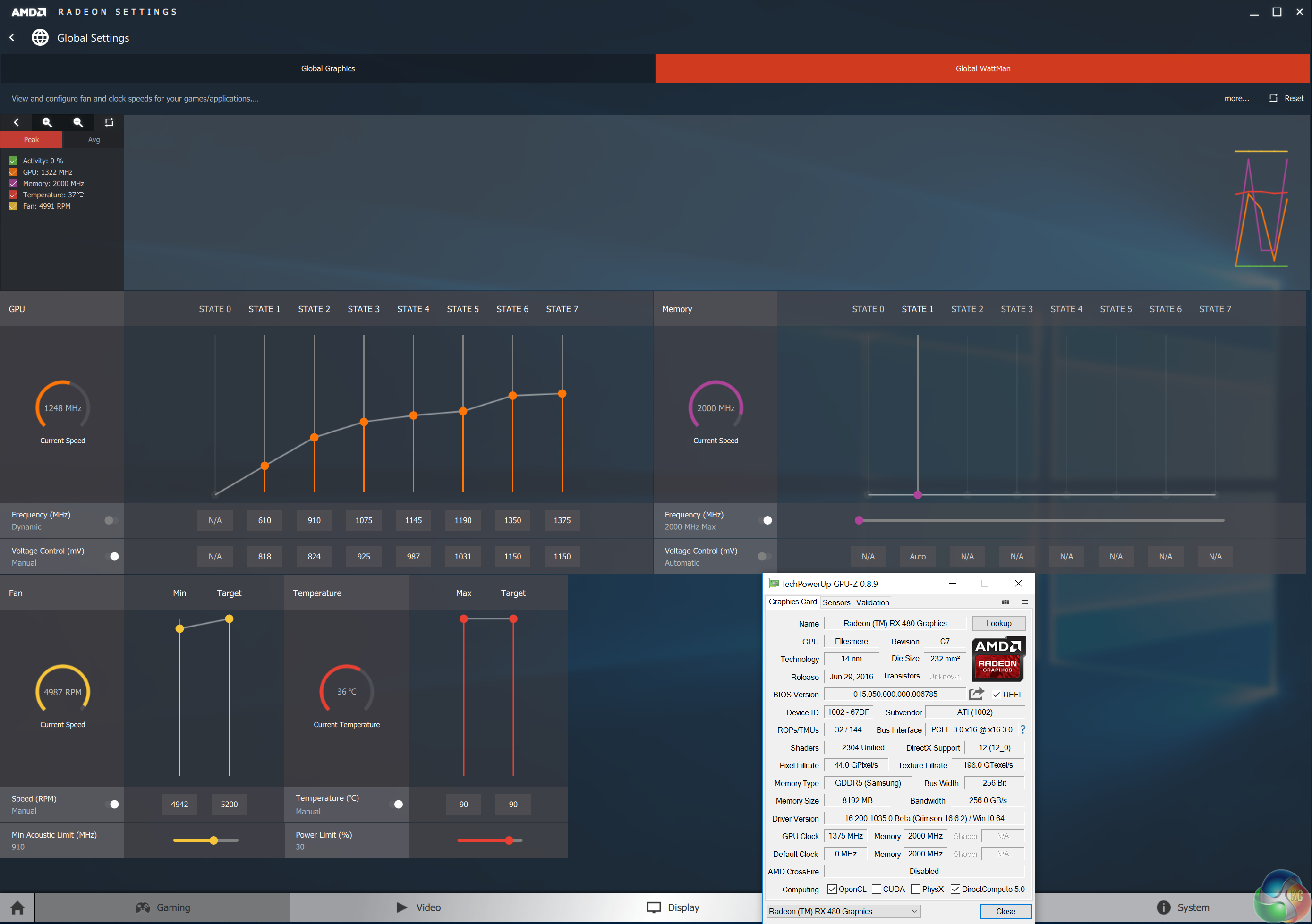 I got best results by increasing the clock speeds in STATE 6 and STATE 7 as these are the states that all games will target under load. I settled on a maximum speed of 1,375mhz for the core at STATE 7 and increased the voltage to 1150. This is the maximum voltage you can set in WattMan for the RX480 sample we received.
It is worth reiterating (if you haven't read the full RX 480 review so far) that the AMD reference cooler on this card has no heatpipes and only a single, small blower style fan to push air.
To help negate throttling I increased the fan speeds to maximum and increased the temperature threshold from 80c to 90c. Under load the fan was painfully loud, but without question partners such as Sapphire will be releasing superior custom cooled solutions in the coming weeks.
Overclocking the memory seemed to cause stability problems on our test bed, with games randomly crashing to the desktop. I therefore decided to leave memory as is, but will try again when we present our next AMD partner card review and I have more time. AMD said they were aware of some overclocking issues and gave me a new driver, but this happened the day before launch so I have been unable to make time to look into this further.
All our game tests in this launch review today will be showing the RX 480 running in two different states. One at the default clock speeds of 1,266mhz and the other with the fan at full and temperature limits at maximum, running at 1,375mhz. This is to try to negate throttling.