The tests were performed in a controlled air conditioned room with temperatures maintained at a constant 21c – a comfortable environment for the majority of people reading this. Idle temperatures were measured after sitting at the desktop for 30 minutes. Load measurements were acquired by playing Rise Of The Tomb Raider for 90 minutes and measuring the peak temperature. We also have included Furmark results, recording maximum temperatures throughout a 10 minute stress test. All fan settings were left on automatic.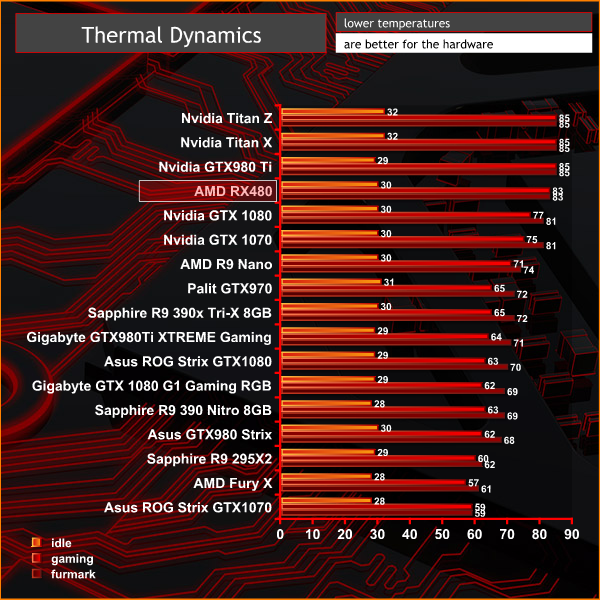 The RX 480 held steady at 83c in our stress tests, with the core speed throttling when running Furmark (varying between 900mhz and 1025mhz).

We install the graphics card into the system and measure temperatures on the back of the PCB with our Fluke Visual IR Thermometer/Infrared Thermal Camera. This is a real world running environment playing Rise Of The Tomb Raider for extended periods of time.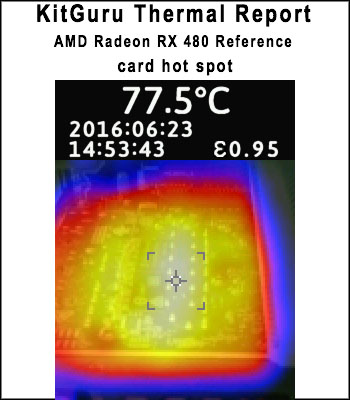 The back of the PCB holds close just below 80c under extended load, which is quite hot. There is no backplate on the RX 480 reference board so we are getting a direct reading from the PCB itself.