I thoroughly enjoyed testing the Nvidia GTX 1080 Founders Edition in May and in similar fashion to many of our readers I was waiting to see how Nvidia partners would 'up the game' with release of their own custom cooled solutions.
The first card in our labs has been the Asus Republic Of Gamers Strix GTX 1080 and there is no doubt that it is one of the finest graphics cards I have tested in the 15 years I have been reviewing PC hardware. ASUS seem to have covered all bases, which helps justify the price of the card.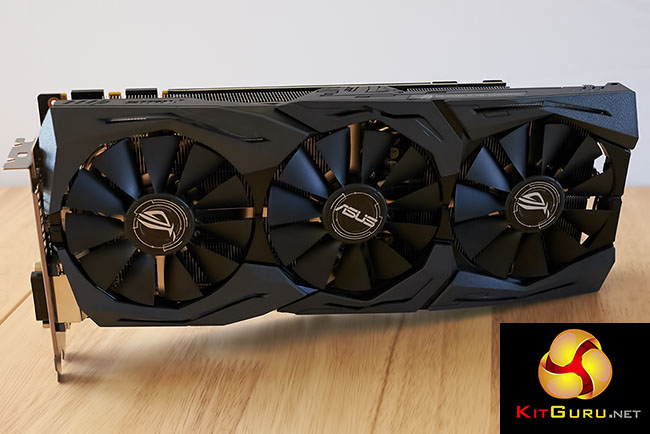 The reference Nvidia GTX 1080 reference cooler works well in an SLi configuration, driving all the hot air out the back of a chassis. Just be sure to use a tool such as Asus GPU Tweak II, EVGA Precision or MSI Afterburner to raise the GPU temperature target setting to 92c to ensure that throttling is kept at a minimum. We knew however that for single card application Nvidia's reference cooler was surely going to be bested in the coming weeks.
The newest iteration of the ASUS Direct CU III cooler fitted to the Asus Republic Of Gamers Strix GTX 1080 is remarkable. The three fans ensure there is plenty of airflow across the substantial heatsink without a ton of noise generated, and we appreciate that ASUS have incorporated a zero fan profile when the card is idling – so fan noise is completely negated. Due to the adoption of concrete alloy chokes ASUS have completely negated any coil whine under extreme load situations.
Under gaming load, the Asus Republic Of Gamers Strix GTX 1080 runs at 63c – translating into a 14c reduction when compared against the Nvidia GTX 1080 Founders Edition (77c).
Out of the box, the card runs in the higher OC mode without a hitch – offering noticeable performance gains over the reference Nvidia card (from 1733mhz boost to 1936mhz boost). There is still reasonable headroom before instability or artifacting brings a closure to the proceedings. We got the memory running with a +522 offset (10532) and the core with a +122 offset (2058mhz). If you want to get creative, then the ASUS PCB allows attachment of 2x 4 pin fans for additional cooling. I don't think I have ever seen this before.
If you enjoy playing with lighting, then the AURA RGB system will surely appeal. You can not only adjust the colours, but you can have them cycling, pulsing, strobing, or even reacting to GPU temperature and music you are playing at the time. Its a very cool addition and one that will appeal to case modders who like to have all their hardware on display via a windowed panel.

The Asus Republic Of Gamers Strix GTX 1080 is currently on pre order with Overclockers UK for £659.99 inc vat HERE. Considering all the extras you get over the standard GTX 1080 Founders Edition, the extra £40 seems like a pretty good investment.
Discuss on our Facebook page, over HERE.
Pros:
Fastest single GPU card we have tested to date.
silent (zero fan mode) when idling or under low load.
good overclocking headroom.
high out of the box overclocks.
controllable RGB lighting system rocks.
high grade components used across the board.
no coil whine.
Cons:
Kitguru says: The Asus Republic Of Gamers Strix GTX 1080 sets a new high performance benchmark. It takes the superb Nvidia GTX 1080 Founders Edition and pushes it forward in all areas. It runs 14c cooler and not only outperforms all other video cards we have tested to date but it has a built in, highly customisable RGB lighting system. Asus even allow the connection of two extra 4 pin fans if you want to get creative.