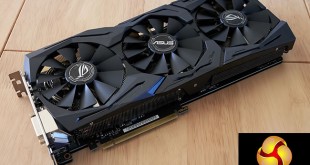 On May 17th Nvidia released their Founders Edition GTX 1080 and today we follow up on the launch review by looking at the first custom partner card to hit our offices. The Asus ROG Strix GTX1080 is fully loaded, featuring the latest Direct CU III cooler, customisable RGB lighting and enhanced 'out of the box' clock speeds. ASUS have designed the card with low noise in mind, but it is worth the hefty £659.99 asking price?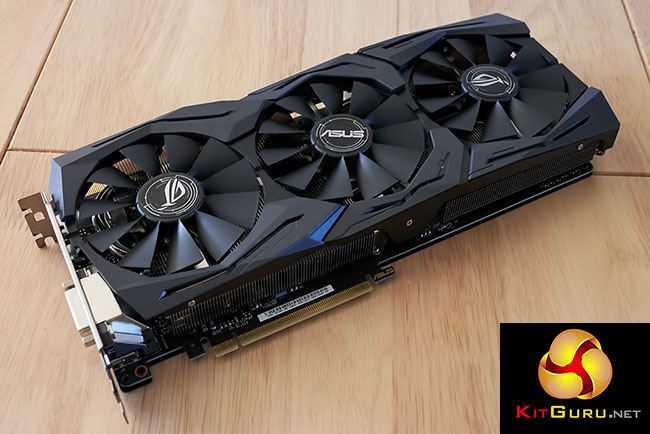 Asus have adopted their latest Direct CU III cooler on the ROG Strix GTX 1080 card, which they claim is 30% cooler and up to three times quieter than the reference design. Their new patented 'Wing Blade' fans are said to offer 105% more air pressure.
Like most Asian manufacturers Asus love to quote percentage improvements in their marketing literature. It is however interesting to see that the PCB is fitted with GPU controlled 4 pin fan headers, if you wish to further enhance the cooling system.
The market in general seems obsessed with RGB lighting right now, so it is likely going to be well received that this card incorporates RGB (AURA) lighting, controllable by software. More on this later in the review.
GPU
GeForce
GTX960

Geforce
GTX970
GeForce
GTX980

Geforce
GTX 980 Ti
Geforce
GTX Titan X
Geforce
GTX 1080
Streaming Multiprocessors
8
13
16
22
24
20
CUDA Cores
1024
1664
2048
2816
3072
2560
Base Clock
1126 mhz
1050 mhz
1126 mhz
1000 mhz
1000 mhz
1607 mhz
GPU Boost Clock
1178 mhz
1178 mhz
1216 mhz
1075 mhz
1076 mhz
1733 mhz
Total Video memory
2GB
4GB
4GB
6GB
12GB
8GB
Texture Units
64
104
128
176
192
160
Texture fill-rate
72.1 Gigatexels/Sec
109.2 Gigatexels/Sec
144.1 Gigatexels/Sec
176 Gigatexels/Sec
192 Gigatexels/Sec
257.1 Gigatexels/Sec
Memory Clock
7010 mhz
7000 mhz
7000 mhz
7000 mhz
7000 mhz
5005mhz
Memory Bandwidth
112.16 GB/sec
224 GB/s
224 GB/sec
336.5 GB/sec
336.5 GB/sec
320 GB/s
Bus Width
128bit
256bit
256bit
384bit
384bit
256bit
ROPs
32
56
64
96
96
64
Manufacturing Process
28nm
28nm
28nm
28nm
28nm
16nm
TDP
120 watts
145 watts
165 watts
250 watts
250 watts
180 watts

The Nvidia GTX1080 ships with 2560 CUDA cores and 20 SM units. The 8GB of GDDR5X memory is connected via a 256 bit memory interface. This new G5X memory offers a huge step up in bandwidth, when compared against the older GDDR5 standard. It runs at a data rate of 10Gbps, giving 43% more bandwidth than the GTX980 GPU.
The Asus Republic Of Gamers Strix GTX 1080 can operate at different clock speeds, controllable in the latest version of GPU Tweak II. In Gaming Mode base clock is set at 1759mhz, and in OC mode base clock is 1784mhz. Boost clock speeds are 1898mhz in Gaming mode and 1936mhz in OC mode. We test the card today in the faster OC mode, as it seems likely the enthusiast user base will do the same.