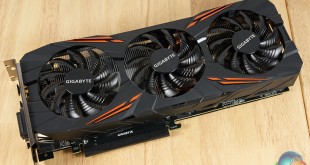 Today we take a look at the new Gigabyte GTX 1080 G1 Gaming graphics card featuring a custom triple fan cooling system, out of the box enhanced clock speeds, improved power phase delivery alongside an RGB lighting system. This card is one of the higher end models available today and is priced accordingly, at £599.99 inc vat.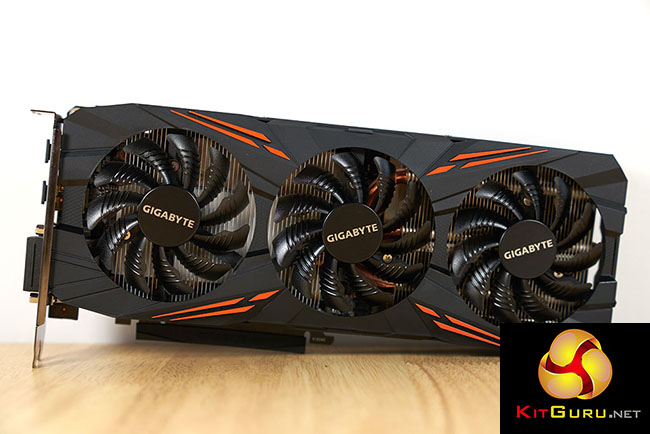 Gigabyte incorporate the latest iteration of their Windforce x3 cooling system, which in previous tests has always performed well. The card ships with a backplate and adopts an enhanced 8+2 power phase delivery system. Gigabyte also supply some proprietary software to support overclocking and to adjust the lighting system. We will look at this in more depth later in the review.
In a similar fashion to the ASUS Republic Of Gamers Strix GTX 1080 the Gigabyte GTX 1080 G1 Gaming ships with a software adjustable RGB lighting system.
GPU
GeForce
GTX960

Geforce
GTX970
GeForce
GTX980

Geforce
GTX 980 Ti
Geforce
GTX Titan X
Geforce
GTX 1080
Streaming Multiprocessors
8
13
16
22
24
20
CUDA Cores
1024
1664
2048
2816
3072
2560
Base Clock
1126 mhz
1050 mhz
1126 mhz
1000 mhz
1000 mhz
1607 mhz
GPU Boost Clock
1178 mhz
1178 mhz
1216 mhz
1075 mhz
1076 mhz
1733 mhz
Total Video memory
2GB
4GB
4GB
6GB
12GB
8GB
Texture Units
64
104
128
176
192
160
Texture fill-rate
72.1 Gigatexels/Sec
109.2 Gigatexels/Sec
144.1 Gigatexels/Sec
176 Gigatexels/Sec
192 Gigatexels/Sec
257.1 Gigatexels/Sec
Memory Clock
7010 mhz
7000 mhz
7000 mhz
7000 mhz
7000 mhz
5005mhz
Memory Bandwidth
112.16 GB/sec
224 GB/s
224 GB/sec
336.5 GB/sec
336.5 GB/sec
320 GB/s
Bus Width
128bit
256bit
256bit
384bit
384bit
256bit
ROPs
32
56
64
96
96
64
Manufacturing Process
28nm
28nm
28nm
28nm
28nm
16nm
TDP
120 watts
145 watts
165 watts
250 watts
250 watts
180 watts
The Nvidia GTX1080 ships with 2560 CUDA cores and 20 SM units. The 8GB of GDDR5X memory is connected via a 256 bit memory interface. This new G5X memory offers a huge step up in bandwidth, when compared against the older GDDR5 standard. It runs at a data rate of 10Gbps, giving 43% more bandwidth than the GTX980 GPU.
The Gigabyte GTX 1080 G1 Gaming RGB can operate at different clock speeds, controllable in the latest version of their Xtreme Engine Software. In Gaming Mode base clock is set at 1695mhz, and in OC mode base clock is 1721mhz. Boost clock speeds are 1835mhz in Gaming mode and 1860mhz in OC mode. We test the card today in the faster OC mode, which can be set in the software by clicking a button.
Be sure to check out our sponsors store EKWB here