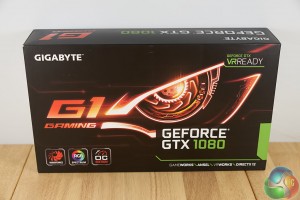 The Gigabyte GTX 1080 G1 Gaming RGB box artwork is bright and eye catching. No images of the card itself on the front however.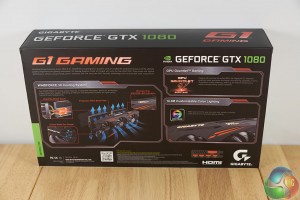 The artwork on the rear of the box highlights the cooling system, RGB lighting and manufacturing process.
The Gigabyte graphics card itself is protected between thick blocks of foam. The accessory box contains a software disc and a 'quick guide' on graphics cards – not much is bundled with the card.
The Gigabyte GTX 1080 G1 Gaming RGB is an attractively designed card with some orange accenting seen above and below the outer two fans. It is fitted with a custom branded backplate as shown above.
The Gigabyte card ships with triple fans, which the company claim are 'unique' to their hardware. They have RGB LED indicators. The fans stop spinning when the card is in an idle or low power draw state. Gigabyte sent us a BIOS update for the card to help reduce noise emissions.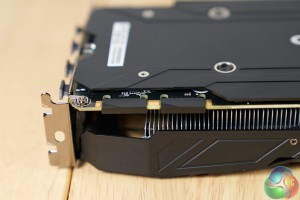 The SLI connectors are shown in the image above. If you haven't already, then I recommend you head to THIS PAGE to get detailed information on the new SLI configuration introduced in May with Pascal hardware.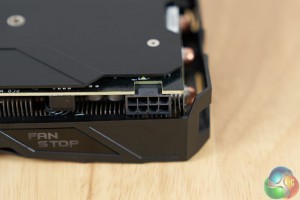 Unlike the Asus ROG Strix GTX 1080 Aura which had two 8 pin power connectors, the Gigabyte GTX 1080 G1 Gaming RGB is equipped with a single 8 pin power connector. We aren't sure how this will influence the overclocking capabilities of the hardware, but we will test it later in the review.
There is an LED above the power connector which will light up if the power cable is disconnected. If it blinks then there is a problem with the power supply or power delivery to the card itself.
The Gigabyte GTX 1080 G1 Gaming RGB has a dual DVI connector, 3 DisplayPort connectors, and a single HDMI connector. The Asus ROG Strix GTX 1080 Aura ditched one of the DisplayPort connectors in favour of another HDMI connector.
The Xtreme software package is fully featured, albeit rather gaudy. The lighting can be controlled to do different things, and it can even be turned off, which is good for those who like a more modest system.
The Windforce x3 cooler comprises three very thick heatpipes which are classed as 'composite heat pipes'. The Nvidia core is cooled by a direct touch copper base.
The founders Edition has a 5+1 power delivery, the Gigabyte card is formed around 8+2 power phases.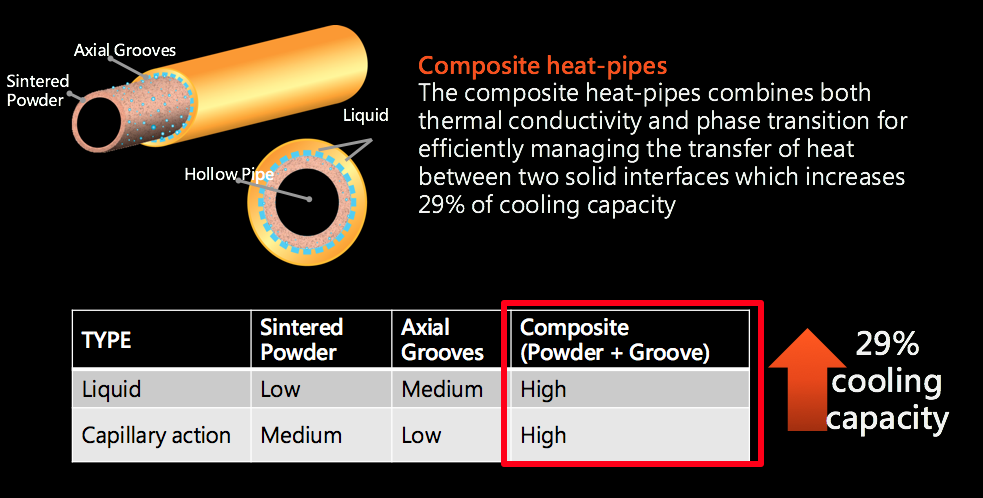 The composite heat pipes are said to offer the best cooling performance  – up to 29% better, according to Gigabyte. Proof is in the testing, so we will find out if this implementation brings tangible benefits later in the review.
Be sure to check out our sponsors store EKWB here