It has been some time since I have reviewed a new graphics card, never mind one based on a new architecture and fabricated on the new 16nm FinFET process. I have to admit that after Maxwell I had high hopes for Nvidia's Pascal architecture and I certainly can't say that I have been disappointed handling this analysis for KitGuru. Pascal has actually surpassed all my preconceptions.
The Nvidia GTX1080 is without question a truly phenomenal graphics card. I have spent more than 100 hours analysing the hardware in the last week and can only come to the conclusion that the GTX 1080 is probably the finest GPU Nvidia have ever created.
If you have read KitGuru's analysis from the start, you will already be aware of all the technological enhancements Nvidia have brought to the Pascal platform – if you haven't then check out the first couple of pages in the review today. Nvidia have created a completely new GPU circuit architecture and changed the board channel design. The power supply has been upgraded to 5 phase dualFET and they have tuned it to maximise bandwidth and enhance phase balancing. Nvidia have added extra capacitance to their filtering network and optimised the power delivery on the PCB for low impedance.

Following on from highly efficient Maxwell architecture, Nvidia have managed to take efficiency optimisations to the next level with Pascal. Power efficiency is increased, even when compared against the GTX980 and peak to peak voltage is reduced from 209mV to 120mV to help ensure stellar overclocks.
The adoption of GDDR5x memory has certainly helped drive new levels of performance. It is a faster and more advanced interface standard, achieving 10 Gbps transfer rates, or roughly only 100 picoseconds (ps) between data bits. In real world terms, this card is able to drive very high levels of bandwidth, ideal when pushing a lot of texture data at Ultra HD 4k resolutions. The memory subsystem of the GTX 1080 delivers 1.7 times more bandwidth than the GTX 980.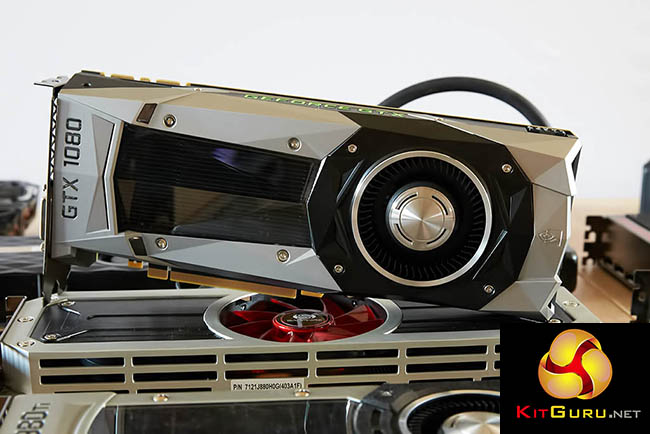 This is the first time that Nvidia have introduced a vapour chamber cooling system on a reference card, and it has certainly helped to ensure that there is plenty of potential for overclocking.
While all cards will deliver slightly different results we were able to get the core speed running at just over 2ghz which helped push performance of the GTX 1080 past even the dual GPU AMD R9 295X2. This in itself is a remarkable achievement but when you factor in that the GTX1080 system demands only 270 watts, compared against the same system using the R9 295X2 requiring 635 watts of power. This is staggering.
Nvidia have also placed a focus on technologies to improve the VR experience. Simultaneous Multi-Projection provides performance for new display technologies. The GTX 1080 GPU can simultaneously render to unique viewports that are designed specifically for VR headsets and triple display users. Lens Matched Shading improves pixel shading performance by rendering up to 16 viewports that will better support the design of the latest VR headsets. This helps to avoid rendering pixels that would be trashed before the final imagery is sent to the VR headset.
Additionally, the new Single Pass Stereo feature uses Simultaneous Multi Projection to render the geometry required for both eyes in a VR headset – all in a single rendering pass rather than a pass for each eye. This obviously halves the geometry workload when directly compared to a more traditional VR rendering situation. This will also help support gamers with three screen configurations as Perspective Surround gets the GPU to simultaneously render projections for each of the three displays with proper perspective views. We haven't been able to test this yet, but it seems like a good move for enthusiast users who enjoy multi screen systems for gaming.
If you own an older Nvidia graphics card and are building a new system this year for Ultra HD 4k gaming then the GTX 1080 is the graphics card to get. So how much will the GTX 1080 set you back? Nvidia confirmed £619 inc vat as the launch price today – so while very expensive it is cheaper than the Nvidia Titan X, which is still available at £869.99 today. We hope to see prices of the GTX980 Ti and GTX 980 dropping in the near future.
It would be fair to say that as an overall package the Nvidia GTX 1080 has exceeded all our expectations. We do hope that AMD can answer the challenge and deliver the goods with Polaris, even in the lower sector. Thankfully, we won't have too long to wait now to give you all an answer.
Discuss on our Facebook page, over HERE.
Pros:
New performance leader.
class leading efficiency.
cooler design is very good.
overclocks to 2ghz+.
GDDR5X improves bandwidth.
Cons:
could be quieter.
likely very expensive in the UK.
Kitguru says: It is difficult to find fault with Nvidia's GTX 1080. This is one of the finest cards the company have ever produced and sets a big challenge for AMD's Polaris.