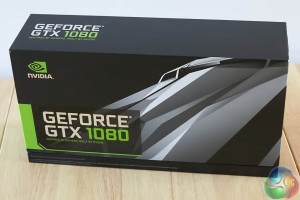 Our GTX 1080 'Founders Day' review sample was shipped directly from Nvidia. The box artwork is very cool indeed.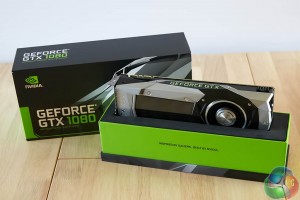 I removed the anti static wrap for the picture above. More manufacturers should actually ship their cards like this – its very space saving. This is not a retail sample so all we get is the card itself.
The new angular shape of the cooler has split opinion with our readers on Facebook. I quite like the appearance and the Nvidia reference designs in recent years have been top notch. The GTX 1080 is built on the new 16nm FinFET manufacturing process and contains 7.2 billion transistors.
The GTX 1080 uses a vapour chamber cooling system, which is a first for a <250W Nvidia designed graphics card.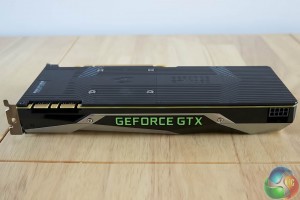 The new design is classed as 'industrial', with a faceted body and a new low profile backplate. The backplate features a removable section to allow better airflow between multiple graphics cards in adjacent SLI configurations.
In hand the graphics card feels substantial. This 'Founders Day' Edition was 'crafted by Nvidia engineers with premium materials and components, including a die cast aluminum body and low profile backplate, all machine finished and heat treated for strength and rigidity'. I am glad Nvidia didn't remove the glowing green 'Geforce GTX' branding along the edge of the card.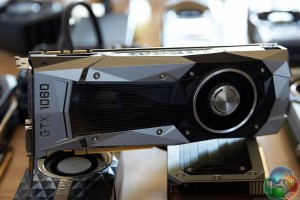 The thermal solution has been created to deliver consistent performance, and we know the reference design scores highly in multi GPU environments as it effectively removes most of the radiated heat out the rear of the case. The card ships with a single fan with an advanced vapor chamber cooler. It ships with a metal backplate on of low profile components to help improve heat removal from the PCB.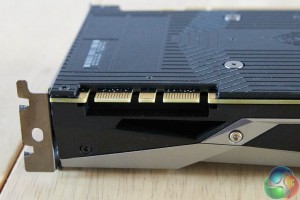 The SLI connectors are shown in the image above. If you haven't already, then I recommend you head back to the third page of this review to get detailed information on the new SLI configuration introduced today with Pascal hardware.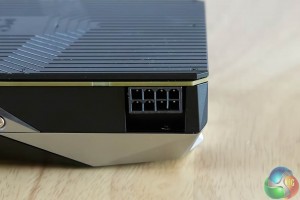 The GTX 1080 gets all the power it needs from the slot, and a single 8 Pin PCIe connector. Yes, the GTX1080 only requires one connector.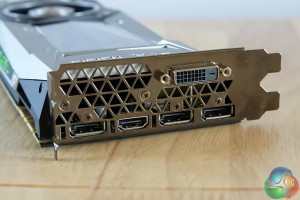 The Geforce GTX 1080 is DisplayPort 1.2 certified, DisplayPort 1.3 and 1.4 ready enabling support for 4K display at 120hz, 5K displays at 60hz and 8k Displays at 60hz (with two cables). The GTX 1080 Founders Edition includes three DisplayPort Connectors, one HDMI 2.0b connector and one dual link DVI connector. Up to four displayheads can be driven simultaneously from a single card.
As we mentioned on the previous pages, the GTX 1080 also supports HDR gaming, as well as video encoding and decoding. New to Pascal is HDR Video ([email protected] 10/12b HEVC Decode), HDR Record/Stream ([email protected] 10b HEVC Encode) and HDR Interface Support (DP 1.4).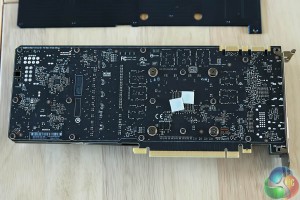 The GTX 1080 has been designed with a low impedance power delivery network, custom voltage regulators and a 5 phase dual-FET power supply which is optimised for clean power delivery. Nvidia claim the GTX 1080 Founders Edition delivers increased power efficiency, reliability and exceptional overclocking capabilities.
If you have been paying attention you will know that Nvidia have upgraded their power supply delivery from 4 phase to a 5 phase dual-FET design and tuned for bandwidth, phase balancing and acoustics. Nvidia added extra capacitance to their filtering network and optimised the power delivery network on the PCB for low impedance. They claim power efficiency has increased by around 6% compared with the GTX980. Peak to peak voltage noise has been reduced from 209mV to 120mV for improved overclocking.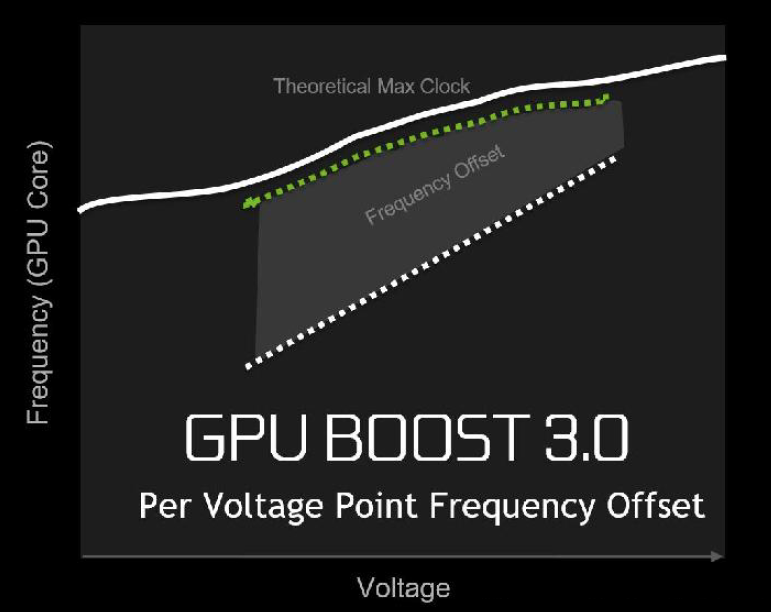 A new feature in GPU Boost 3.0 is the ability to set frequency offsets for individual voltage points. The previous version of GPU Boost 2.0 could only apply a fixed frequency offset, shifting the existing V/F curve upward by the defined offset amount. More on this later.

An overview of the hardware, as shown in GPUz. Special thanks to Mike over at Techpowerup for sending his latest beta version. The GP104 core is built on the 16nm manufacturing process. It has 64 ROPS, 160 Texture units and 2560 Cuda Cores. The 8GB of GDDR5x Memory is connected via a 256 bit memory interface.
The core clock is set at 1,607mhz with a boost frequency set at 1,734mhz – a massive increase over previous generation Maxwell hardware. We do recommend you take a look earlier in the review at the Tech overview page to get to grips with some of the new changes and enhancements in the Pascal architecture.