The Witcher 3: Wild Hunt is an action role-playing video game set in an open world environment, developed by Polish video game developer CD Projekt RED. The Witcher 3: Wild Hunt concludes the story of the witcher Geralt of Rivia, the series' protagonist, whose story to date has been covered in the previous versions. Continuing from The Witcher 2, the ones who sought to use Geralt are now gone. Geralt seeks to move on with his own life, embarking on a new and personal mission whilst the world order itself is coming to a change.
Geralt's new mission comes in dark times as the mysterious and otherworldly army known as the Wild Hunt invades the Northern Kingdoms, leaving only blood soaked earth and fiery ruin in its wake; and it seems the Witcher is the key to stopping their cataclysmic rampage. (Wikipedia).
The Witcher 3 is an excellent game but it is also a demanding one. Today, we will be testing with the full Ultra preset with Hairworks on. It is worth noting that we are also running the latest 1.21 patch with the Blood and Wine expansion installed, which made some additional graphical and performance improvements.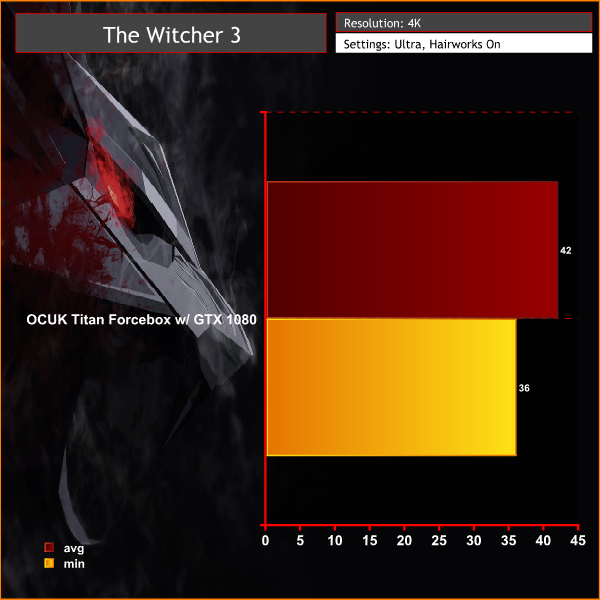 Ultra-HD/4K is where this system begins to struggle a little bit with all of the settings cranked up. We still don't have a perfect 4K/60fps GPU yet for people wanting to play with all of the eye-candy. However, if you turn a few settings down, this system should get pretty darn close.