The Overclockers UK Titan Forcebox VR10 is an excellent system, the name might be a little over the top but when it comes down to it, this is a well spec'd PC built to the highest standards. Priced at £1,211 (with Windows) for the configuration we tested here, this system will be more than capable of delivering high frame rates at 1080p and 1440p- 4K is a little trickier but if you lower some settings, you should get a smooth experience.
When I first looked at the system specifications, I was a little concerned that the Intel Core i5 6400 would hold the GTX 1080 back at high resolutions like 4K. However, in my testing I found that not to be the case at all. When it comes to gaming, this CPU is surprisingly capable.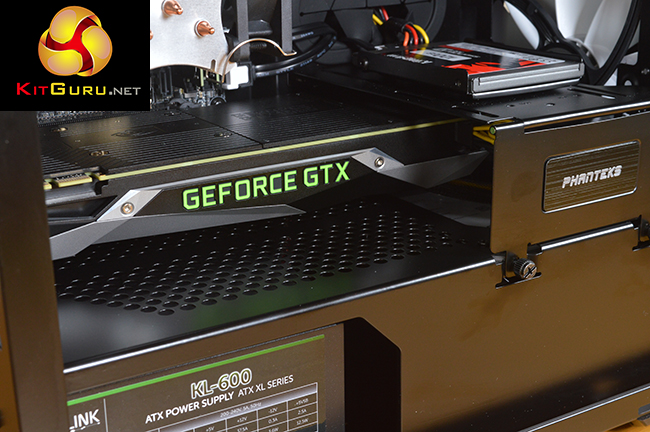 Our main man Zardon reviewed the GTX 1080 Founder's Edition at launch several weeks ago and came to the conclusion that it is one hell of a card. Now that I have personally spent some time with it, I can fully agree with that conclusion, the GTX 1080 is the best GPU around right now — and one that I wouldn't necessarily expect to be featured in a £1200 system.
There is one criticism I have with the overall spec, I would have liked to have either seen some Power Supply options in the system configuration tool on the website, or I would have liked to have seen a better known brand used by default. I know that the team at Overclockers UK undertake extensive testing on the parts they select for pre-builds but still, seeing a recognised brand would be preferential.
Aside from that, I had no issues with the TeamGroup Elite RAM used, nor the ASUS motherboard. For storage drives, this system uses the tried and true SSD boot and HDD storage configuration, the system comes with a Kingston 120GB SSDNow by default but you can upgrade all of the way up to a 1TB Samsung Evo. As for the hard drive, a 1TB model should be enough for a fairly decent library of games but you can upgrade to a 3TB HDD if you need more space.

If you are after a pre-built system and want the very best in graphics, then I have no problem highly recommending the Titan Forcebox VR10- It's fast, stable and VR/4K capable. You can buy and upgrade this PC from Overclockers UK, HERE.
Pros:
Excellent cable management.
Phanteks Enthoo Evolv case.
A GTX 1080 in a £1200 system is good value.
Well balanced specs.
Cool and quiet.
Cons: 
A more recognisable Power supply brand would have been welcomed.
KitGuru Says: At just over £1200, the OCUK Titan Forcebox VR10 is a fantastic system that delivers where it counts. Aside from being VR capable, this system can easily drive the latest titles smoothly at 4K.