The OCUK Titan Forcebox VR10 is a Mini-ITX system, using the excellent looking Phanteks Evolv chassis.

The front panel I/O consists of a reset button, two USB 3.0 ports and headphone/microphone inputs. The front panel comes off entirely, revealing a dust filter and a single large intake fan, along with some LEDs.
Taking off the side panel reveals all of the hardware we have to work with.
As usual, the team at Overclockers UK has done an excellent job creating a clean build, with all wires routed optimally, with nothing obstructing air flow. There is no exhaust fan on the rear of the case but given the efficient nature of the Intel Core i5 6400, this shouldn't really have an impact on CPU temperatures.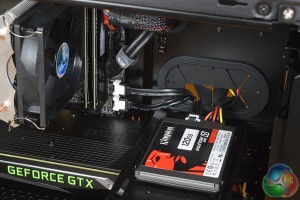 The secondary hard drive is hidden underneath the power supply shroud but the Kingston SSD is proudly on display.
This system comes equipped with a fairly standard 92mm air cooler, with six heat pipes and plenty of heatsink fins to help disperse of any heat efficiently.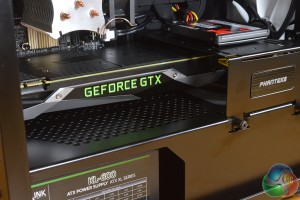 For the graphics card, the OCUK Titan Forcebox VR10 comes with a GTX 1080 Founder's Edition, which is a very powerful GPU for an £1,100 system. The reference design here has been tweaked a bit, making room for a vapour chamber and exhausting all heat directly out of the back of the card.
An efficient PC needs an efficient power supply to go with it, so OCUK have included a KOLINK KL-600, an 80Plus Bronze rated 600 watt power supply that will provide more than enough power for this system.
As we already mentioned, cable management is excellent in this build. Behind the rear panel, you will find all of the cables grouped together as closely as possible and tied down, making it easy for the side panel to slide on and off.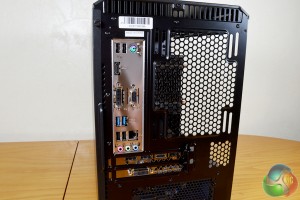 Finally, we have the rear I/O, which offers just enough inputs, with two additional USB 3.0 ports and four more USB 2.0 ports. There is also Ethernet, DVI and a PS2 port for keyboard compatibility.
There is often a lot of debate surrounding the value that goes into a pre-built system and while parts can often be found slightly cheaper, there is a lot to be said for build quality. It is clear from this system that OCUK ensures a very high standard when it comes to presentation and cable management.