We measure acoustics performance using a Decibel Meter. We take noise measurements with the system running idle at the desktop and then once again under load in Grand Theft Auto V running at 4K.
KitGuru noise guide
10dBA – Normal Breathing/Rustling Leaves
20–25dBA – Whisper
30dBA – High Quality Computer fan
40dBA – A Bubbling Brook, or a Refrigerator
50dBA – Normal Conversation
60dBA – Laughter
70dBA – Vacuum Cleaner or Hairdryer
80dBA – City Traffic or a Garbage Disposal
90dBA – Motorcycle or Lawnmower
100dBA – MP3 player at maximum output
110dBA – Orchestra
120dBA – Front row rock concert/Jet Engine
130dBA – Threshold of Pain
140dBA – Military Jet takeoff/Gunshot (close range)
160dBA – Instant Perforation of eardrum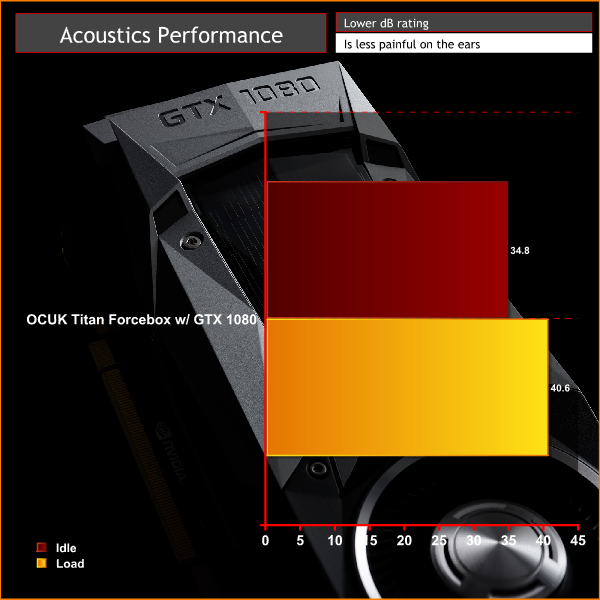 Overclockers UK have done a fantastic job with this system in terms of acoustic performance. At idle, this PC can barely be heard and then even under gaming load, the level of noise is not intrusive.