Loveable Laptops
From the days of the first 11Kg Osbourne 'luggable', we've all had a fascination with mobile computing – the ability to work, play or be entertained wherever we are.
In the past, it often involved a huge sacrifice in terms of performance or featureset, but these days you don't need to give up that much in order to compute on the move.
When the PCI Special Interest Group ratified its 1.0 specification, it allowed for 4 PCI Express lanes and a SATA 3.0 connection for tiny solid state devices – bringing a huge amount of storage and access speed to smaller and smaller form factors as soon as Intel announced that Z97 etc would provide support for the new standard.  Then you add in Maxwell's low power consumption characteristics for modern graphics and performance category Haswell processors that can drop down to 35w  – and you have all the ingredients you need for a next gen laptop experience.
Overall Laptop of the Year
There has been a lot of chatter around the MSI GT80 Titan since KitGuru first brought the world video and in-depth commentary on the laptop that MSI claims will be the fastest ever. Despite all we know about this product, it doesn't claim top spot for two reasons: First, it hasn't technically launched and, second, it's more of an exercise in 'what is possible', rather than an attempt to create the best gaming laptop ever.
It's a concept car for the future of mobile gaming – more than the best example of what is possible today – here and now.  We also face a challenge with MSI's GT72 2PE Dominator Pro, which was the most powerful laptop we'd ever seen back in September. Unfortunately, even at £2,300 it sold out everywhere – so cannot be purchased.
At £1,799, the snazzily named Asus ROG G750JZ-T4110H was an impressive performer and it's now more appealing with a £200 price drop. A worthy contender, with great keyboard, screen and speaker set up, but not quite 'there' in every department.
For the winning entry in the overall category, we had to put our colour differences to one side and focus on the numbers. MSI's choice of gold for its GS60 Ghost Pro 3K 2QE gaming laptop is strange, but once you get past the Midas look/feel, performance is impressive. Dual 256GB SSD drives in RAID zero mean a 'boot from cold' time of around 10 seconds and the 1TB mechanical drive is enough to keep your data safe until you reconnect with your NAS/Cloud solution. The main power plant is an Intel Core i7 4710HQ processor, but the real star of the show is the combination of a 3GB nVidia GTX970 graphics processor and high quality, 2,880 x 1620 IPS screen.
Battery life when gaming is not great, but you should manage over an hour at full load, during which time the GS60 will be whispering along at 37 dBa, while delivering 40+ frames per second in Middle Earth: Shadow of Mordor, Tomb Raider and 70fs in GRID – all at solid image quality settings.
If you're looking for a serious gaming system – or serious professional system – that can deliver all of its power on the go, then the Ghost is a great option. The only downside to a system as complete/popular as this, is that the price has gone UP since it was launched. At the time or writing, it was nudging £1,920. Nice to be in demand. We guess.
It does seem to be available in black now as well. We'll say that again: You can buy it in black instead of gold, if you prefer.
KitGuru's choice for Overall Laptop of the Year 2014 goes to the MSI GS60 Ghost Pro 3K 2QE. Read the review HERE.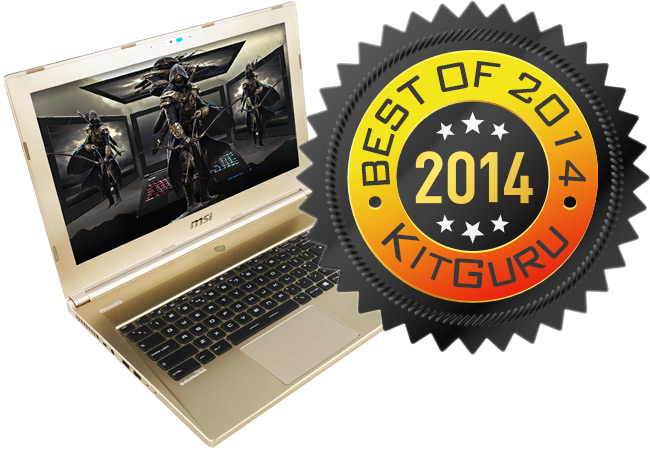 Value Laptop of the Year
With our desktop value award, we were looking for a product that jumped off the page and poked you between the eyes. When making a value choice, we're looking for something different. We want balance. The best possible centre point between general usage, gaming performance and multimedia.
To that end, PC Specialist threw up an interesting option with its Optimus V X13 at £749. While the screen and feature set are competent enough, the lack of a full SSD held it back.
Which brings us to the Dino PC Pegasus 17.3 – initially reviewed way back in March. Had its specification stood still, then we wouldn't be talking about it now. But it has improved, in an intelligent, measurable way.
The Intel Core i5 processor has been updated and is now slightly faster while the new specification includes a completely different SSD – this time from Kingston – which ups the write performance by close to 100%. Finally, the star of the (upgrade) show is the 2GB GeForce GTX860M, which delivers up to 5% more frames per second in leading games.
KitGuru's choice for value Laptop of the Year 2014 goes to the DinoPC Pegasus 17.3. Read the review HERE.