Desktop PCs, pre-built and tested
Given that 90% of what we do at KitGuru centres on components, it might seem strange to have categories for complete PC builds. It isn't.
When normal people buy a PC, they will be buying components in what we call 'ones and twos', i.e. a single processor and two sticks of memory. At that level, there are no huge discounts available and you will be paying a basic 'street price' for everything.
Then you need to consider that not all of the parts you want may be available from the same supplier – which can mean multiple delivery costs. Finally, you still have to assemble it and – if anything goes wrong – the onus is on you to deduce the issue and replace the offending component.
Pre-built PCs, from reputable suppliers, can take the stress out of building the rig, provide on-going technical support should you run into an issue and – most surprisingly for some people – a cost reduction, because a professional PC manufacturing outfit will be buying in bulk and making a single profit margin on the whole, assembled/delivered PC.
Is it cool to build your own rig?  100%.
But it's also cool to 'offload the work' if you find the right bargain and expert builder. We certainly won't judge you if you choose to have your rig assembled by a paid professional!
Overall PC of the Year
We'll get onto all of the cool money saving stuff in the Value PC section. For the Overall PC of the Year, we're looking for complete pants-down-no-holds-barred performance and jaw-dropping looks.
We're not going to consider anything that doesn't make your nads pump hard. In this case, we're not going to accept a 3DMark Fire Strike much less than 40,000.
Running Thief at 4K, we want close to 70 frames per second at very high settings and over 100 frames per second when playing Rome 2 at 4K in Ultra settings – and over 130fps average in Battlefield 4.
If we can keep the CPU around 66 degrees at full load, then that would be a bonus – especially if it was producing less than 38dBa. Delivering all of that can take up to 1,157 watts – which gives you an idea of just how special this system is – because at 'full draw' the system still has another 350w ready on standby.
When Overclockers delivered the Infinity Vesuvius to KitGuru Labs at £4,000, we knew that testing would need to be extreme. It smashed our previous records for a gaming system and others besides.
After Zardon completed his testing, he declared that it was the fastest system tested, with fantastic build quality using a check list of KitGuru award winning components. Visually, it is coordinated and professional, while the BIOS has been finely tuned by experts. It also demanded close to 1,200 watts under heavy gaming load.
If you had a team of engineers, led by a multi-world record holder like 8Pack, then you may well be able to put together the OcUK Infinity Vesuvius for less than the original £4,000 – so we decided to get an update on the price. At the time of writing, OcUK has updated the information for the Infinity Vesuvius as follows: Z97 mainboard instead of Z87, Samsung 850 not 840 EVO drive and 4790K instead of a 4770K processor. Together, these should all give an uplift in performance. However, at the same time, the final price has dropped by more than £1,000 to a smidgen under £2,900.
KitGuru's choice for Overall PC of the Year 2014 goes to the 8Pack Inspired Infinity Vesuvius from OcUK. Read the review HERE.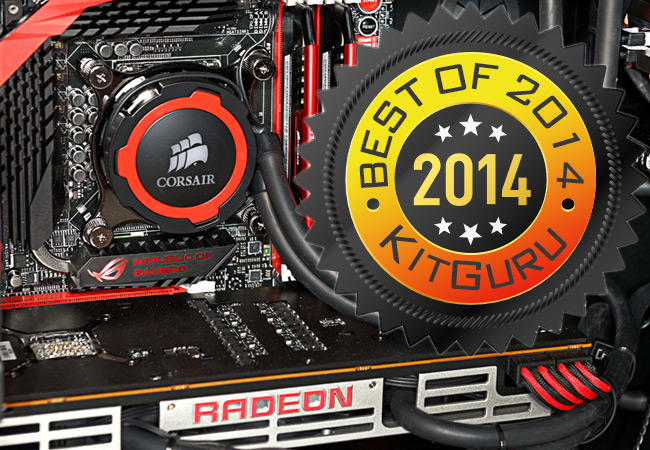 Value PC of the Year
After scaling the heights, time for us to look at a much more realistic price band – and one that is extremely competitive: The Value PC. For the purposes of this category, we decided that it needed to be a price point where there was little/no decision making involved – a price where you could just 'buy it and use it'. It's the kind of thing you might buy to replace your second rig, or as a first PC for a child or a recommendation for a friend that didn't want to end up with something truly anonymous from HP, Dell or Acer etc.
We saw a lot of good value PCs in 2014, but one really did stand out.
Let's say you want a 4GHz processor, 8GB of Kingston HyperX memory, an Asus motherboard and Corsair power supply etc – the kind of rig that will allow you to play most games at 720p – but costing less than £500. What would you opt for?
As discussed earlier, in almost every way, Intel is ruling the roost when it comes to mainstream processors these days. AMD's APU is one of the only products that can offer a challenge, so its no surprise that our choice for Value PC of the Year goes to the PC Specialist Infinity 7850K system at just £499.
It delivered 36 frames per second in Tomb Raider, 36fps in GRID and 49 in Rome 2 (all at 720 with a little IQ tweaking) and – with the addition of a triple heatpipe cooler – it didn't nudge above a 46 degree core temperature or 33 dBa. It also managed to pull a measly 99 watts when running 3DMark 2011 – so it's not likely to impact your electricity bill in any noticeable way.
These days you could easily add a 120GB SSD for less than £40, maybe pay a small premium for faster memory and give the APU a kick with your OC skills to extract even more performance, but the baseline unit is good enough for every day use and can handle 'HD' gaming at 720p for that PS4/ONE console experience. Both of this year's winning desktops have Infinity in the name – no relation.
KitGuru's choice for Value PC of the Year goes to the PC Specialist Infinity 7850K. Read the review HERE.