We love this industry and the logic behind that love is quite simple. Billions are spent on R&D each year – much of which goes toward making games run quicker and film/video stream quicker/smoother than ever before.
In other words, thousands of scientists around the world are working toward one thing: Making KitGuru readers happy. The KitGuru Annual Awards is our way of saying 'Thank you!' to that huge, evolving body of scientific improvement.  
To help us achieve our goals, gaming and professional, we expect hardware to keep getting faster, more powerful & feature-rich over time. That's where KitGuru Labs testing comes in.
We also expect to pay less for it – which brings in the KitGuru editor's 'value' determination.
In all of these respects, 2014 has been a mixed bag – with slightly more positive results than negative.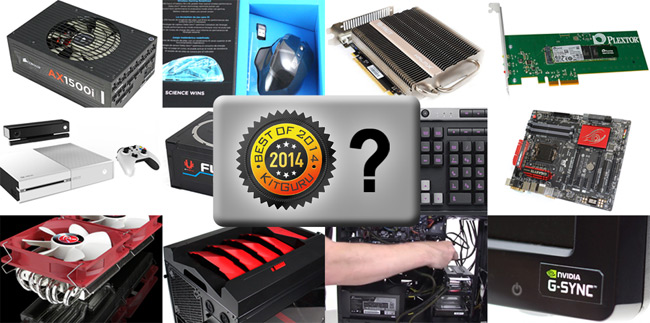 While nVidia's Maxwell architecture clearly moved graphics into a whole new zone back in February, CPU advancement from Intel has been slower than we'd like. At the same time, AMD's progression has been largely notable for its absence in the mainstream/desktop zone.
We've seen major moves from Intel on the platform side of things, including X99 and Z97, but the pricing for a complete upgrade is still prohibitive for a lot of people.
Back in April, Microsoft began to pull support for legacy desktop operating systems, hoping to increase pressure on buyers to choose Windows 8 – while on 1st October it gave the good news that Windows 10 would be here very soon, as it kicked off a major beta test programme. Anyone who has booted Windows 10 to see the return of the Start Button will feel a great sense of relief that Microsoft's pattern of 'great OS -> not so great OS' has continued and that '10' will be a return to winning ways for enthusiasts.
Outside the PC itself, Sky's inability to deliver broadband to many customers continues (with almost no change in experience from November 2013 to 2014) is a bitter disappointment for thousands of people.
At the same time, we have seen pricing on next-gen wireless routers dropping fast, led by companies like Asus and TP-Link. With David Cameron promising that 800MB films will be available to download in a single second using 5G in the not so distant future, you have to hope that the broadband companies have more up their collective sleeves. We do live in the UK however, so don't hold your breath.
Across the board, improvements are being made and the third KitGuru Annual Awards gives our editorial team a chance to step back from the day-to-day business of in-depth testing and analysis, to instead focus on the 'Best of the Best' across a 12 month period.
Enough preamble, let's get to the results: Which products were the best of the best in 2014?