This year's awards have been heavily influenced by Intel's various platform/chipset releases.
The Z97 was a bit of a damp squib initially. It promised so much, but as the early previews started to come to light, it became apparent that not all of the planned technologies would be available on day one. Intel rushed to market, pulling in the launch date, and the result was a bit of a scramble from the various motherboard manufacturers to try and (a) differentiate their new offers from existing Z87 offers while (b) working to mask the missing parts.
Pity really, because the combined marketing machines of Asus, Asrock, Gigabyte and MSI were ready to go for it at Computex.
Let's get to the runners and riders in this category.
Z97 Motherboard Award
Arguably the toughest market of all, with very little to choose between the main rivals. With similar feature sets, capabilities and performance – price played as much of a part in this decision as anything else.
Our winner is a board that not only delivered well on the basics like M.2 SSD support, but which also managed to include Audio Boost 2, Killer NIC and XSplit GameCaster which lets you capture, record and stream your best gaming moments. And at a little over £100, it doesn't break the bank.

Our choice for the Best Z97 Motherboard in 2014 is the MSI Z97 Gaming 5.  Read our review HERE.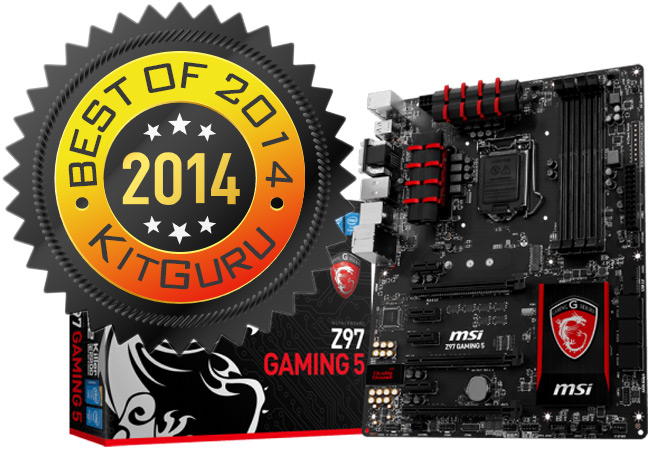 X99 Motherboard
If you're going to invest in the 'Daddy' of processors, then you're going to need a very serious motherboard. Intel pulled in the launch of its X99 processors, which meant that all of the manufacturers had to scramble to get to market in time.
Quite why Intel adopted such a disorganised approach to launches in 2014, we will never fully know. It certainly caused issues. While every company overcame those issues eventually, only one managed to sort everything 'straight from the gate'. That board was the Asus X99 Deluxe and KitGuru Labs described it as "Packed to the brim with overclocking, general features and connectivity", which is as much as you can ask from a motherboard.
For that reason, our choice for the Best X99 Mainboard of 2014 is the Asus X99 Deluxe. Read our review HERE.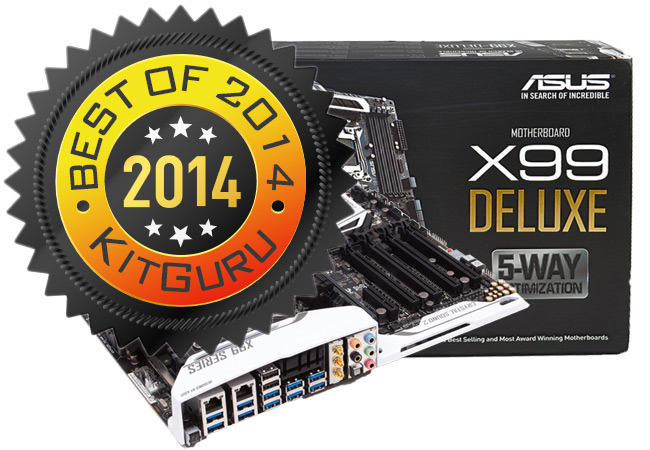 AMD Motherboard
It would be so cool if AMD had managed to deliver a killer product with the initial Bulldozer or had come out swinging with the FX-9590 at £175 (when the Intel Core i7 4770K was £265). Now THAT would have put the cat among the pigeons. Instead, the July 2013 launch of the 9590 was closer to £600 and we've seen nothing faster since. On that basis, our choice for AMD motherboards is narrowed to the APU-supporting products.
In recent times, some very significant performance records have been set with APUs, many of which have come on a Gigabyte motherboard.
Keen to build on its reputation for G1 Sniper motherboards, Gigabyte launched its F2A88XM-DS2 board, and it's a great choice for affordable gaming rigs and those enthusiasts who want to see crazy CPU core speeds, without breaking the back. At the time of writing, this board is actually under £40.
Our choice for the best AMD mainboard of 2014 is Gigabyte's F2A88XM-DS2. Read the review HERE.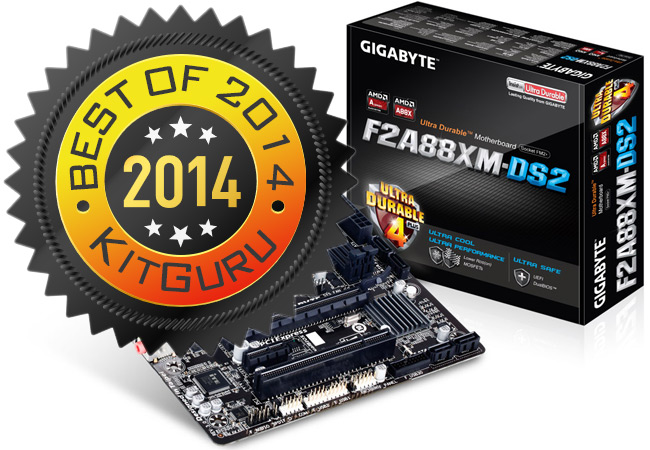 Technical Excellence
While value is always important, there are times when you just want to sit back and be impressed. Standing out from the crowd was hard enough last year, but Asrock has managed to do it again. What started as an 'off-shoot' company, primarily to provide value options, Asrock has turned its brand around and stuck all of the initial expectations on their heads. Alongside strong R&D, it has also invested heavily in building up a professional offer with the creation of Asrock Rack. The company does still offer low cost boards, but it's at the high end that Asrock surprises you the most.
When KitGuru Labs put the Asrock Z97 Extreme6 under the proverbial microscope back in July, we were truly impressed with the effort Asrock had made to 'do something different' – with big 'wins' like the Ultra M.2 connection. While chipset-led options are limited to 10Gbps, Asrock's decision to bring a bundle of PCI-Express lanes together means a theoretical upper limit of 4GBps. That's gigaBYTEs, not bits. Why is that important?  At the time of the initial review, Samsung's XP941 was simply 'too much SSD' for Intel's latest connection option; that wasn't the case for the Ultra M.2 connection.
Packed to the hilt with features, this impressive board is still less than £130 at the time of writing.
For all those reasons, KitGuru's choice for Motherboard Technical Excellence 2014 goes to the Asrock Z97 Extreme6. Read the review HERE.