Pure pixel pushing performance is a serious business.
Just as the start of 2014 belonged to AMD's graphic cards with their superior mining performance, so the end of 2014 has seen a slide toward nVidia and its Maxwell technology. From the first GTX750 tests, the writing was on the wall for any 'cards of a previous generation'. The top of the range GTX980, with a solid overclock, could pull ahead of the fastest R9 290X OC in games like Thief at 4k resolutions by as much as 25% with only a 3 degree difference in core temperature. And that was the reference design.
What AMD lacked in cool, it made up for in price cuts, game bundles and turbo-charged-water-cooled high end launches. At the same time, its Mantle initiative seemed to spur Microsoft into a new direction for DX12 – with a grand unification coming from the desktop, laptop and console gaming communities all not sharing a common hardware platform.
We will get into screens in more depth later, but it must be said that the phenomenal price drop on 4K screens has created a definite upsurge in requirement for very high end graphics. If you're spending £400 on a 4K screen, then you need to spend the same (or more) for a great gaming experience.
AMD High End Graphics
Easiest category of the day, with a choice of one. Even an nVidia Titan Black SLi set up doesn't get close to 60 frames a second in games like Thief at 4K. The days when a graphics performance winner would be knocked off its perch every 3 months are long gone, with the AMD Radeon R9 295X2 sitting pretty since 18th April.
When it pulled out a lead of more than 30 frames a second in Total War: Rome 2 at 4K, the raw power was there for all to see. At 648w, its neck and neck with a pair of Titan Black cards in SLi but as it is water cooled the noise levels are lower – it only needs a single slot too. Worth bearing in mind that no matter which manufacturer you buy your 295X2 from, it will be AMD's reference design – even if you are forking out £786. Make sure you have a formidable 1000W+ power supply before buying.
KitGuru's choice for AMD High End Graphics product in 2014 goes to the Radeon R9 295X2. Read the review HERE.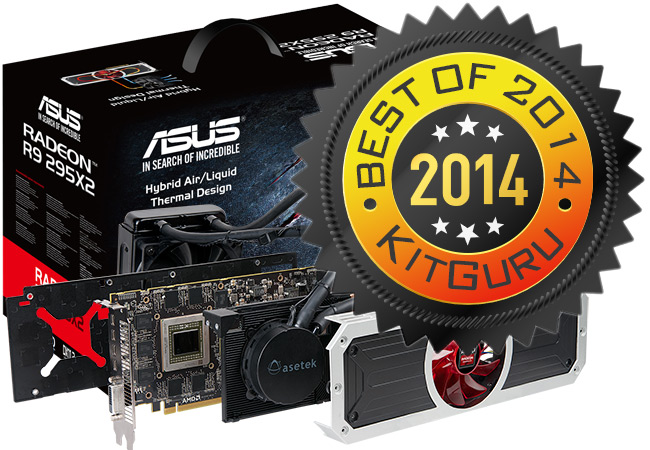 AMD Mainstream Graphics
Just as the previous choice was extremely easy, because there is no competition – so the mainstream/value segment is almost impossible due to a lack of runners and riders wanting to strike out ahead. If you get close to £100, then the power of nVidia's GTX750 is unmistakable and unmissable. Head past £250 and you stray into lethal GTX970 territory. Looking at all of the cards occupying the 'Goldilocks Zone', we're drawn toward the high end. There's just not enough to set any lower card apart.
The local hero in this price space has to be the R9 285. It is significantly faster than the GTX750 to be considered a clear class above, yet well under the GTX970. It terms of power consumption (190 watts when gaming), acoustics (34dBa when gaming) and thermal dynamics (64 degree when gaming), it does nothing to jar.
Also, with models like Sapphire's R9 285 Dual-X OC, you can get close to another 15% on the core and 9% on the memory – all of which adds up to a tidy little boost when gaming. And at £179, it can be added to a modest system build easily enough.
KitGuru's winner for AMD Mainstream Graphics 2014 goes to the 2GB Sapphire R9 285 Dual-X OC. Read the review HERE.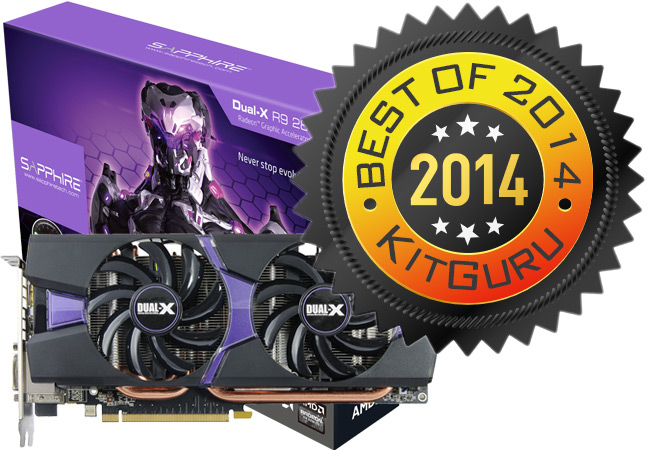 nVidia High End Graphics
The GTX970 and 980 have burst onto the scene in a big way in 2014. Did they pull away in performance terms – leaving the competition for dust?  Not so much. So why the hype?
The initial/reference GTX980 did a great job of getting in the face of cards like Sapphire's R9 290X TriX OC, but when we analysed the juice needed to win – we were shocked to find that it was pulling up to 60 watts less. Enthusiasts might not care about the £12 that the extra 60 watts will cost you in a year, but they will want the additional efficiency that goes with having the Maxwell architecture.
We spent a lot of time considering the scary Inno3D iChill Herculez X4 Air Boss Ultra, which combines scary performance with scary looks, but something else caught our eye in November: The Galax GTX 970 OC Silent Infinity Black Edition – created by none other than Overclockers UK Commissario and chief GPU expert, Gibbo.
This custom design includes special features to reduce coil whine and deliver serious cooling. Even though it's not using a 980 GPU at its heart, this card will still deliver serious gaming at 4K – while staying at a relatively chilly 56 degrees. It's also one of the quietest and least power-hungry performance cards in the market – and we found an extra 12.5% in the core when overclocking. In every way, the Galax GTX970 OC Silent Infinity Black Edition is a technically superior product and the most capable version of the best GPU of 2014 at just £281.
We have no hesitation naming the Galax GTX970 OC Silent Infinity Black Edition as the best High End nVidia Graphics Card for 2014. Read the review HERE.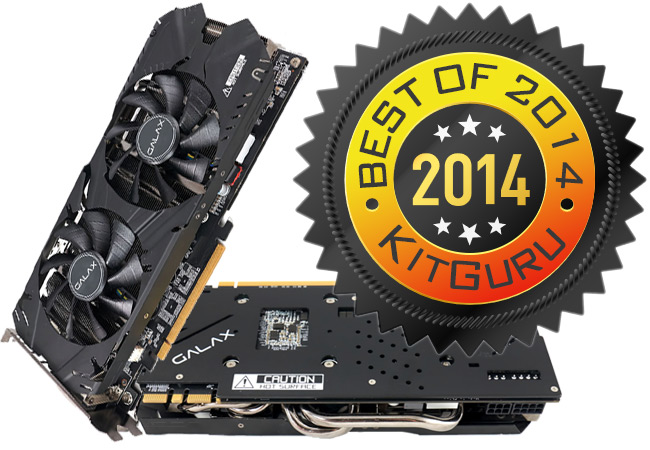 nVidia Mainstream Graphics
The winner is the GTX750 ti. What a simple decision.
While performance at the high end is important, it becomes CRUCIAL in the low-end/mainstream. A boost of 10% may not make much 'real world' difference when you are talking about 80 fps to 87 fps using a £300 top of the range card, but when the Asus GTX750Ti Strix OC pulls 7fps more than the nVidia reference card in GRID at 1920×1080, then you can really feel the difference.
The fact that KitGuru's engineers were able to find almost 15% more speed when overclocking (on top of that initial 7fps lead), is testimony to the overall build quality and thermal control mechanisms that Asus has included on this model.
The only graph where it almost came bottom was for Thermal Dynamics (50 degrees when gaming under load). Heat is the one table where every manufacturer DOES want to come last however!
Note: This card must not be confused with the regular 2GB Asus GTX750 Ti. The STRIX OC version is significantly better – so you may find it harder to come by – even at £134.
KitGuru's choice for nVidia Mainstream Graphics card of the year 2014 goes to the 2GB Asus GTX750 Ti Strix OC. Read the review HERE.